Main content
Who were the five Scots heroes at Waterloo?

Dramatic reconstructions are used to bring the stories of five Scots – and their experiences of the Battle of Waterloo – to life.
Jenny Griffiths
Jenny Griffiths was a bright and educated Scots girl in her mid-teens when she fell in love with an illiterate Welsh soldier, Lewis Griffiths.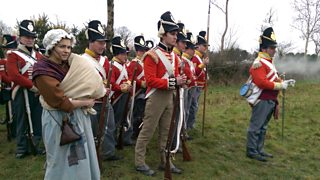 …if anything happens to that baby in your arms you will never forgive yourself.

Colonel Ellis
She married him against her parents' wishes and was so determined not to be separated from him by war that she followed him into battle with their new baby in her arms.
In 1876, in her late 80s, she gave a remarkable account of her experiences to a Welsh newspaper. Her story is unique: few army wives made it anywhere near the battlefield; most were ordered home to face a life of poverty and begging instead.
The feisty Jenny, however, successfully pleaded her case to her husband's Colonel, who eventually told her:
"In the name of God go with your husband! If there is anyone unlikely to beg it is you. Every indulgence that can be given to you shall be given."
Jenny followed her husband right onto the battlefield before being advised by the colonel and the doctor to return to camp.
It proved to be timely advice, she narrowly escaped a heavy bombardment as she returned to shelter.
"I had not gone from here to the other side of the lake when a volley of musket shots fell around, but did not strike me and shortly afterwards a cannon ball turned up the ground like a plough."
Following the battle, she learned that Lewis was missing, presumed wounded. She frantically scoured the crowded hospitals, searching for him. After two days, her family was reunited when she found her wounded husband.
After Waterloo, the family moved to Wales.
Lewis was tragically killed in a quarry accident in 1837. Jenny outlived him by 40 years and went on to remarry. She was the mother to nine children and died in April 1884 at the age of 94.
Jenny Griffiths is played by Sara Vickers
Private Dixon Vallance
Private Dixon Vallance was born at Greenshields in the parish of Liberton, Lanarkshire. Although he was from Lanarkshire, he joined a Highland Regiment – the 97th Cameron Highlanders – and, at 22 years old, had never been in any action before he fought at Waterloo.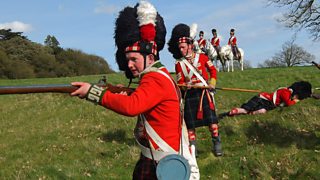 My face, hands, clothes and belts were bespattered with the blood of my killed and wounded companions…

Private Dixon Vallance
Three days before the main battle, Dixon saw his very first action at Quatre Bras where almost 60% of the Camerons were killed or wounded.
At Waterloo, Dixon saw his regiment reduced by a further 40%, two thirds of its strength over the two battles. They held the line at 2pm with the Gordons and Black Watch and were saved by the famous cavalry charge.
They had been on the point of breaking after 8pm when the Prussian reinforcements turned the tide of the battle.
Dixon was shot in the face and lost his right eye. He lay among the wounded and dying all night, presumed dead, before he was discovered.
Despite the trauma of war, he wrote amusing anecdotes and even indulged in amateur poetry.
'Midst the battle's loud roar,
When the earth it did shiver,
The shout of the victors
Was Scotland for ever.
We have often beat our foes,
Will they beat us? Ah never!
Hurrah, my brave countrymen,
"Scotland For Ever."
Following the war, Dixon won many cash prizes for inventing agricultural machinery and wrote his memoirs.
He married at 40 years old and went on to have nine children before dying at the age of 85.
He was buried in Carluke Old Churchyard and his gravestone notes he was at Waterloo.
Private Dixon Vallance is played by Scott Reid
Sergeant David Robertson
Sergeant David Robertson, a Gordon Highlander from Dunkeld in Perthshire, was a veteran of the wars against France in Egypt, Spain and Portugal. At Waterloo, he was a 36-year-old Sergeant.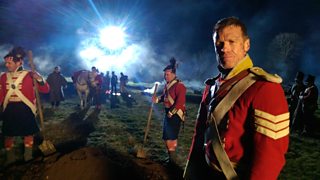 ...the awful scene presented itself – French and British, in the agonies of death, calling to us to shoot them and put an end to their sufferings...

Sergeant David Robertson
At Quatre Bras, he was given orders directly by Wellington and at Waterloo found himself twice in the front line at critical moments of the battle.
At 2pm, Robertson and the other Highland regiments were the last defence when Napoleon's infantry nearly broke the British lines.
At 5pm, in the British squares, Robertson was suddenly in command of his company in the face of a massive French attack by 10,000 cavalry.
"When we saw the dense mass ready to rush upon us, we thought our line would be broken. There was scarcely an officer left in our regiment — so the command of the company fell upon me. I now began to reflect on what should be done in case of a retreat. It would be difficult to keep the men together, as they had never retreated before."
Brave in combat, his memoirs show him to be a sensitive and humane man. After the battle he was horrified when ordered to march his men off the field.
"And now the most harrowing part of the awful scene presented itself — French and British, in the agonies of death, calling to us to shoot them and put an end to their sufferings. Others were calling on us not to leave them to breathe their last in a land of strangers, with no friendly hand to comfort them and close their eyes in death."
He left the army shortly after to return home with his wife and eight children.
"I finally wended my way to the place of my birth, where I live in peace, far removed from those scenes of bloodshed and misery which it has been my lot to witness."
Sergeant David Robertson is played by Douglas Russell
Lieutenant Colonel Sir James Macdonell of Glengarry
Lieutenant Colonel Sir James Macdonell of Glengarry was commander of the Guards who defended Wellington's strategic forward position, the Chateau of Hougoumont.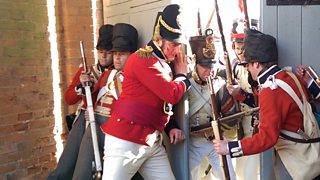 The success of the battle of Waterloo depended on the closing of the gates of Hougoumont.

Duke of Wellington
A giant Highlander whose ancestors had been Jacobites, Macdonell was the third son of a clan chief and an able and experienced officer.
When a Prussian liaison officer warned Wellington that he hadn't left enough men to defend the chateau, Wellington replied:
'Ah, you don't know Macdonell! I've thrown Macdonell into it.'
A small force of 1,000 Foot Guards and German troops initially defended Hougoumont against 2,500 French troops. At noon, French infantry burst through one of the gates in the besieged Hougoumont's surrounding wall.
In what was probably the most outstanding act of bravery in the battle, Macdonell and his Irish Corporal, James Graham, slashed their way through them and, on their own, managed to close and bar the gate, preventing the fall of the redoubt.
8,500 French troops spent all day attacking Wellington's reinforcements in the chateau but it never fell.
Macdonell famously refused to utter a word about what happened at Hougoumont. He went on to have a glittering military career after Waterloo, receiving many awards before he died in London in 1857.
Lt Col Macdonell of Glengarry is played by James Watson
Corporal John Dickson
Corporal John Dickson was a weaver from Paisley. He joined the famous cavalry regiment, the Royal Scots Greys, in 1807 aged 18 and was in his first action at Waterloo eight years later.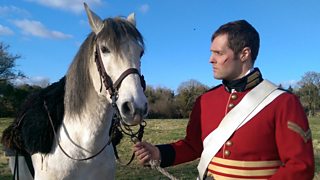 Go at them, the Greys! Scotland for ever!
He took part in the Union Brigade cavalry charge that halted a seemingly unstoppable French infantry attack at 2pm and witnessed the famous capture of the French Eagle by Sergeant Ewart.
John Dickson and the Scots Greys charged the French between the ranks of the Camerons and Gordons, witnessed by David Robertson and Dixon Vallance who joined in the cry of 'Scotland Forever!'
The charge was heroic and saved the day — but it came at a great cost to the regiment.
"There were scarcely half a hundred of the Greys left out of the three hundred who rode off half an hour before. How I escaped is a miracle, for I was through the thick of it all."
Following the battle, Dickson was discharged from the army due to an injury caused by a horse falling on him. He was described in his discharge papers as a soldier of "most exemplary character".
Latterly he lived in Crail in Fife, where he recounted colourful stories of the battle to his friends & family and every year there was a procession to his home to mark the anniversary of the battle.
John Dickson was the last known Scottish survivor of Waterloo when he died in Surrey, aged 90.
His portrait, medals and sword are displayed in The National Museum of Scotland in Edinburgh.
Corporal John Dickson is played by Gareth Morrison