Main content
Retired decorator gives home Renaissance make-over
Everyday Artist of the Week
A retired painter and decorator who has spent 12 years turning his Brighton home into a work of 15th century art has finished his final room.
We spoke to Robert Burns, who has covered every internal wall with copies of paintings by Italian renaissance artists, about his inspiration and how he got started.
The self-taught 67-year-old bought a tourist guide about the Vatican at a carboot sale and was blown away by the paintings inside.
After years of painting people's houses in magnolia, he was inspired to take up the challenge of filling his own home with colour.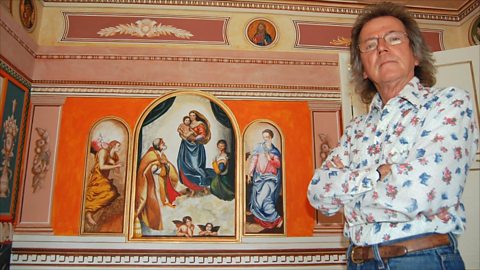 Retired painter and decorator Robert Burns on his Renaissance-inspired home.
"I started looking at them and studying them and thinking well, how difficult can this be? I'm a decorator so I thought I'd just have a go at it.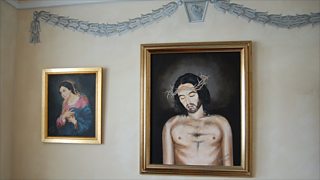 Russell Brand as Jesus Christ
"The first wall I did, I kept on threatening to paint over it, in fact when I was painting it I painted over it because I thought it looked amateurish.
"I did a bit on the landing, a bit on the stairs and then my wife suggested I should try finishing one. It just blossomed from there.
"I hadn't picked up a paintbrush since I was a child, maybe it was something that had laid dormant."
I'm just blown away every time I look at a renaissance picture, the detail, the care and you just think, they painted this 500 years ago.
I didn't know I could do this. It's a lesson to us all, if you don't try, you don't know," he said.
His work includes copies of paintings and murals by Raphael, Andrea Mantegna, Bronzino and Caravaggio. He has also painted his own modern take on some of the classics, such as a painting of comedian Russell Brand as Jesus Christ.
His wife Linda was slightly dubious about his original suggestion but she now loves them.
If you'd like to be featured as our everyday artist of the week please get in touch. Share a photo or video on social media using #bbcgetcreative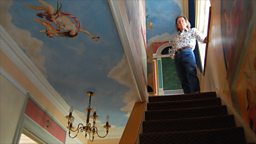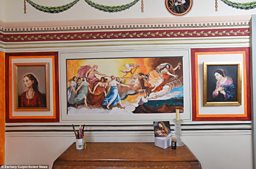 A look back at our artists
A jewellery designer who discovered a love for digital printing and uses it as a way to relax and to cure jet-lag

A dedicated mum and knitter who makes retro tank tops for her rugby- mad son and his friends to add a splash of style to the stands

A stitcher who joined a sewing group to meet like-minded people. She's made tea cosies and draught excluders as gifts and hopes to move to dressmaking

A stroke survivor who has used painting, music and writing to rehabilitate. He shared his first self-portrait using his affected hand with Get Creative

A keen cross stitcher and crafter who uses it as a way to relax and wind down after a day content producing for Get Creative