Main content
1917 review: This powerful WWI epic is a must-see on the big screen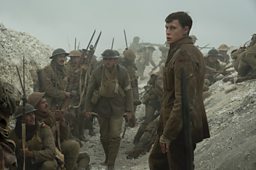 Credit: François Duhamel / Universal Pictures and Dreamworks Pictures
1917 ⭐️⭐️⭐️⭐️⭐️
In this World War I film from Sir Sam Mendes (based in part on a story his own grandfather told him), two British soldiers – George MacKay as Lance Corporal Will Schofield and Dean-Charles Chapman as Lance Corporal Tom Blake – must head into enemy territory to give orders to stop thousands of men from falling into a trap. With just hours to deliver their message and the terrain beyond treacherous, this exceptionally dangerous mission is made even worse with the knowledge that one of the men likely to be caught in this trap is Blake's own brother, Joseph (Richard Madden).
Third party videos may contain adverts.
Pros
1917 is a unique project, beautifully filmed by the Oscar-winning cinematographer Roger Deakins (recently finally getting his first Academy Award after 14 nominations thanks to Blade Runner 2049). A "one shot" film – more or less, you'll have to forgive a few moments – it's all made to feel as if it's "real time", a continuous take that follows our two leads on their perilous mission. It's an outstanding technical accomplishment, a truly impressive feat. Some films – such as Atonement and Mendes' very own Spectre – have their own long shots, but nothing quite like this. There's also the likes of Hitchcock's Rope, but that was a studio-set and not captured outside, in trenches, mud and rivers. If you take one thing away from this review, it's that the cinematography here is truly remarkable.
It's a simple, direct, A to B story, but there's a power to that. It distils the urgency and keeps you in the moment. It's also a practical necessity, considering the "one shot" requirements, and whilst it may take a bit of getting used to, once you're there, it's almost magical.
There are a decent number of big name cameos along our heroes' journey – Benedict Cumberbatch, Mark Strong, Colin Firth, Andrew Scott et al – but their two leads are the truly impressive performers. MacKay in particular is very good, especially when you consider how there's so little room for backstory, for any sort of character background outside of the moment at hand. The film starts, the mission starts, you don't have time to find out how and why our characters are they way they are. This leaves it in the actors' hands for the most part, and both McKay and Chapman excel.
Cons
If you're of a technical mind, and are keen to look for all the joins and tricks Mendes, Deakins and the rest of the production have used to pull this all off, you can easily get distracted from the film itself by constantly wondering about how it was done. You'll need to switch off that part of your brain, if you're often daydreaming about the practicalities. In short: be aware.
As you might have guessed, this is an in-cinema must-watch. Do not wait until it's on TV or VoD or Blu-ray. You have to see it on the big screen for it to properly work. This is by no means a flaw, but it is something to be aware of if you're on the fence about watching this one.
The simplicity I mentioned earlier may not be to your taste. You may well want more depth, more detail, more colour – but as I said before, that would unpick what makes this film so special. Saving Private Ryan this is not. You'll have to accept this film for what it is: a beautiful, almost impossibly impressive triumph of technical skill and emotional power.
Three word review: Powerful, poignant, outstanding.
He speaks to director Sam Mendes, screenwriter Krysty Wilson-Cairns and actors George MacKay and Dean-Charles Chapman.
Ali Plumb reviews all the biggest releases and goes behind the scenes with Hollywood stars.