Main content
Panti-establishment: How a drag queen helped rewrite the Irish constitution
16 November 2015
It ain't easy being queen. Just ask Rory O'Neill, star of compelling new documentary The Queen of Ireland. Directed by Conor Horgan, the film follows Rory's drag queen alter ego, Panti Bliss, who, after speaking out publicly on homophobia, became the face of Ireland's marriage equality campaign. RACHEL ALLISON met with Rory to discuss the challenges of being part national treasure, part gender discombobulater.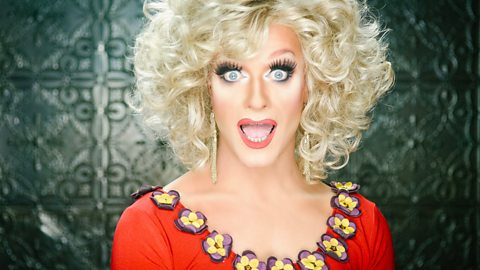 Star of documentary The Queen of Ireland discusses how he became an accidental activist.
Rory O'Neill's childhood in the rural west Ireland town of Ballinrobe, where he grew up within a large Roman Catholic family, is unlikely to have prepared him for a central role in a seismic shift in Ireland's political landscape.
Rory had been a successful drag queen in Ireland for 25 years, using the stage name Panti Bliss. With his own pub in Dublin, the Panti Bar, various theatre shows under his garter belt and a 20-year turn as host of the Alternative Miss Ireland, he was well known in Ireland's LGBT and theatre scenes.
But his life took a twist in early 2014 when Rory found himself at the centre of a nationwide scandal after appearing on a well-known Irish talk show, RTÉ's Saturday Night Show.
Catholic lobby group the Iona Institute and two prominent Irish journalists threatened legal action after O'Neill described them as "homophobic" and "horrible and mean about gays" on the show hosted by Brendan O'Connor. The broadcaster issued a public apology and subsequently paid out 85,000 euros in compensation for defamation.
People reacted on social media and, after the mainstream press could no longer deny its relevance (they had reputedly been afraid to report on the story for fear of legal ramifications), the scandal snowballed and became a national, and at times international, debate on free speech and homophobia - even reaching the collective ears of the European Parliament.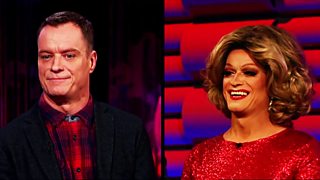 Rory appeared on RTE's Saturday Night Show before and after the scandal
Three weeks later Panti, still knee-deep in lawyers' letters, was invited to speak to an audience of theatre-goers after a play at the Abbey Theatre in Dublin.
"The Abbey Theatre, which is our national theatre, had a play running at the time called The Risen People. It's set in 1913 in Dublin during a mass strike and it's about oppression", O'Neill explains.
"At the end of every performance they would invite a writer or a thinker or a musician - they'd give them 5 or 10 minutes to respond to the play. They were calling this a Noble Call.
"I was very topical. I was in the middle of this big scandal and I actually almost said no. I had zero expectations of it, I was giving essentially just another speech."
This low-key appearance, a heartfelt speech by a visibly emotional Panti, was captured by director Conor Horgan and posted on YouTube.
It went viral within 24 hours, garnering support from Stephen Fry, Boy George, Graham Norton and Madonna. The following month, Pet Shop Boys released a tracked called Oppressive (The Best Gay Possible) featuring the speech accompanied by images related to homophobia.
O'Neill says: "I had been an activist for quite a long time before that but always it was out of sort of selfish motivations and that's why I've always rejected the label activist because I didn't sign up to some group and go to meetings and organise protests. You know, I didn't join Amnesty.
The world is so connected now - we are very aware of how difficult and terrifying it is to be LGBT in other parts of the world
"The (Yes) campaign set out to knock on every single door in the country and I think they came pretty close. It was a military operation. I did it as Rory - I think (people) would have been a bit freaked out to see a giant drag queen at the door", O'Neill laughs.
"In principle I don't think we should have had to do it. It's kind of humiliating knocking on strangers' doors going, 'Will you please be ok with me?'. And there's no other minority that's ever had to do that, but we were forced into that position because of the Irish constitution.
"But on the other hand it's also quite an inspiring thing to do in a way because I would go to these different canvases across the country and you'd be with this group of people and they weren't LGBT. They were mothers, sisters, cousins, and friends and people you might never expect."
Led by Panti, the Yes campaign was ultimately successful with 62% of the voters in favour of an amendment to the Irish constitution removing the prohibition of same-sex marriage in Ireland. Rory admits his new-found political clout is an unexpected turn for a drag queen entertainer.
He says: "After the whole Pantigate fiasco and the speech and all that, suddenly everything I say is taken so seriously that is that is both a privilege and a burden. Politics has always been part of what I do, and it will continue to be part of what I do, but when the referendum was done it was a relief for me to be able to focus on my theatre shows.
"My shows are fun, you should be laughing, but there's a message and you should be thinking about things to do with gender and all sorts of things after you've left. And of course the world is so connected now - we are very aware of how difficult and terrifying it is to be LGBT in other parts of the world, whether it's Uganda or Russia, so politics is never going to be out of what I do."
The Queen of Ireland is released on DVD and digital download from 16 November 2015.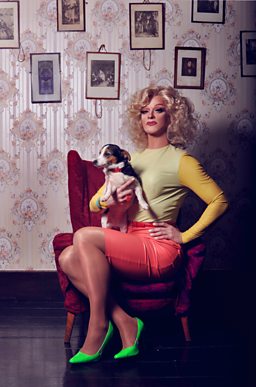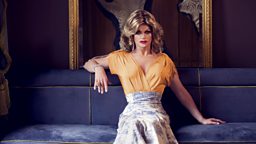 Panti Bliss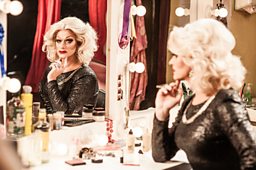 Panti during the shoot for The Queen of Ireland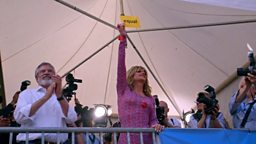 Panti Bliss became the figurehead for the Yes campaign during the marriage equality referendum in Ireland