Main content
How to bake a human skull
By Matt Richards, researcher, Secrets of Bones
Ingredients: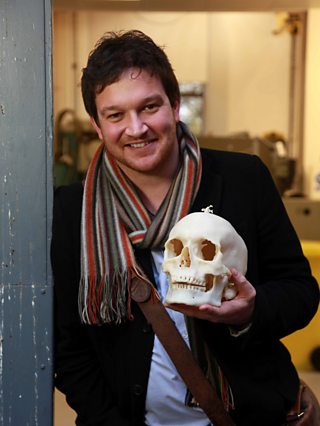 1 x Willing presenter
2 x MRI scans
1 x Sachet of mayonnaise
1 x Industrial 3D printer
4 x That's not possibles
3 x Bone morphology academics/computer wizards
1 x Team's dream
 Cooking time:
84 hours printing
72 hours caustic wash
One of the greatest challenges for this series was baking a life-sized and accurate model of our presenter's skull. The skull would play a key role in a sequence about human jaw evolution - and how it's happening much faster than you would expect.
The skull had to be accurate because the teeth were the key point of comparison, and teeth are small. It had to be life-sized because we were going to compare it to real human skulls. It had to happen because we could not think of another programme when a living person had been presented with their own skull!
The process is relatively straight forward in principle:
Scan your subject's head
isolate out the bone in a computer programme
convert the file to something the 3D printer can understand
Locate a high quality 3D printer
Upload the file into a 3D printer
Wait a few hours for it to print and then it's done
3D printing technology has been around for years, but it's only recently that its extraordinary potential has really opened up to those outside the worlds of engineering and medicine.
For another sequence in the series we 3D printed the uniquely shaped humerus of a European mole, enlarging it dramatically in the process. That had gone smoothly and we were confident the process would be similar for Ben's skull. We were wrong.
Scanning Ben's head had to be safe which meant we could not blast him with x-rays. However x-rays show up bone very accurately! All of the doctors, vets and 3D printing experts we first spoke to thought this was the only way to generate the required accuracy and we nearly gave up because it would be unsafe.
The only other option was an MRI scan which everyone said wouldn't work. So we nearly gave up again. MRI scans are completely safe, but are not designed to see bone or enamel in great detail. They are normally used to look at soft tissues such as the brain. MRI scans show up bone as black through an absence of a reading.
Then we spoke to radiologists at the Spire Hospital in Bristol: "just isolate out the black from the scan", they said. "It will all be fine", they said.
The first scan didn't work very well and we nearly gave up (again!). The second scan really was the last chance. But because of the skill and tenacity of the radiologists and Ben's willingness to lie face down with a mouthful of mayonnaise for 15 minutes we came out with some very workable images. Ben said that was the last time he was going to be scanned.
Then it was over to the computer wizards at the University of Bristol's Earth Sciences department. They managed to put together Ben's skull from the two different scans. It really was a marvel to behold. Finally we had a rotating 3D image of Ben's skull in front of us. 
We took the precious data to a top of the line 3D printer at the University of Bristol's Engineering department which was like entering the best shed on the planet. It wouldn't load up and we nearly gave up. Thankfully the computer wizards had just forgotten to "triangulate a few of the polygons" (or something) and within a couple of days we were back.
According to the computer it was going to take 84 hours to print and about 72 hours to prepare. Which was a major setback as we were meant to be filming with it in 48 hours. Needless to say, after all this time and effort we found a way to reschedule and for the look on Ben's face when he first saw it it was definitely worth it.