Main content
Remaking Pulp's Common People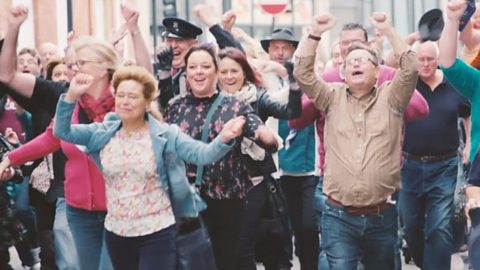 BBC Radio Sheffield: Station channel's Pulp for 50th birthday
To mark the occasion of their 50th birthday, BBC Radio Sheffield has remade a South Yorkshire anthem - Pulp's Common People. A community choir, made up of singers from across the region, recorded a specially arranged version of the 1990's classic.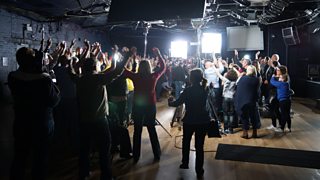 Ultimately this film is a celebration of localness.

Katrina Bunker, Managing Editor of BBC Radio Sheffield
BBC Radio Sheffield presenters including Toby Foster and Paulette Edwards were joined by around 300 members of the public to film their own version of the music video.
Katrina Bunker, Managing Editor of BBC Radio Sheffield, says the film is all about bringing people together and capturing a sense of local pride: "It was really important to us that this film focused on local people, and that it reflected the unique spirit and attitude that we share in this part of the world.
"Pulp are a Sheffield band and the song Common People was one we felt people around here identify with. And the fact that so many people - hundreds of them, helped us make the film shows the whole idea really captured people's imagination.
"Now we get to share the joy and sense of community captured in the film with the many thousands of people who will watch it online.
Making the film
Filming took place at various locations across South Yorkshire and North Derbyshire including Barnsley Town Hall, Doncaster Market, a sweet shop in Rotherham and a Sheffield supertram. Lots of local people were keen to get involved in the project including the Lord Mayor of Barnsley, former MP, Jeff Ennis and a knife maker from Portland Works in Sheffield, Michael May.
The finale to the video was a large crowd scene filmed at the iconic Leadmill nightclub in Sheffield city centre - the place where coincidentally the band Pulp played their very first gig in 1980.
The finale features hundreds of BBC Radio Sheffield listeners from all walks of life from an 8 week old baby to a group of scouts and cubs to a retired bus driver and a 7 year old British bulldog called Horace who almost steals the show.
About BBC Radio Sheffield
On November 15 1967, BBC Radio Sheffield made its first broadcast to listeners across South Yorkshire and North Derbyshire. They were the second BBC local radio station to launch following BBC Radio Leicester on Wednesday 8 November.
Katrina says: "BBC Radio Sheffield is the people's radio station. We've been reflecting local life in South Yorkshire and North Derbyshire since 1967 and have been with communities through many highs and lows over the years.
"Ultimately this film is a celebration of localness. We, along with our audiences, are proud of where we live."
More
BBC Radio Sheffield remakes Pulp's classic Common People with the help of local people.

BBC Radio Sheffield take you behind the scenes on the remake of Pulp's Common People film.