Main content
Relive six moments from Radio 1 in Ibiza 2019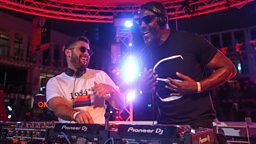 We might not been in Ibiza this year but we will still have 70 hours of music to offer as part of Radio 1's Dance Weekend.
But to get in the spirit of things, here are six moments we loved from Radio 1 in Ibiza 2019.
David Guetta embraced his alter ego
You don't get much more A-List in Ibiza than David Guetta. The superstar producer brought himself and underground alter-ego Jack Back to Radio 1's Friday night showcase, soundtracking the sunset with some of the biggest songs to soundtrack the island since it first secured its late-night licence.
Best of all was a poignant tribute to Avicii, where he played the DJ's Heaven collaboration with Coldplay's Chris Martin. Guetta took a moment to stand behind the decks, arms raised in the air, fully swept up in it all.
Back-to-back sets were all the rage
Before Ibiza 2019, Annie Mac and techno pioneer Kölsch had only teamed up once before on Radio 1. But their first back-to-back set drew Friday night to an ecstatic close, fusing house with breakbeat and drum & bass in a genre-bending, all-encompassing 50 minutes.
It was a year of massive back-to-back sets, including a Krystal Klear x Paul Woolford meeting of minds, and a stunning late-night soundtrack from Rebūke B2B Monki. Just listen out for when they drop the Soulwax remix of Marie Davidson's 'Work It'. What. A. Moment.
Donae'o shut down Ibiza Rocks for 1Xtra
Saturday night headliner Donae'o had one mission – to make every single Ibiza-goer party hard.
The North London rapper mixed old-school club bangers with current big tunes like Chalice (feat. Belly). This was a hands-in-the-air celebration worthy of closing any big Ibiza night.
MistaJam's UK garage DJ set was huge
It's quickly becoming Ibiza tradition to find MistaJam giving the people what they want – countless huge tunes, crammed into a scratch-heavy DJ set.
This year, he let 1Xtra listeners decide the theme: UK Garage. Starting off with contemporary a smash-hit (AJ Tracey's Ladbroke Grove), he went straight into a gigantic, nostalgic trip down memory lane.
Also, a big shout-out to MistaJam's dance moves.
Alicai Harley proved she's a future superstar
Alongside the likes of Aitch and D Block Europe, back in January Alicai Harley made 1Xtra's Hot For 2019 list – the station's guide to the year ahead.
Since then, she's made huge moves, the latest being a full energy Ibiza set that will help put the dancehall-pop star's name on the map.
And we found Ibiza's unlikely power duo
Jake Bugg and Idris Elba, who'd have thought it?
The former showed up to close CamelPhat's massive Friday night set, and shortly after we had Idris behind the decks with Radio 1's Danny Howard, looking truly in his element.
Who said Ibiza wasn't full of surprises?