Main content
Ten designers who transform stuff dumped at the tip into bespoke and valuable pieces
Meet the stars of Money for Nothing.
Zoe Murphy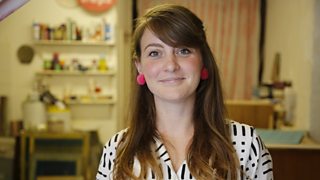 Printed pattern designer Zoe Murphy enthusiastically lives by the ethos, "love what belongs to you". Inspired by the potential to reuse, Zoe reconstructs mid-century furniture, rejuvenating it with her unique and instantly recognisable bright, colourful prints. Inspired by the seaside icons of her home town of Margate she revives and revitalises every piece with love attention, infusing her work with a distinctly fairground feel.
Video clip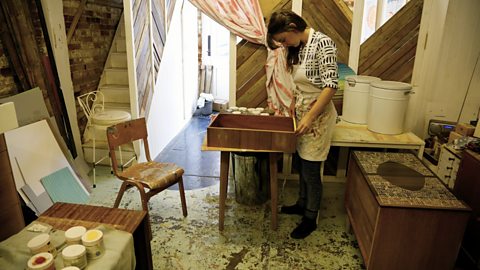 Sarah has a massive task to turn an old chest of drawers into hard cash.
Rupert Blanchard
It's quite difficult not to become a hoarder
Designer, maker, collector – and professional hoarder - Rupert Blanchard puts his design and making skills to use by repairing and reworking an eclectic mix of salvaged materials from natural wood to galvanised steel signage. He creates bespoke, often graphic, always distinctive pieces, fuelled by a passion for authenticity, inherent in all of his work.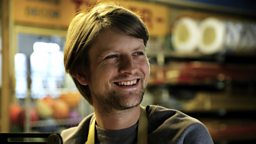 Jay Blades
Motivated by his work with disengaged and disadvantaged young people, colour wizard Jay Blades redesigns, reworks and restores salvaged pieces in his own distinctive style with a sense of integrity that honours the original workmanship and design.

Jay's top tips.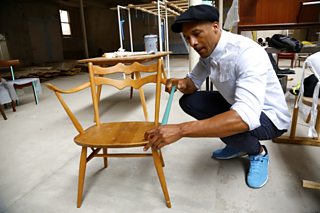 Mistakes and failures are the stepping-stones of growth and success.
Don't buy expensive fabric but find a fabric that you LOVE
Buy a Very good hand-held staple gun.
Don't rush. If you try and get the whole thing done in a day, you'll end up cutting corners and making the end result a little more 'rustic' than you'd maybe like!
Start with a small stool or chair and work your way up.
Take photos as you take off the fabric. This will help you remember how parts were attached or folded.
Video clip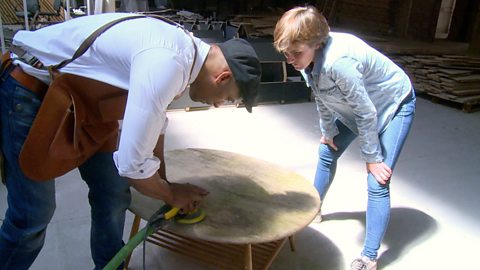 Furniture Restorer Jay Blades gets his hands on a vintage Ercol table
Mark 'Horse' Philips
Mark "Horse" Phillips has a decade of experience as Chief Engineer at one of the only manufacturers of high-end, valve-based recording equipment in the world. Through his creations he succeeds in recreating a unique and authentic old-school sound. He fits the Money For Nothing mold perfectly with his passionate work ethic..
"No job too old, or weird".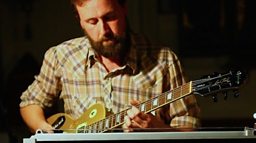 Bex Simon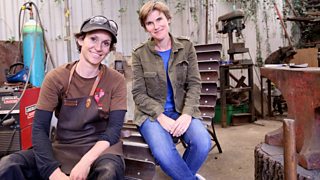 Bex Simon is an artist, blacksmith and metalworker whose designs embody her fascination with the contrast between organic, natural forms and hard industrial materials. Art nouveau stylings distinguish her pieces which she combines with striking contemporary forms and traditional.
Video clip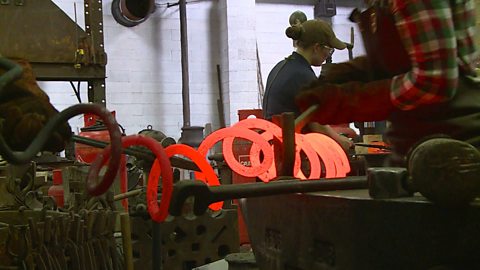 Artist Blacksmith Bex Simon begins the ardous task of transforming car suspension springs
Forest & Found
After graduating with degrees in Fine Art from Chelsea College of Arts, Max Bainbridge and Abigail Booth (a couple) set up Forest and Found.
Both always heavily into making, Abigail taught herself dyeing and quilting (after Max bought her a present of a quilting book) while Max honed his woodwork and carving skills and they set up Forest and Found to focus on their shared love of making.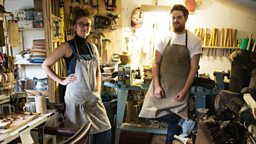 The Rag And Bone Man
Passionate about heritage, provenance and sustainability The Rag and Bone Man (Paul Firbank and Lizzie Gossling) work with the likes of salvaged vehicle parts, taps and fire extinguishers to make bespoke high-end objects using traditional metalwork techniques and machinery.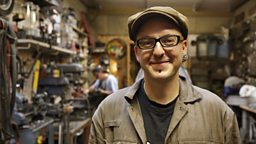 Anthony Devine
Anthony has worked in the furniture making and upholstery industry for nineteen years, and runs the UK's leading Upholstery school – Ministry of Upholstery.
He is passionate about his craft; seeing it being celebrated and the skill represented honestly. A furniture maker also, he hand makes his own frames and relishes being experimental with his upholstery within the realms of traditional technique.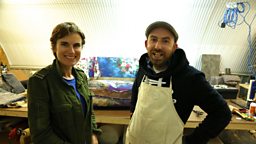 Rob Shaer
A highly skilled wood worker and metal worker, Rob is a technician at Blackhorse Workshops in London, a public space dedicated to making and mending. With his sculptural background Rob works with artists, architects and every day enthusiasts, with projects ranging from church bells to climbing frames.