Main content
About Ten Pieces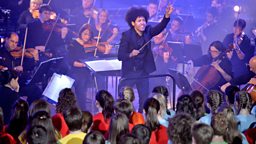 Ten Pieces aims to open up the world of classical music to 7-14 year-olds across the UK and inspire them to develop their own creative responses to the music.
We want young people to really get creative with classical music and develop imaginative responses. We're not just looking for musical responses - children can get creative in any art form that inspires them, so if you're a school, home educator or any kind of arts organisation you can get your students involved.
Free teaching resources for the latest phase of the project, Ten Pieces III, are available for all 10 of the pieces. You can work with as many pieces as you like, and as Ten Pieces is a flexible project, you can use the resources to fit in with your own suited timetable of learning. There are:
There are other ways to engage with the Ten Pieces project across the 2017/18 academic year:
There will be more events announced throughout the year, including a grand finale in the summer.
The project has additional support from a range of music and arts education stakeholders and is delivered in partnership with our Champions. The Champions are an existing network of over 260 music education hubs, music services, orchestras, music, dance and arts organisations working across the age ranges who can offer help and advice working with the Ten Pieces.
Take a look at our FAQs to find out more about the project:
Involvement in the project will...
Involvement in the project will help schools and home educators deliver the music and arts curriculum by:
• Providing an opportunity to work in partnership with local arts and music organisations such as music education hubs and music services, to enhance the work being done in the classroom and in extracurricular activity
• Providing an opportunity for young people to perform, listen to, review and evaluate classical music whilst developing a deeper understanding of composers and their history
• Encouraging young people to play and perform in both solo and ensemble contexts
• Giving young people the stimulus to improvise and compose using a wide range of techniques and media
• Nurturing their creative and aesthetic talents to develop skills and techniques specific to different art forms
• Providing citizenship opportunities for young people through mass participation events
• Developing their ICT skills through the use of music technology and the online resources
• Encouraging young people to analyse and evaluate their own
Other benefits from taking part
• Provide a transition opportunity from primary to secondary
• Foster children's confidence and collaborative skills
• Provide cross-curricular stimulus for the performing arts
• Encourage creative thinking and independent learning in pupils
• Inspire performance opportunities to showcase children's creativity
Ten Pieces logos for you to use
Download black and white logos:
Download colour logos:
Download a blank logo to cut out and colour in: