Main content
About Ten Pieces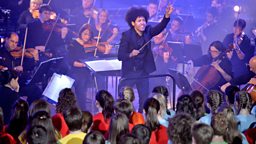 Ten Pieces aims to open up the world of classical music to 7-14 year-olds across the UK and inspire them to develop their own creative responses to the music.
We want young people to really get creative with classical music and develop imaginative responses. We're not just looking for musical responses - children can get creative in any art form that inspires them, so if you're a school, home educator or any kind of arts organisation you can get your students involved.
Free teaching resources for the latest phase of the project, Ten Pieces III, are available for all 10 of the pieces. You can work with as many pieces as you like, and as Ten Pieces is a flexible project, you can use the resources to fit in with your own suited timetable of learning. There are:
There are other ways to engage with the Ten Pieces project across the 2017/18 academic year:
There will be more events announced throughout the year, including a grand finale in the summer.
The project has additional support from a range of music and arts education stakeholders and is delivered in partnership with our Champions. The Champions are an existing network of over 260 music education hubs, music services, orchestras, music, dance and arts organisations working across the age ranges who can offer help and advice working with the Ten Pieces.
Take a look at our FAQs to find out more about the project:
What are the Ten Pieces?

Download the repertoire lists:

You can explore teaching resources for the pieces and find more information about Ten Pieces III.
Which age group is Ten Pieces aimed at?

Our resources are designed for 7 to 14 year-olds and have taken into account the KS2, First Level, Second Level and the KS3 and Third Level curriculums in England, Wales, Northern Ireland and Scotland. Lesson plans are labelled with their appropriate age group.
What resources are available?
How can I get involved?

If you're a school: Register for the project online so that you can join our email mailing list. You can also see the exciting activities revealed for 2017/18.

If you're a music education hub/organisation: Have you signed up as a Ten Pieces Champion? If not, email tenpieces@bbc.co.uk for an information pack and sign up form.

Already signed up as a Champion? Then your next step is to send more detailed information of your plans, if you haven't already done so - this is so we can share it with other music and arts bodies via our mailing list, let the local media know, or mention it on our website where appropriate.

If you're an individual musician/artist/peripatetic teacher: Creative practitioners need to liaise with Ten Pieces Champions in their areas, as they will be coordinating the delivery of activity within schools.
Can I order a copy of Ten Pieces on DVD?

The new set of short films from Ten Pieces III are all available online. We've listened to feedback from teachers who told us that they prefer to use the resources as bite-size chunks rather than one long film, so all of the visual resources for Ten Pieces III are short stand-alone films and won't be released on DVD.

You can watch all of the new films plus the Ten Pieces I and II films as clips on the films page.
What is a Ten Pieces Champion?

Ten Pieces Champions are Music Education Hubs, Music Services, orchestras, film, dance and other arts organisations from across the UK working in collaboration with the BBC to introduce classical music to the next generation. They have signed up to Champion the project and work together on delivering music and arts education to every young person throughout the nations and regions.

Visit the Champions page and browse by region to find a Champion nearby.

If you're an arts organisation that's interested in becoming a champion you can email tenpieces@bbc.co.uk for an information pack and sign-up form.
What are creative responses?

We want young people to really get creative with classical music and develop imaginative responses to the repertoire. They can experiment with original compositions and various art forms, including dance, poetry, animation and anything else that may inspire them! The creative responses are a great way to encourage cross-curricular activity whilst maintaining engagement with classical music. Creative responses can be hugely varied, the more original the better - take a look at our creative response showcase for inspiration.
How do I upload my pupils' creative responses?
How do I contact the Ten Pieces team?

If your question isn't answered in this FAQ, please get in touch by emailing tenpieces@bbc.co.uk.
Involvement in the project will...
Involvement in the project will help schools and home educators deliver the music and arts curriculum by:
• Providing an opportunity to work in partnership with local arts and music organisations such as music education hubs and music services, to enhance the work being done in the classroom and in extracurricular activity
• Providing an opportunity for young people to perform, listen to, review and evaluate classical music whilst developing a deeper understanding of composers and their history
• Encouraging young people to play and perform in both solo and ensemble contexts
• Giving young people the stimulus to improvise and compose using a wide range of techniques and media
• Nurturing their creative and aesthetic talents to develop skills and techniques specific to different art forms
• Providing citizenship opportunities for young people through mass participation events
• Developing their ICT skills through the use of music technology and the online resources
• Encouraging young people to analyse and evaluate their own
Other benefits from taking part
• Provide a transition opportunity from primary to secondary
• Foster children's confidence and collaborative skills
• Provide cross-curricular stimulus for the performing arts
• Encourage creative thinking and independent learning in pupils
• Inspire performance opportunities to showcase children's creativity
Ten Pieces logos for you to use
Download black and white logos:
Download colour logos:
Download a blank logo to cut out and colour in: