Main content
Meet the authors: National Short Story Award 2017
The winner of the BBC's National Short Story Award has been announced, drawn from a shortlist of five incredible works of fiction. Meet the winning author and the others in the top five below, as we bring you readings of these award-worthy tales for you to enjoy at your leisure.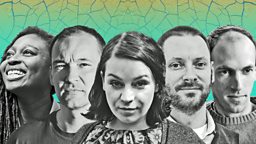 The BBC National Short Story Award in association with BookTrust is one of the most prestigious prizes for a single short story. From over 600 entrants, an initial shortlist of five was decided by a panel of judges, with the winner later announced on a special edition of Front Row on Tuesday 3rd October.

The winning author received a £15,000 prize for their piece of short fiction, while each of the other four authors received £600.
All five shortlisted stories are presented below, available to be streamed online in audiobook form, and are also available to download via the Radio 4 Short Story podcast.
On Front Row radio
Chair of the judges Joanna Trollope announced the winning short story in a special Front Row programme.
Winner: The Edge of the Shoal by Cynan Jones

Jamie Parker reads Cynan Jones's thrilling story of survival on the seas.
The Edge of the Shoal is a man vs nature story, in which a canoeist, impulsively deciding to catch a fish for supper, suddenly finds himself in a fight for survival on the open sea.
You get a sense of the sublime, of the power of nature, the beauty of nature, but also a great sense of abject terror as well.

John Wilson on The Edge of the Shoal
"I've grown up next to the sea all of my life," said the author Cynan Jones. "You see how quickly the weather changes; the emotions change with it."
"The tempers are all are really fluid, so to write a story that I could place out there was really the key thing, to use the sea as a piece of landscape, and with that comes the suddenness."
Author Joanna Trollope, who was the chair of the NSSA judging panel, was impressed with how quickly things go from bad to worse for Jones' canoeist hero.
"It gathers pace and momentum as it goes along, it's an extraordinary achievement," she praised.
She also noted that this was possibly the most lyrically written of all five on the shortlist, which the author found intriguing.
"I'm trying to restrict that lyricism," he confessed, feeling that was what people always say about Welsh writing. Although he has an explanation for that stereotype:
"I think it's just innate... there is a lyricism that comes with the witness of the landscape around you, it's how you describe it, it's a beautiful powerful thing anyway."
The judges heaped praise upon Jones' winning tale. "I've thought about 'The Edge of the Shoal' most days since first reading it, months ago," said Eimear McBride, writer and judge, adding that it "works on the reader like an invasion, as all the best literature should."
"For 6000 words the reader exists only in the lived present moment, in a mental space where life is stripped to its bare essentials," said fellow writer and judge Jon McGregor. "A stunning achievement, and a deserved winner of the prize."
About the author
Cynan Jones is a Welsh author who, like his story's protagonist, enjoys going out on the sea kayaking and finds aquatic wildlife fascinating.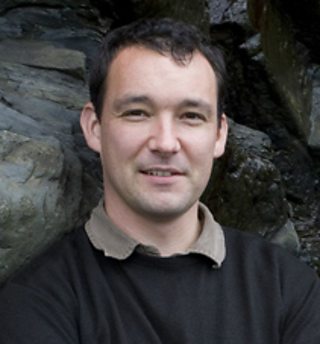 Jones is the author of five novels:
The Long Dry (2006)
Everything I Found on the Beach (2011)
Bird, Blood, Snow (2012)
The Dig (2014)
Cove (2016)
His work is widely translated, and short stories have appeared on BBC Radio 4 and in a number of anthologies and publications including Granta Magazine and The New Yorker. He also scripted an episode of the television crime drama Hinterland.
He has won a Betty Trask Award, the Wales Book of the Year Fiction Prize, and a Jerwood Fiction Prize, and a chapter of The Dig was shortlisted for the Sunday Times EFG Private Bank Short Story Award in 2013.
His latest novel Cove is currently longlisted for the Europese Literatuurprijs (in the Netherlands).
John Wilson speaks to the Welsh author about his NSSA shortlisted story The Edge of the Shoal.
Murmur by Will Eaves

Blake Ritson reads Will Eaves's story - a vivdly narrated account of a man finding himself on the wrong side of conventional morality.
Inspired by the journals of Alan Turing, Murmur is the harrowing account of a gay scientist in the 1940s, struggling with his identity after being forced to undergo chemical castration.
How would a hardline material scientist approach the problem of pain and desolation? My guess is that he would have tried to get very interested in it.

Will Eaves
The story touches on the nature of consciousness, as both the scientist's sexual and intellectual life is completely ruined by being convicted of 'gross indecency with a male person'.
Unable to talk to people about his situation, he instead confides his thoughts in a journal, which forms the basis of this short story.
Author Will Eaves has a great deal of respect for Alan Turing and his subtlety of thinking.
"I'm not a mathematician, but I am interested in certain issues to do with the nature of consciousness," a fascination he shares with Turing.
"I'm also trying to suggest something about how a hardline material scientist would approach the problem of pain and desolation. And my guess is that he would have tried to get very interested in it."
Joanna Trollope, chair of the judging panel for the National Short Story Award, described Murmur as "extraordinarily well-written".
"It's very restrained... that gives it fantastic power, because the restraint of the writing and the attitude contrasts with the absolute dreadfulness of the story."
John Wilson talks to the author about Murmur being shortlisted for the BBC National Short Story Award.
About the author
Will Eaves was the Arts Editor of the Times Literary Supplement from 1995 to 2011. He teaches in the Writing Programme at the University of Warwick.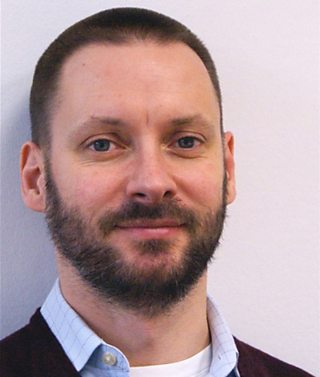 Eaves is the author of four novels:
The Oversight (2001; shortlisted for the Whitbread - now Costa - First Novel Award)
Nothing To Be Afraid Of (2005; shortlisted for the Encore Award)
This Is Paradise (2012)
The Absent Therapist (2014; shortlisted for the Goldsmiths Prize)
He also has written two collections of poetry: Sound Houses (2011) and The Inevitable Gift Shop (2016; shortlisted for the Ted Hughes Award for New Work in Poetry).
The Waken by Jenni Fagan

On a remote Scottish island, a young woman with vengeance on her mind has a transformative experience. Joanna Vanderham reads.
The Waken is a supernatural story steeped in Scottish myth, in which a young woman finds herself transforming into something very strange indeed.
You really get taken by surprise when she starts growing horns.

John Wilson on The Waken
In the beginning things seem straightforward - the woman, Jessie, returns to the Hebridean island where she was born for her father's funeral, although she only has unpleasant memories of the man.
However, things take a turn for the fantastical as she is swept up into the legends of the island. All the other women are Selkies - human on land, who turn into seals in the water - but she, as an outsider, begins growing horns out of her head.
"Death can be so sanitized and people can be very scared of it," says Scottish author Jenni Fagan, who wrote the novel after the passing of a close friend.
"I really like the idea that there were and there are rituals that are about the living having a relationship with the dead and seeing them through to the other side."
Her story, like most of her short fiction, is inspired by Franz Kafka's The Metamorphosis (1915), in which a man finds himself physically transformed into a monster.
Samira Ahmed talks to the NSSA shortlisted author about her story The Waken.
About the author
Jenni Fagan is an author, poet and screenwriter named Scottish Author Of The Year (2016) by The Sunday Herald Culture Awards.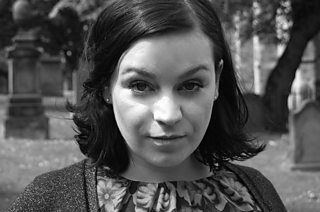 Fagan's debut novel The Panoptican (2012) has been nominated for the Pushcart Prize and was shortlisted for the Dundee International Book Prize, the Desmond Elliott Prize, and the James Tait Black Prize for her debut novel. She has also written the screenplay for the film version of the book, made by Sixteen Films.
In 2013, she was selected as one of Granta's Best Young British Young Novelists and appointed as a writer-in-residence at the University of Edinburgh.
Also published are a second novel The Sunlight Pilgrims (2016) and a book of new and collected poems The Dead Queen of Bohemia (2016).
She is currently working on her third and fourth novels, and is also doing a PhD with a critical thesis on Franz Kafka, whose work Metamorphosis she describes as 'the perfect story'.
The Collector by Benjamin Markovits

A lonely man is struggling to come to terms with recent events which are shrouded in mystery. Kyle Soller reads.
The Collector is a story about obsession, with a great gothic atmosphere, and a deeply creepy man at its heart.
A marriage is an argument; not several arguments, but one argument that gets played out again and again.

Benjamin Markovits
The titular collector, Robin, is an eccentric loner on the Canadian border who cannot stop filling his home with collections of various objects.
Perhaps this is to fill the void left by his wife, who has disappeared under mysterious circumstances. Even her fate is ambiguous; she could be dead, or perhaps merely absent. In fact we're never quite sure if Robin himself has been involved in her departure.
Key to this story is Robin's decaying home. It was inspired by old American houses, some of them older than the U.S. itself, which the author Benjamin Markovits had seen before.
"For many of us [our home is] really the most artistic reflection of who we are that we will ever construct," he said.
"And so the idea of this ramshackle historical house filled with different kinds of possessions which has suffered through different owners as a representation of a personality struck me very vividly."
He also admitted to having a mild obsession himself, being an avid collector of chairs.
"I sometimes have the feeling that I prefer the chairs to the people who sit in them," he joked.
"The good thing about collecting chairs is that you can't buy too many of them because you run out of space."
John Wilson speaks to the author about his short story The Collector.
About the author
Benjamin Markovits grew up in Texas, London, Oxford and Berlin. His interest in collectors stems from his father, who filled their home with pottery, and his uncle, a prolific stamp-collector.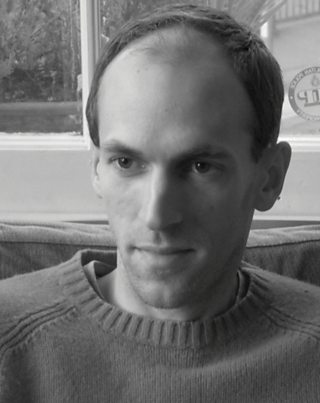 Markovits has published seven novels, including Either Side of Winter, about a New York private school, and a trilogy on the life of Lord Byron: Imposture, A Quiet Adjustment and Childish Loves.
His most recent novel, You Don't Have To Live Like This, about an experimental community in Detroit, won the James Tait Black Prize for Fiction in 2015.
He won a Pushcart Prize for his short story Another Sad, Bizarre Chapter in Human History. Granta selected him as one of the Best of Young British Novelists in 2013.
He used to be a professional basketball player in Germany, and at 6'6'' is the same height as Michael Jordan. "I would have sailed off into the sunset with the LA Lakers," he says, "but I sucked."
If a book is locked there's probably a good reason for that, don't you think? by Helen Oyeyemi

Office politics turn dark when a newcomer's handbag is upturned and secrets spill out. Tamara Lawrance reads.
Set in a typical office, this story features a beautiful and mysterious new employee named Eva who barely says a word. All of her colleagues find her spellbinding, until her secrets are unwillingly revealed.
Nowadays silence is a kind of luxury... being able to just keep ourselves to ourselves is starting to feel like something really special that should be guarded, possibly under lock and key.

Helen Oyeyemi
"I think the title gives it away, because this story is a tease," said NSSA judge Joanna Trollope of the lengthily-titled 'If a book is locked there's probably a good reason for that, don't you think?'
She admired the way it withheld vital information from the reader, as if to say "Do you really need to know?"
The story explores our private lives, which are increasingly public in this modern age of social media and where large tech companies harvest our personal information.
Eva prefers to keep her life a closely-guarded secret, which creates a bewitching air of mystery around her.
However, during an incident when a woman turns up at the office loudly accusing Eva of having an affair with her husband, Eva's locked diary comes spilling out of her handbag. Eva's co-workers quickly turn on her, judging her very harshly.
"There are indications that she's judged all that harshly because she hasn't made any introduction or offered any information before so there's a sort of void there, that people just read the worst into," explained the author Helen Oyeyemi.
"I have this feeling that nowadays silence is a kind of luxury... being able to actually just keep ourselves to ourselves is starting to feel like something really special that should be guarded, possibly under lock and key even."
John Wilson interviews the author shortlisted for the National Short Story Award.
About the author
Helen Oyeyemi became successful fairly young; in fact, she was offered a publishing deal on the day she received her A Level results.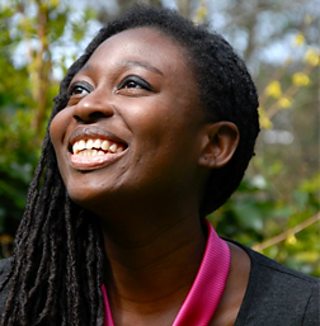 Oyeyemi studied social and political sciences at Corpus Christi, Cambridge. She was selected as one of Granta's Best Young British Novelists in 2013.
She is the author of several highly acclaimed novels including:
The Icarus Girl (2005)
The Opposite House (2007)
White is for Witching (2009), which won a Somerset Maugham Award and was a Shirley Jackson Award finalist
Mr Fox (2011)
Boy, Snow, Bird (2014), a finalist for the Los Angeles Times Book Prize
Her NSSA shortlisted story is from her short story collection, What is not yours is not yours (2016), a collection of tales thematically linked with the idea of keys, such as the one protecting Eva's diary. It won the PEN Open Book Award.
BBC National Short Story Award 2017
Arts highlights on BBC iPlayer