Main content
Why is country music a hit in Nigeria?
The idea of wholesome, all-American country music star Jim Reeves being popular in Nigeria may seem odd, but a closer look reveals the heart of West Africa and the rolling plains of Midwestern America have much in common. DJ and radio producer Tayo Popoola has been finding out more for the Seriously… podcast Jim - We Love You Because…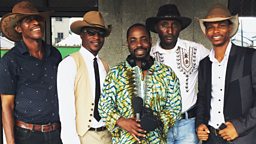 Tayo (centre) with Cowby Prince, Fred Donn, John Kutcheti and Ogak Jay Oke
Nigeria's fascination with 1950s country music star "Gentleman" Jim Reeves has many sources. Nigerian men who fought alongside American GI's in the Korean war picked up the musical tastes of the fellow soldiers. A great example of this was a soldier – and singer – known as Joe Nez, a popular crooner who sung in Igbo and English, and had a selection of country music covers in his repertoire.
During my trip to the country, everyone I spoke to referenced a man called Bongos Ikwue. He was a Nigerian musician who was one of the first to take elements of country music and interweave more traditional Nigerian music – particularly the uptempo guitar-driven style known as highlife - into the mix. This helped country music move into the Nigerian mainstream. Stephen Rwang Pam and Ogak Jay Oke, two of the modern country artists I spoke to, remain in awe of Ikwue.
American missionaries from the south came to Nigeria and brought the music with them. Many of these missionaries were stationed in the middle belt and the north of Nigeria. This is why there is a strong country scene in places like Zaria and Jos, which I visited during the making of the programme.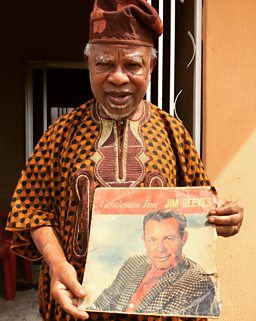 Uncle Oduntan with a well-worn Jim Reeves LP
Chief Commander Ebenezer Obey's version of Gentleman Jim's The World Is Not My Home is a great example of country music cross-pollinating with West African rhythms. As Obey explains to me in the documentary, his version of the song, renamed Olowo Laye Mo, was a chance for him to take the melody, add his own traditional drums, and then adapt the lyrics to a message that resonated with him and his fanbase. Musicians like Obey also embraced country music because they were good businessmen – country music was becoming popular on the radio, so adding juju music rhythms to existing country classics was a sure-fire way of engaging their audience.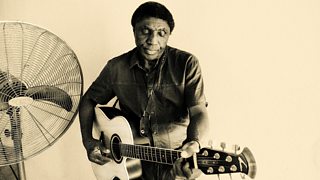 Bongos Ikwue is still active in the Nigerian country scene today
There was a strong crossover – and still is – between gospel music and country. I was told on many occasions that Jim Reeves was a fantastic gospel singer. There is a strong evangelical aspect to his music, and the spirituality in his lyrics has a natural appeal in a deeply religious country like Nigeria.
Radio plays a big part in the country music scene in Nigeria. In Port Harcourt, Monday night is the time to gather around the radio to listen to the "Sweet Music Man" Tony Vite and his Country Classics Show on Radio Rivers 99.1FM. The members of the of Country Music Club of Port Harcourt, who looked after me when I went there, regularly get together and have their own listening parties.
Meanwhile in Jos, Stephen Rwang Pam, my guide when I was in the Plateau State, hosts the biggest country show in Nigeria on Peace 90.5FM. This was the show I unwittingly became the co-host on, which you can hear a bit about in the podcast. The complex also hosts a TV station, which turned out to be handy if you want to ambush a BBC presenter and put him on local TV…
Find out more by downloading Jim - We Love You Because, from Seriously...
More from Seriously...
The early-bird poet and broadcaster tries to arrive early to everything.

An insight into the world of fictional characters brought to life by devoted fans.

Once forgotten, she is now revered by everyone from Alice Walker to Solange Knowles

From Tom Jones to Adrian Mole, have a look at lust in literature.

Phyllis Bottome is little known today, but did she inspire Ian Fleming?

DJ and presenter Bobby Friction on how to escape the online echo chamber.

A travel guide like no other, for black motorists in the mid-20th Century it was a catalogue of refuge.

Bridgitte Tetteh explores attitudes to female bodies in the black community.

Art critic Martin Gayford learns what it's like to be painted by a modern master.

The Sex Pistols visited Yorkshire twice, but what impression did they leave?

Ian McMillan watches from the side lines in South London

Jolyon Jenkins investigates whether meditation can do you more harm than good.