Main content
Meet The Hull '17 Poets
Contains Strong Language presents leading local, national, international poets and world class spoken word artists alongside brand new voices. The Hull '17 are an ensemble of exciting and innovative poets, commissioned to create new work which will be premiered in the city during the festival. They will be resident in the city for four days.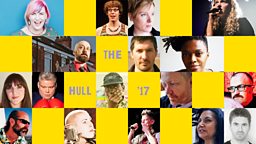 Bohdan is a Polish poet based in Birmingham. He has taken his poems to venues ranging from an underground Tokyo club to a tramway in Paris. In the UK, he regularly features at the country's most exciting spoken word nights, festivals and readings.

Hull's self-proclaimed fourth best poet, Dean Wilson, has been published in various magazines including Pen Pusher, The North, Smiths Knoll, Pennine Platform, The Slab, Rising, and The Wolf.

Whilst working as a steel-rule die maker, a steelcutter, and a machinist, Fred Voss wrote novels and poetry. The factory experience became the theme of his writing, granting him a Wormwood Award in 1988.

Hannah Silva is a poet, playwright and performer known for her innovative explorations of form, voice and language in performance. She won the Tinniswood Award for Best Radio Drama Script and has been shortlisted for the Ted Hughes Award.

Harry Giles / Aitch is a Scottish writer and performer. Harry has featured in the SPILL National Platform, toured North America and given feature performances at venues from the Bowery Poetry Club to the Soho Theatre.

Helen Mort was born in Sheffield. Her first collection Division Street won the Fenton Aldeburgh Prize. Her collection No Map Could Show Them is a Poetry Book Society recommendation.

Imtiaz Dharker is a poet, artist and documentary-maker. She was awarded the Queen's Gold Medal for Poetry in 2014, recipient of the Cholmondeley Award and a Fellow of the Royal Society of Literature.

Isaiah Hull has supported Kate Tempest, Lemn Sissay, and Skepta at major events for the BBC. He's just 20. The Old Trafford writer and spoken word artist is one of the Roundhouse and BBC Radio 1Xtra's Words First finalists.

Jacob Polley is the author of four acclaimed poetry collections, The Brink, Little Gods, The Havocs and Jackself, as well as a novel, Talk of the Town. Jackself won the 2016 T.S. Eliot Prize for poetry.
Joe Hakim is a writer, poet, and spoken word performer from Hull. He has had residencies at Contact in Manchester, Birmingham REP, and in London at both the Battersea Arts Centre and the Shunt Vault.

Joelle Taylor is a professional published spoken word artist. She is also the founder and Artistic Director of SLAMbassadors UK. She has performed at a diverse range of high profile venues including Buckingham Palace, the 02 Arena, and Glastonbury Festival.

Kate Fox has been a stand-up poet for ten years. She is currently making #Lass War on the man-heavy Northern Powerhouse. As a stand-up she has been in demand at literature festivals across the country.

Kate Tempest is a published playwright, novelist, poet and respected recording artist. Brand New Ancients, her self-performed epic poem to a live score, won the Ted Hughes prize 2013 and nominated for the 2017 Mercury music prize.

Louise Wallwein was brought up in 13 different children's homes and wrote her first play at the age of 17. A poet, playwright and filmmaker, her explosive work detonates her audiences' imaginations. She has written plays for BBC Radio.

Michael Symmons Roberts is an award winning poet and a writer of fiction, libretti and scripts for radio. His poetry has won the Forward, the Costa and The Whitbread poetry Prize. His new collection Mancunia is published this year.

Vicky Foster is a poet and pub singer from Hull. Her first collection, Changing Tides, has just been published by King's England Press. She is the host of Women of Words, which is an event for female performers of poetry, prose, drama, and song.

Zena Edwards has become known as one the most unique voices of performance poetry to come out of London. She was nominated for the Arts Foundation Award for Performance Poetry 2007 and won the Hidden Creatives Award 2012.