Main content
Characters
Thirteen months has passed since Saga's investigation led to the arrest of Martin for murder. There is a new case which requires her to work with the Danish authorities, which means ultimately a new partner.
Learn more about Saga, her Swedish colleagues and her Danish counterparts across the Øresund bridge.
Saga Norén
Played by Sofia Helin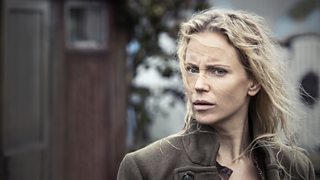 A detective with Malmö Police in Sweden, Saga is a hardcore investigator who is socially challenged. But she's a damn good cop who follows the rule book to the letter. At first, Saga has problems with the more impulsive Danish detective Martin Rohde, but in the end, he becomes a mentor for her - and her first real friend.
Now 13 months later Saga is still working at Malmö County Police, but she misses her only friend Martin who is serving a ten year prison sentence. Saga, however, is convinced that she did the only right thing by reporting him, and that she cannot be associated with a convicted murderer.
After a famous Danish gender activist and owner of Copenhagen's first gender-neutral children's nursery is found murdered on a building site in Malmö, Saga is forced to work with a new Danish colleague (Hanne Thomsen), who has difficulties in accepting Saga for who she is...
Henrik Saboe
Played by Thure Lindhardt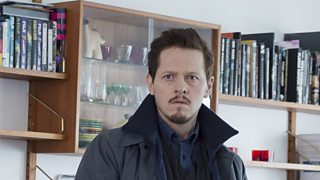 Henrik Saboe is the lead homicide detective in Copenhagen, who asks Lillian to assign him to the case which has incapacitated his colleague Hanne.
Like Saga he has his own personal demons to deal with, dabbling in drugs to help with the pain of a personal tragedy.
Hans, Lilian and John
Played by Dag Malmberg, Sarah Boberg and Rafael Pettersson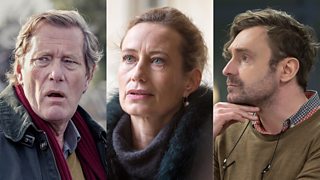 Hans Pettersson (Dag Malmberg), Saga's laconic and mentoring boss at Malmo CID is now married to his Danish counterpart Lillian Pettersson (Sarah Boberg), who is less sympathetic to Saga's foibles, especially when they interfere with her own domestic bliss with Hans in their new Copenhagen apartment.
John Lundquist (Rafael Pettersson) the IT expert for Malmo police is now divorced and looking for a new relationship whilst co-caring for his young daughter Jennifer.
Hanne Thomsen
Played by Kirsten Olesen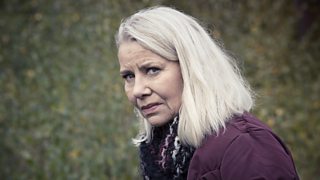 Hanne is a well-respected and experienced police detective based in Copenhagen, Denmark and is dismayed when asked by her boss to travel to Malmo, Sweden to assist Saga Noren in the case of the murder of a prominent Danish gender activist.
From their first meeting hostilities begin to mount with Hanne showing her prejudices bordering on contempt for Swedish political correctness, but more importantly the fact that Saga has betrayed a colleague, it is going to take some time or a major change of heart for this partnership to work.