Main content
Putting art under the microscope
Any budding biologist that has peeked at the world through a microscope knows that plants can take on strange and colourful landscapes and tiny creatures transform into monsters.
On Friday 2 October London Metropolitan Archives (LMA) will be inviting people to join its Fun Palace for a day of creating weird and wonderful art inspired by the microscopic world. LMA Artist in Residence Nick Field will show you how to become a Monster Soup Maker, create your own origami fleas or listen to poet John Hegley perform.
All inspired by the work of renowned scientist Robert Hooke who in 1665 published a book called Micrographia, full of drawings of creatures and plants seen through his microscope.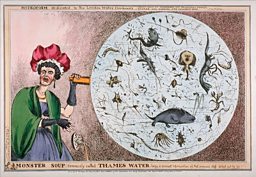 The image of a woman dropping her tea-cup in horror upon discovering the monstrous contents of a magnified drop of Thames water is one of the most fascinating satires on London's water companies of the 19th century
A brief history of Robert Hooke by the London Metropolitan Archives
For nearly 300 years Robert Hooke was the forgotten man of English science, eclipsed by brighter stars like Isaac Newton and Christopher Wren.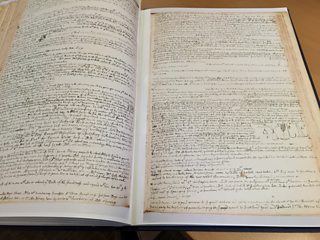 Robert Hooke was the forgotten man of English science
He is remembered for Hooke's Law, the theory of elasticity familiar from school physics, but that is only one of his many contributions to knowledge. Hooke was a major scientific figure, publishing the first fully illustrated scientific textbook, Micrographia (1665), which introduced the microscope as an indispensable instrument and showed the wonders of cellular structure.
Hooke's contribution to science and architecture is clearly revealed in his diary, purchased by the City in 1891, along with some other papers of his, as part of the sale of Moor Hall, Harlow. They had previously been preserved by George Scott (1720-20), an antiquary and Fellow of the Royal Society. The diary runs from 10 March 1672 to 16 May 1683, and shows Hooke's scientific thoughts and experiments rubbing up against his work as City Surveyor. The diary also describes his evenings out in City taverns and coffee-houses, his diet, his physical symptoms and mental states and the medicines/drugs he took. He had a spine deformity, and suffered from a series of minor ailments, which may have contributed to his reputation for irascibility.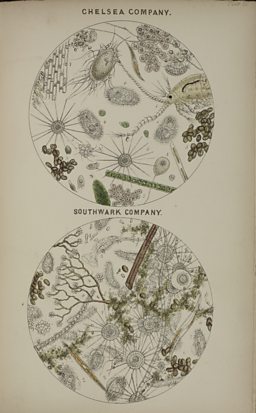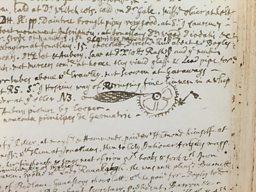 Excerpt from Robert Hooke's book
Unlike his published work the diary is not an easy read. It is the book of a secretive man in a perpetual hurry. Hooke's use of symbols in the diary is evidence of his drive to express science in a more rational and internationally understandable way, but also of his haste and secrecy (his private life is hidden from immediate view).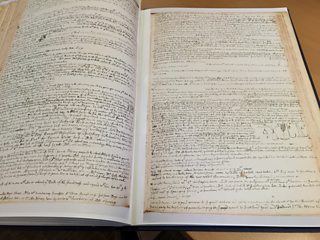 The diary offers an unparalleled glimpse into the exciting and vibrant world of restoration, scientific discovery and the rebuilding of London from the ashes of the Great Fire
Robert Hooke's diary is also part of the UNESCO UK Memory of the World register. The UK Memory of the World Register highlights documentary items of outstanding importance to UK history and disseminates information about them and the organisations which care for them.
Hooke's major contribution to 17th century scientific research and London architecture is clearly revealed in his diary. Kept as a memorandum book to remind him of the many places he had been and people he had met each day, along with his pithy thoughts and observations about scientific research and the world around him, the diary offers an unparalleled glimpse into the exciting and vibrant world of restoration, scientific discovery and the rebuilding of London from the ashes of the Great Fire.
Hooke did not intend his diary to be read by anyone else, so he could be candid in his observations about himself and his contemporaries. The diary shows a man striving to be open and honest with himself. He found his body and habits to be worthy of investigation and research, so he noted his symptoms and the experimental, sometimes dangerous, medicines he self-administered.
Famed for his irritability and scientific rows, the evidence of the diary suggests he was often both gregarious (with many evenings in taverns and coffee houses recorded) and collaborative - working closely and amiably with many colleagues, especially Sir Christopher Wren. At other times he confided in the diary his bitter feelings towards scientists whom he believed had stolen his ideas and inventions or deliberately under represented his achievements and contribution. Entries in the diary have allowed historians to cast light on these painful rows and also to investigate the diverse lines of enquiry he was pursuing in many different fields of knowledge.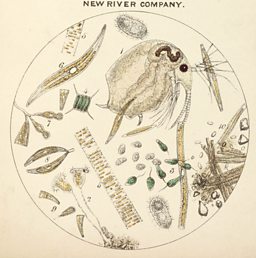 Everyone an artist, everyone a scientist
At the heart of the Fun Palaces campaign is the idea of arts and sciences working together - both to bring people together in local events, and also to create new work.
In 2014, 138 Fun Palaces popped up across the UK in gardens, tents, woodlands, shops, car parks, schools, theatre, arts centres, libraries, public squares, town halls, a butcher's shop and a swimming pool. All made by local people for their own communities, bringing together arts and sciences.
The Fun Palaces manifesto: "We believe in the genius in everyone, that everyone is an artist and everyone a scientist, and that arts and sciences can change the world for the better. We believe we can do this together, locally, with radical fun – and that anyone, anywhere, can make a Fun Palace."