Main content
Steve Mitchell: "No matter who or what you are, you can be part of the team"
To create the unique soundtrack that accompanies Marvellous, members from MY Inter-Theatre company joined the Neil Baldwin Choir to perform numbers chosen by musical director and composer, Derek Pearce.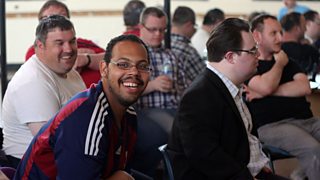 The choir in rehearsal for Marvellous
It was a pleasure, honour and joy to be part of the process

Steve Mitchell
Steve Mitchell, the inclusive theatre company's co-founder, talks about his personal experience of meeting Neil Baldwin and how the company became involved in the production.
What is the MY Inter-Theatre Company?
We originally set up an able-bodied theatre group in 2010 with the aim of providing quality theatrical experience and training for late teen and young adults. Working with adults with disabilities in social and health service and education settings, it became clear that greater, more specialised community provision and sessions were needed. So, using our expertise and experience, we initially set up a small, integrated drama group, then choir, in Stoke on Trent, later expanding to Burton, Uttoxeter, Tamworth and now Lichfield.
Our members skills and abilities vary considerably, and some need a lot more support to develop communication, social and even mobility skills. We aim to be fully inclusive in our sessions and performances - involving both able bodied and disabled people in all aspects of theatre from acting, singing and dancing through writing, directing, staging and performing all the way to sourcing media exposure and publicising our up and coming events. We use performance itself to create a stage that gives everyone a voice, breaks down barriers and opens people's perception and awareness to the value of all of us in an interdependent society.
Can anyone become a member?
Anyone - able bodied, physical or learning disabled, skilled, or otherwise, can become a member. It is all about joining in, creating a network of new friends and having a lot of fun - no matter who you are; age, ability or skill!
How did you meet Neil Baldwin?
I went to Keele University in 1984 to study music and maths. Neil Baldwin awas a regular face on the campus and could be spotted a mile off, often sporting a yellow bowler and checked yellow coat, greeting students. He has joined us on one or two occasions to sing along with the choir, sat in the audience for a recent revue we did in Stoke and characteristically ended up joining us on the stage for a song and round of 'There is only one Neil Baldwin' - at his request, of course!
How did the choir become involved in the film?
I was surprised, and pleased, to receive a phone call from the community department of the BBC. They were hunting for local singers to join the choir for the film and had found us on the internet. Having read our resumé, they were quite keen to include our members, particularly with reference to the storyline. We were made to feel very welcome, both during rehearsal and on set.
Finally, what did you think of Marvellous and seeing Neil's story on screen?
Marvellous is a moving, inspiring, fun-filled story that is beautifully scripted and filmed. Not only was it a pleasure, honour and joy to be part of the process, but the final cut and edit featured our members as part of the crew for who they were, without drawing particular notice to their abilities, skills or disabilities. That is one of the messages of the piece - inclusivity! No matter who or what you are, you can be part of the team, and we certainly were.
More from Marvellous
Director Julian Farino and actor Gemma Jones talk about bringing Neil's story to life