Main content
The stories behind the journeys
Meet Hassan, Isra'a, Ahmad and Sadiq, who all left their homes in the pursuit of a better life in Europe.
Find out more about their lives and journeys in all three episodes of Exodus: Our Journey to Europe, starting Monday 11 July at 9pm, BBC Two. The programme will be available to watch soon afterwards on BBC iPlayer.
Hassan
Born in Damascus in 1990, Hassan became a secondary school English teacher at 19. He took part in the first anti-government protests in 2011 and was imprisoned twice, where he was tortured, resulting in both wrists and one leg being broken. He was also accused of being a spy as his English was so good.
When he was released the second time in 2013, Hassan fled the country for Dubai where he worked as an English teacher, but with continual harassment over his visa, in May 2015, with a group of friends he flew to Istanbul to try to get to the UK.
He spent some time in Izmir, waiting for good weather so that they could cross to the Greek Islands by dinghy. The first boat was massively overcrowded and started to sink so they were forced to call for help from the Turkish coastguard and taken back to Izmir.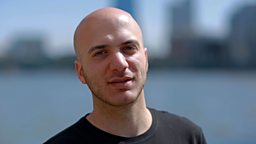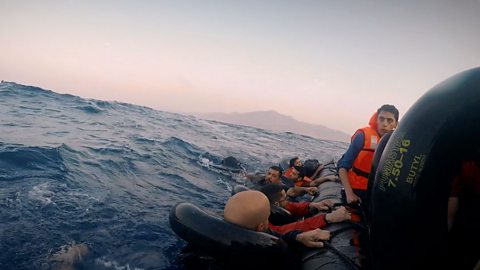 Hassan and a group of refugees embark on a risky dinghy crossing from Turkey to Greece.
Isra'a
Born in Aleppo in 2004, Isra'a lived with her extended family including her father who worked as a restaurateur, mother Nisreen, sister Shahed, who was born with a disability, and two other younger siblings.
She was at primary school until Year 3 when the civil war ended her education. In May 2015, with 15 other members of her extended family - including her grandparents - Isra'a travelled to Turkey.
By the time they arrived, they didn't have the money to pay smugglers to take them on a boat, so she and her father, Tareq, sold black market cigarettes in the main square. It took them four months to earn enough money to pay for the entire family to travel.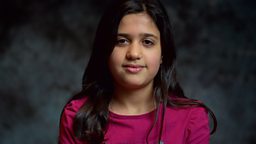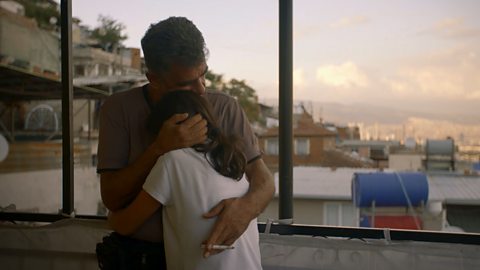 Isra'a and her family struggle with the decision to travel to Greece in a dinghy.
Ahmad
A Syrian Kurd, Ahmad grew up in Aleppo, studying English Literature at University. He married Isha in 2012 but only two weeks after the wedding they were separated when Aleppo was being heavily bombed and he couldn't get back to their house.
As a Kurd, Ahmad felt his life was in danger and moved to the Kurdish region of Iraq where he worked for UNICEF in refugee camps for Yazidis and Kurds. After three years in Iraq, Ahmad felt the situation there had become too dangerous, and that Europe was the only place he and his family would be safe.
With the situation rapidly deteriorating in Syria, he decided to aim for Britain - as Syrian asylum claims were being processed quickly - and once he had Leave to Remain, he could apply for a Family Reunion Visa to bring his wife, two year old daughter, Eva, and new-born Julianna (who Ahmad had never met) to join him.
In May 2015, he crossed into Turkey and then to Kos in a smuggler's dinghy.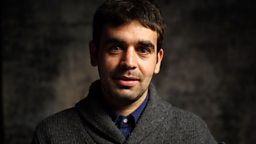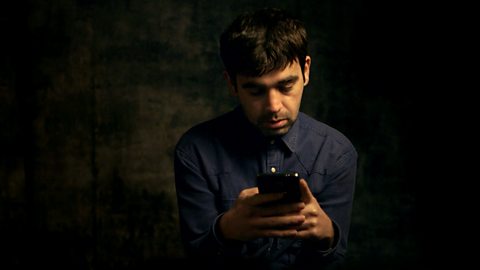 After months of no contact, Ahmad finally gets to speak to his beloved wife.
Sadiq
24 year old Sadiq has spent his entire life in Afghanistan, moving around the country with his family to escape the war.
As a child he suffered beatings at the hands of the Taliban for ignoring religious rules, and witnessed his father being savagely beaten for standing up to them. More recently he found work as an electrician, and then an interpreter at the US Embassy, which made him even more of a target.
With both parents dead and only one of his three brothers still living in Afghanistan, he decided to try his luck getting into Europe when last year he heard that other Afghans were - partly so he could live in safety but also because he felt he had a better chance of finding a good job and building a future for himself.
His dream is to study to become a pharmacist, but with no money to pay for education and no way to support himself, he knew he couldn't achieve that in Afghanistan. Sadiq's journey took him from Kabul through Pakistan, Iran and into Turkey, where he and his friend Abbas crossed to Lesbos in a dinghy.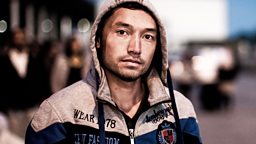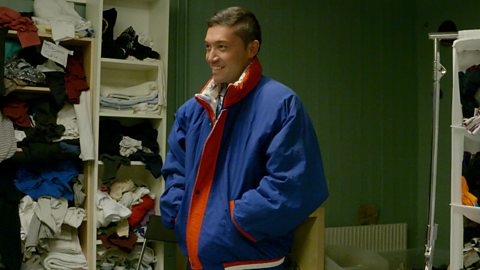 Sadiq and his travelling companions get a taste of Swedish hospitality.