Main content
A very Parisian scandal: The Pompidou Centre at 40
8 February 2017
Celebrating its 40th anniversary, Paris's Pompidou Centre caused uproar when first unveiled in 1977. With its guts of pipes and tubes on display, it was denounced as a blight on the skyline. Now, as WILLIAM COOK discovers, this ugly duckling is celebrated as a uniquely French pioneer.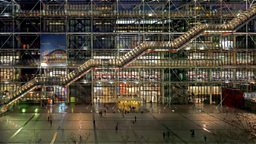 Night view of the Pompidou Centre. Copyight of the Pompidou Centre. Photo by PH Migeat.
Here in Paris, the Centre Pompidou is throwing a massive 40th birthday party, and thousands of Parisians are rushing to join in. Standing on the roof of this bizarre building, watching the long queues snaking across the cobbled square below, you'd never know that only yesterday, only a mile away, a man with a machete caused havoc in the Louvre.
Since the Bataclan Theatre massacre just over a year ago, Parisian culture has felt besieged – and foreign tourists have voted with their feet. In the Louvre and the Musee d'Orsay, attendances for 2016 are way down on 2015, and the main absentees are sightseers from abroad.
It is my passionate wish for Paris to have a cultural centre like the ones they've been creating in the United States

Georges Pompidou
Yet here at the Centre Pompidou attendances actually increased last year, due to a rise in local visitors. In a city which suffered a 15% fall in overseas visitors in 2016, that's a remarkable achievement. It shows how much Parisians love their so-called 'supermarket of culture.' If today's birthday bash is anything to go by, numbers should be up again this year.
This fortieth anniversary began with a whole weekend of free events – music, dance, drama, film and fine art – and continues throughout the year. There are all sorts of special concerts, performances and exhibitions, but the most spectacular exhibit is the Pompidou Centre itself. Dismissed by traditionalists as an industrial eyesore, reminiscent of an oil refinery, this dynamic landmark redefined the idea of what a museum ought to be.
The Centre Pompidou was the brainchild of its namesake Georges Pompidou, Prime Minister of France from 1962 to 1968, and President of the French Republic from 1969 until his untimely death in 1974. Its inspiration wasn't French, or even European. Rather, it was inspired by the new generation of museums which were springing up across the USA.
New museums like Frank Lloyd Wright's Guggenheim in New York weren't grand old mausoleums, full of dusty relics in glass cases – they were places where people went to enjoy themselves, and exchange ideas.
"It is my passionate wish for Paris to have a cultural centre like the ones they've been creating in the United States," announced President Pompidou. "It will be both a museum and a centre of creation, where the visual arts take up residence with music, film, books and audiovisual research."
This new cultural centre would embrace every avenue of the arts. It would be a communal rendezvous, for everyone from families with young children to serious academic researchers. It would contain a theatre, a gallery, a cinema and a library.
"Creation there will be modern and will be constantly evolving," declared the President. "The library will attract the best readers, who will at the same time be placed in contact with the arts."
In any European city this design would have been controversial, but here in Paris it was a scandal
Today the concept of a multimedia arts centre is so commonplace, it's easy to forget what a bold idea this was way back then. Traditional museums like the Louvre were places of reverence and self-improvement, whose form and function had scarcely changed since the end of the 18th Century. The notion that a museum could be a place to hang out and join in and try a bit of everything – well, that was something new.
That this model has become ubiquitous is testament to the Pompidou's enormous influence. Now, every European capital has its own equivalent of the Pompidou.
However the Centre Pompidou remains the prototype, the institution all other arts centres strive to emulate – and the reason no other museum can match it is its extraordinary architecture. Instead of designing a structure which would blend in with the surrounding buildings, Richard Rogers and Renzo Piano created a deliberate affront to Haussmann's Paris - as if a gigantic spaceship had crash landed in the historic heart of the French capital.
Today Rogers and Piano are household names, but back then they were only in their thirties – rising stars, but still relatively unknown. They thought they had no chance of winning this immense commission, so they worked with complete freedom, creating a futuristic scaffold frame with all the mechanics (like the lifts and escalators) on the outside, rather than hidden away behind a conventional facade. This was aesthetically daring, but it was also supremely practical, freeing up exhibition and performance space inside.
In any European city this design would have been controversial, but here in Paris it was a scandal. The city's beauty derives from its uniform design. Piano and Rogers' creation was a visual assault on the sedate boulevards that surround it. Yet gradually, Parisians have taken the Pompidou to their hearts, and now it's as much a part of Paris as the Eiffel Tower (another avant-garde structure which caused shock and outrage in its day).
And whenever you step inside, the place is always buzzing. The lower floors house the cinemas and theatres, the upper floors contain amazing museums of modern art. Highlights include French masters like Henri Matisse and Andre Derain, but the exhibit that sums up the Pompidou's playful spirit is Marcel Duchamp's LHOOQ, a cheap reproduction of the Mona Lisa (the most famous painting in the Louvre) upon which Duchamp has scribbled a beard and moustache.
Like Duchamp's iconoclastic artwork, the Centre Pompidou began as a challenge to the arts establishment, and has ended up as an iconic artwork in its own right. Here's to the next forty years.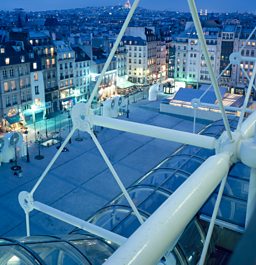 Night view from the Centre over the Place Du Centre Georges Pompidou. Photo by View Pictures/UIG via Getty Images.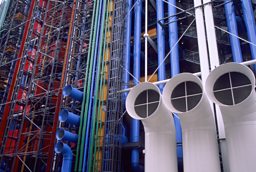 Pipe details at the Pompidou Centre. Photo by Wolfgang Kaehler/LightRocket/Getty Images.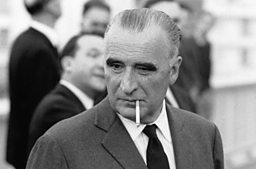 Georges Pompidou was Prime Minister from 1962 to 1968 and President from 1969 to 1974. Photo by Reporters Associes/Gamma-Rapho/Getty Images.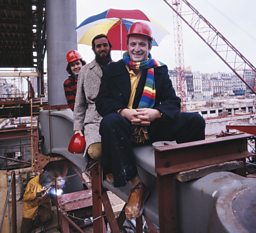 Architects Richard Rogers (front) and Renzo Piano (middle) with engineer Peter Rice (rear) at the Pompidou Centre construction site, Paris, 1974. Photo by Tony Evans/Timelapse Library Ltd./Getty Images.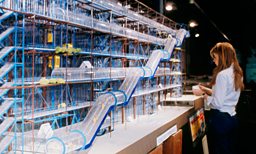 Visitor in front of the mock-up of Pompidou Centre prior to its completion. Photo by Raymond Mahut / INA/Getty Images.
Arts highlights on BBC iPlayer
Watch 12 mesmerising performances from Dancing Nation, a sampler of UK dance in all its forms.

Chizzy Akudolu presents a new collection of dramatic short films.

The Oscar-nominated actress gives a singing masterclass.