Main content
Seven secrets behind Radio 1's Live Lounge & the Breakfast Show
Ever wondered what really goes on behind-the-scenes of Radio 1's Live Lounge? Silly question, of course you have!
To get you into the mood ahead of our epic month of Live Lounge starting in September, we've got an exclusive look with Breakfast Show producer Vic Easton - check out the sneak peek below...
2. In-house dance party
It's not just the Radio 1 DJs that work their magic in the studio. Dance DJs like Rudimental and Disclosure have spun live on the studio's very own decks and turntables. Rave anyone?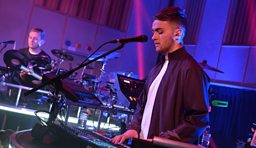 3. Adele's actual tears
As Victoria says, the Breakfast studio is home to some pretty memorable moments, such as Adele shedding real-life cries when she heard her single Hello for the first time.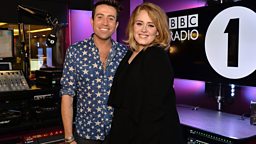 4. Grimmy Time!
We've all heard the familiar voice of Nick Grimshaw but have you ever seen what he gets up to? Not only do we get a glimpse into the world of Breakfast radio but, wait for it, visual confirmation that Grimmy does his broadcasting from a chair. Exclusive content, people.
5. Kim Kardashian liked the lighting a bit too much
It's rare to get a Kardashian into the Radio 1 studios, so when Grimmy chatted to the one and only Kim K, apart from talking about selfies, she actually wanted to take some of our awesome lights home... presumably to perfect her Instagram snaps even more.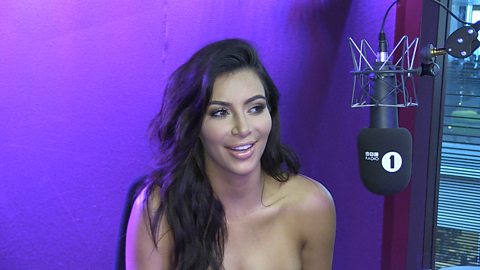 Kim Kardashian rates selfie attempts from Sam Smith and our listeners.
6. Best seat in the house
As Victoria points out, Radio 1 DJ Clara Amfo can keep an eye on the band and artist setups prior to a performance when at work in the studio and essentially has the best possible view of the famous faces.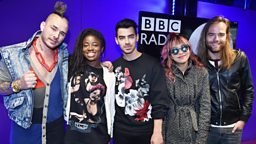 Clara Amfo hangs with DNCE
7. Her Majesty rocked out (kinda)
The Live Lounge is so iconic that the actual Queen came to have a peek at the inner workings. The Script performed as she looked on. Talk about nerves. We assume she was was having a whale of a time but she was far to classy to whip her hair back and forth.
Make sure you tune in all throughout September for daily Live Lounge performances, starting with Justin Bieber from L.A.!