Main content
100 Years of the Ukulele in 6 Minutes
6 November 2015
The ukulele is everywhere and is now seen as the hipster instrument of choice. Clubs are springing up, music shops are full of them and the ukulele is being introduced in schools as a great starter instrument to replace the recorder.
Hardly an advert for a building society or bank appears that doesn't have a ukulele somewhere in its soundtrack - the jaunty, happy sound signifying a friendly and unthreatening product.
It is now ten years since the ukulele exploded on to the internet, coinciding with the launch of YouTube, so it seemed fitting that we ask one of the ukulele's online pioneers, Gus Raucous (real name Angus McIntyre), to perform a ukulele history. He performs a medley of songs spanning approximately 100 years, with back-up from The Shiverin' Sheiks and his long-term YouTube partner Fin.
Coincidentally, Gus is also a vintage instrument collector and recently acquired a Kumalae ukulele dating from 1915 - the year the instrument was introduced to the world from Hawaii, where it was developed For a more detailed look at the uke please follow the link to our 100-year history, The Highs and Lows of the Ukulele (where there is also a photograph of Gus's prized Kumalae).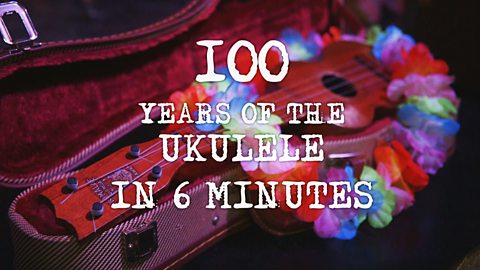 Ukulele Lady to Goldfrapp's Ooh La La via We'll Meet Again and Smells Like Teen Spirit.