Main content
Martin Luther King
Martin Luther King was an American clergyman and winner of the Nobel Peace Prize. He was a leading figure in the civil rights movement, who had a defining influence on the recent history of the United States.
His 'I have a dream' speech was delivered on 28 August 1963 at the Lincoln Memorial in Washington DC to a crowd of about 250,000 people. It was the culmination of the 'March on Washington for Jobs and Freedom' and is a key moment in the Civil Rights movement.
To help introduce your pupils to his life and work, we have pulled together a collection of resources from around the BBC.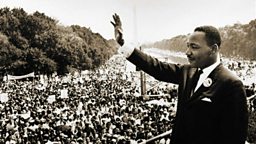 Video summary
A woman remembers how in 1963, as a girl, she was taken to Washington by her father to hear a man talk.
Darkness cannot drive out darkness; only light can do that. Hate cannot drive out hate; only love can do that.

Martin Luther King
She recalls how, at first, she couldn't understand why her father would want to drag her along to hear a man giving a speech. Then she remembers the speech itself - and how the speaker seemed to go on and on.
She remembers how the crowd began to respond to the speaker and how as he brought his speech to its climax the crowds began to shout and cheer - herself included.
The memory of Dr Martin Luther King's speech - 'I have a dream' - has stayed with her across the years; an inspiration to carry on striving for justice and freedom for everyone.
More Martin Luther King and Civil Rights Movement Resources
Simon Armitage analyses how Martin Luther King's "I have a dream" speech is an example of great oratory and one which changed the mindset of a nation. He focuses on how the use of metaphor, rhythm, intensity and pauses helped the speech to inspire action in people.

This interactive timeline looks at whether Martin Luther King achieved his life's dream. The key dates, events and people who influenced his life are explored through an extensive archive of video and audio clips, accounts and articles.

A collection of films and guides to use with your class to explore the key figures during the Civil Rights Movement. Find out about the impact of Rosa Parks' Montgomery Bus Boycott, what happened at the 1961 'Freedom Rides', the importance of African American churches and much more.