Main content
Hogarth and the Hanoverians
By Kate Heard, senior curator of Prints and Drawings, Royal Collection Trust
In December 1750, William Hogarth issued a print called The March to Finchley. Set in 1745, the engraving shows government soldiers marching out of London to counter the Jacobite rising led by 'Bonnie Prince Charlie' (Prince Charles Edward Stuart). Buyers of the print would have known that this challenge to Hanoverian rule ended at the Battle of Culloden in 1746, and Hogarth's engraving can be read as a celebration of that victory. Look more closely, though, and things are not so simple. The soldiers in the foreground are in disarray – drunk, dishevelled and marching in many different directions, their gestures parodying events of battle such as beating a retreat and being captured. And the print is dedicated not to the monarch who oversaw the victory – George II – but to Frederick the Great, the king of Prussia. What is going on?
Hogarth, whose career coincides almost exactly with the reigns of George I and George II, found great success under the Hanoverian monarchs, but this was in spite of their presence rather than due to their patronage. Early in his career, he had allied himself with the king's sergeant-painter Sir James Thornhill (and married his daughter), only to find Thornhill thrown over in favour of the cheaper (and to Hogarth's mind, vulgar) William Kent.
In the early 1730s, Hogarth was promised a prestigious commission to paint the royal family, but lost the project – again to Kent. It is said that the oil painting of The March to Finchley, on which the print was based, was rejected for purchase by George II (who famously declared that he hated 'painting, and poetry too') to Hogarth's humiliation. And Hogarth had certainly failed to win the coveted royal position of Painter in Ordinary, which he had hoped to be awarded, in March 1749. His dedication of The March to Finchley to Frederick the Great, whom he described as 'an Encourager of the Arts and Sciences!', was probably his response to these slights.
Hogarth would not have known it, but the Hanoverians' reaction to his work wasn't all negative. Hogarth's treatise on the arts, The Analysis of Beauty, published in 1757, and bound in red leather with an elegant gold tooled binding, bears a coat of arms that suggests it was in George II's library. George II's Hanoverian successors George III, George IV and Queen Victoria were all eager purchasers of Hogarth's work, and today the Royal Collection includes an important group of the artist's prints, drawings and paintings. William Hogarth, who in his lifetime felt so slighted, would be very pleased indeed.
Kate Heard is senior curator of Prints and Drawings, Royal Collection Trust. She is a co-curator of the exhibition The First Georgians: Art and Monarchy 1714-1760 and author of High Spirits: The Comic Art of Thomas Rowlandson (2013).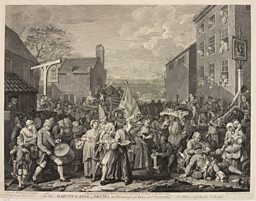 The March to Finchley, William Hogarth, 1750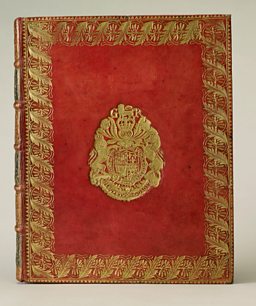 Cover of "The Analysis of Beauty", William Hogarth, 1757