Main content
Art in a Cold Climate
Can a work of art capture the essence of a country?
For 'Art in a Cold Climate', The Essay on Radio 3 asked five writers from northern nations to choose an art work which said something special about their homeland. Their choices – deeply personal, sometimes idiosyncratic – offer fascinating insights into landscape, history and culture.
Painting Place III, by David Milne
All Canadians have a feeling for landscape and a sense of 'the immense Arctic above our heads,' says the novelist Elizabeth Hay. It was the genius of David Milne to take Canada's intimidating vastness and make it personal. In Painting Place III he puts his own painting kit in the foreground, while deploying what one commentator called his 'four or five little volcanoes of colour'. A loner from Ontario who built his own cabin and often painted from his canoe, Milne died in 1953 and is buried in an unmarked grave in Toronto.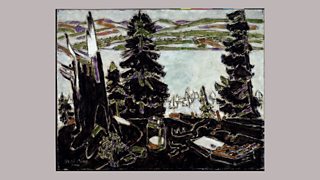 Photo courtesy David Silcox
Fish Processing in Eyjafjörður, by Kristin Jonsdóttir
'Most early Icelandic paintings are landscapes,' says writer and artist Hallgrímur Helgason. But this lively work from 1914 focuses on women preparing cod for export: then as now, a vital Icelandic industry. 'The man watching the women at work is probably the manager,' says Helgason. 'His posture seems to underline how unnecessary and useless he is to the proceedings.'
Artist Kristin Jonsdottir was an early woman painter in a nation now famous for powerful women. Her clever observational studies captured washerwomen, musical gatherings and solemn readings of the sagas in candle-lit farmhouses. Even so, says Helgason, Jonsdóttir found it difficult to make her name in a nation where art is dominated by literature.
Camera Obscura, by Pia Arke
'The Camera Obscura stands in this photo like an outsized ice-cube among the barren mountains of Greenland,' says the Danish poet Mette Moestrup. The work of the late Greenlandic-Danish artist Pia Arke, this structure was a giant box camera she could climb inside to create haunting, ethereal photographs of people and landscapes. She placed it on the site of her demolished family home and photographed vistas recalled from childhood. 'A lost home, and a lost view,' reflects Moestrup, 'recreated via the nomadic camera house.' Arke was the child of a Greenlandic mother and a Danish father. Her work tackles the fraught post-colonial relationship between the 57,000 inhabitants of the world's biggest island, and its former colonial masters in Denmark.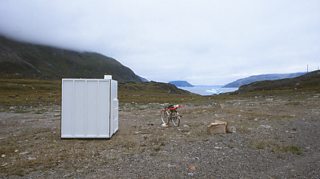 Photo courtesy Soren Arke
Touching Fire, by Carolyn Reed
For more than 30 years, the writer Ray Hudson lived in the remote, treeless Aleutian Islands, 800 miles west of Anchorage, Alaska. He see Carolyn Reed's drawing of two women standing on a beach, as a powerful evocation of the problems ‒ social, economic and environmental ‒ which face people in these remote and sometimes embattled communities: 'All who live here, it says with powerful immediacy, stand between a sea of vast natural resources and the flames of our needs and desires.'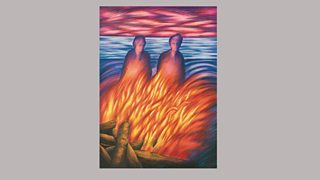 Holmenkollen ski jumping hill
Many people would not regard a ski jump as a work of art. But anthropologist and writer Thomas Hylland Eriksen is unrepentant about his choice of Oslo's Holmenkollen ski jumping hill as sculpture of national significance: 'It was a work of art enjoyed by tens, perhaps hundreds of thousands of people every day,' he says. Built for the Winter Olympics in 1952, the ski jump, was 'slim and elegant, stretching skywards in a sweeping optimistic gesture,' says Eriksen. 'Looking towards the Holmenkollen made people more Norwegian,' he insists. It symbolised the Norwegian passion for nature and the outdoors.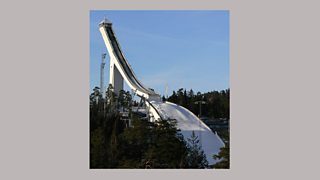 Photo: Matthias Stang
The structure Eriksen celebrates was demolished in 2008 and replaced with a bigger and more efficient ski jump. Eriksen is unimpressed: 'The new hill, dark brown in colour, does not light up the surroundings, and it ends not with an optimistic flourish towards the sky: it merely ends.'
Highlights from Radio 3's Northern Lights season