Main content
'Those that traded paradise to help rebuild our country deserve medals'
Actress Rhea Bailey, best known for playing Caz in Coronation Street, describes herself as being half West Indian and half English.
To mark the 70th anniversary of Windrush, when people from Caribbean countries arrived in the UK aboard the MV Empire Windrush, Rhea has been finding out more about her family history and how it has made her who she is.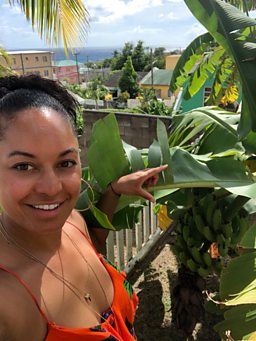 In the 1940s, West Indians were invited from British Colonies in the Caribbean to come to the UK to help rebuild Britain after the Second World War.
Growing up, I always wondered why droves of people decided to leave paradise and come to jolly old England. I couldn't understand it.
It was only recently that I discovered they were invited here. Their trips were even subsidised. No-one stowed away, no-one sneaked into the country, or begged to get in; they were invited.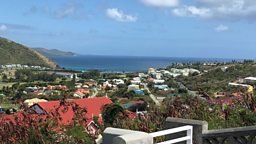 My dad's parents emigrated from St Kitts in the 1960s. They came on the back of a promise of 'good jobs' and 'great opportunities'.
Growing up in a British colony, they were always immersed in British culture. My black grandparents enjoy a good cup of tea and a biscuit just as much as my white grandparents who are Yorkshire born and bred. In fact, on a recent trip back to the island, the only request was that I bring Rich Tea biscuits and Tetley tea bags!
But arriving in the UK 50 years ago, the reality of building a life here was very different. Settling in Leeds, my grandmother said they were met with 'prejudice'.
They'd only ever lived on a very small island in the heart of the Caribbean, surrounded by people who looked and talked the same as them. They had never experienced a hostile environment simply because of the way they looked and talked.
During my trip there, I asked my grandmother if she ever wished they'd stayed in St Kitts.
To me, leaving paradise sounds like a bad idea but she said she never regretted it. To her, it was an adventure. She was bored with her tiny island and wanted to see more of the world.
My father had a scholarship to a private school, so he stayed behind with his grandma until he was 14. In St Kitts, he would make fudge with his grandmother (a tradition he has passed onto me!) and go swimming in the sea before school.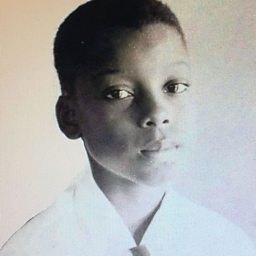 My dad
Moving to England, he was reunited with his siblings but he was also met with prejudice, cruelty from teachers and racism from the police. I can't imagine what a culture shock it must have been.
My dad's an intelligent guy; in his twenties he got a job working on some of the first ever computers in the country, back when they were the size of entire rooms. As a result, he drove a red MG convertible. And although he loved it, he would get pulled over on a daily basis - just for being a young black man in a sports car.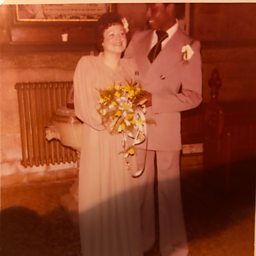 Mum and dad on their wedding day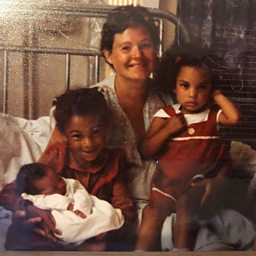 Me as a baby with my mum and two sisters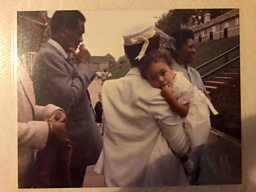 My christening with my grandparents to my left and to my right
My granddad worked on the trains until he retired and my grandma worked in a factory.
The plan was only ever to stay until their kids had finished school and they had saved some money.
But the reality of living in a more expensive country, with wages not being what they were advertised, raising a family and trying to save money, proved difficult. Plus, they had started making roots. My dad met my mum on a night out when they were teenagers and they got married a few years later.
My grandparents ended up living in the same house in Leeds for 30 years, where I have many happy childhood memories, running around playing games in my vest and knickers because the heating was always on full blast.
15 grandchildren later, they were able to build a house back on the island and finally retire home to St Kitts. The house they built is a great symbol of the fruition of all their hard work.
On a recent trip, I asked my grandmother and my great auntie Millie, my late granddad's younger sister, if I could interview them. I wanted to learn more about why they moved here and what it was like for them.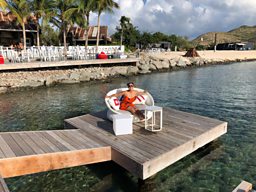 They had some funny stories to tell. It was clear it had been an adventure.
But after the interview, my great auntie Millie also told me a sad story about how, when she was baptised in Leeds, the minister asked her if she would go last, because another man did not want to be in the same water as a black woman. She also talked about how hard it was for them to find somewhere to live, as no-one wanted black people in their neighbourhood.
What was interesting to me was how guarded and private they were whenever I tried to speak about the hard times. It was as though they were keeping things from me. I notice it with my dad too, when I dig deep, he will tell you a nice story or put a positive spin on it.
I can only surmise that my father and my grandparents chose not to tell me all of the things they endured, so that I would be able to live in this country as an equal. To start life with a clean slate. And not be angry or bitter at some of the things they went through.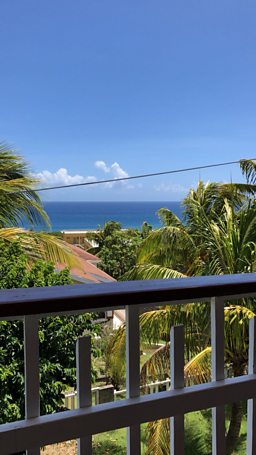 My parents and my grandparents did an incredible job of protecting me and my sisters from the racism they had received. I had a very happy childhood. I never felt out of place, or unwelcome growing up.
My oldest sister is the Grammy award winning artist, Corinne Bailey Rae. My second sister is a Labour councillor and I am an actress and writer, who gets travel the world doing the job I love.
Everyone has their own reality of living in the UK, and although we were not rich, I recognise we have lived privileged lives. I'm grateful to be British and thankful for the sacrifices my grandparents made for me. But that doesn't stop me feeling angry when I see injustice.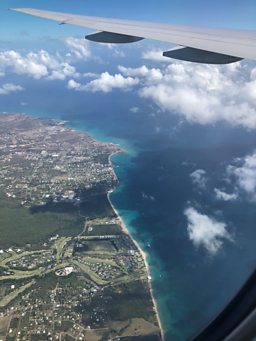 Recently, I met Joseph Bravo, not far from my grandparent's former home in Leeds. He's just one of the victims of the Windrush scandal.
Joseph has lived in Leeds for more than 50 years, but when he tried to get a passport, so he could see his daughter getting married in Cyprus earlier this year, he was told there were no records of him.
"They told me I didn't exist," said Joseph.
He couldn't hold back the tears as he told me he missed his daughter's wedding.
"I just can't talk about it because it upsets me too much," he said. "Every time I try, I just crack."
We talked about how there must have been some kind of computer error, as he had at one time owned a passport. I asked Joseph if he felt angry.
"No, I'm not angry. It's a waste of time," he said. "I can't attack anybody, there's no one to answer for my problem. So what's the point?"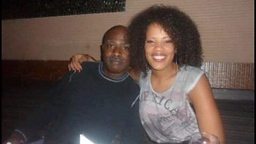 Joseph and his daughter
I was surprised at Joseph's response. There plainly is a group of people in government who you can easily be made to answer for what's happened.
Being an entitled 21st century kid, I want to go and shout at them and say, 'Hey. Sort this out!'
Joseph has paid taxes for nearly 50 years. If they're happy to take his tax money every year, how come they don't feel like they should give him his passport?
There's no compensation for missing your daughter's wedding or being deported from the country you were born in. No amount of money can make that feel better.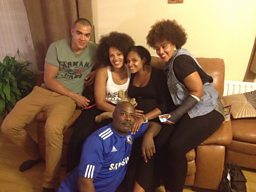 Doing this report has shown me that there's a humility about Joseph's generation - they don't want to shout. I don't know if it's because they've had certain things drummed out of them, so they feel they don't have a right to stand up and argue.
But it presents a really interesting dynamic when we're together because my generation is the opposite. We feel like we do have a right to be angry about things, to raise issues with our local politicians, to sign forms and go on marches.
I do feel grateful to be British because of the opportunities it's afforded me but I also feel entitled to be here because I was born here, I pay my taxes and I, like Joseph, contribute to society. We all have an equal right to feel at home here.
Joseph said he is hopeful his situation will get sorted. I'm keeping everything crossed for him. In my opinion, those that traded paradise to come and help rebuild our country deserve medals of honour, and nothing less.
What the Home Office says
"The Home Secretary has apologised unreservedly for the distress caused to people of the Windrush generation. These are people who have contributed to the UK over a number of decades and it is our priority to ensure that those who have struggled to demonstrate their right to be here are supported to do so.
"It is right we design a compensation scheme that effectively addresses the issues people of the Windrush generation have faced and to do that we have to listen. We have completed the call for evidence, which has given individuals and community groups the opportunity to share their stories and experiences."
The spokesperson added that Joseph Bravo had since been naturalised as a British Citizen and would receive his certificate of naturalisation very shortly.
Listen to Rhea's full report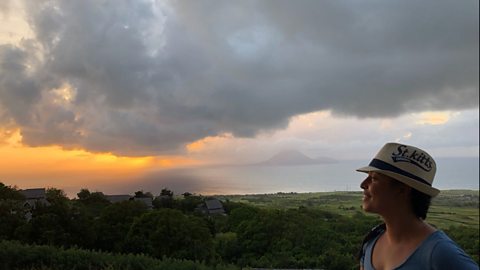 Rhea Bailey looks into the problems faced by some of the Windrush generation.
1Xtra's Mim Shaikh investigates whether only children have certain traits.

TV journalist Gary Burgess who has ME asks why so little is known about the illness.