Main content
Can I Really Get A Job At Radio 1 & 1Xtra?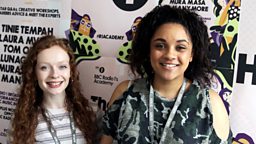 The answer is YES!
Last year Lucy Kinghorn left university and was working behind a bar, and Oriana Storey had a part-time job in a call centre.
Now they've both got jobs at Radio 1 & 1Xtra on the Where It Begins internship scheme.
They stopped by at Radio 1's Academy to tell us how they landed their internships, and how you can follow in their footsteps into a creative career!
Make sure your CV is jam packed
You may love music or Greg James, but unless you've got experience that you can put in your applications, you're not going to get very far.
Work experience, internships, personal achievements – put it all down!
Lucy: "Although I had a fair bit of radio experience when I applied, I also included things like work experience at a theatre and staffing the checkouts at a supermarket."
"I wanted to show on my application that I was pro-active and willing to get stuck in."
Create your own projects
If you don't live anywhere near a radio station, don't fear. There are plenty of ways you can still build up your CV.
Blogging: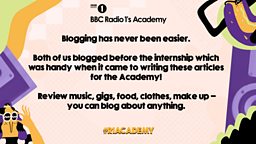 YouTube: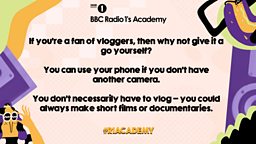 Playlists: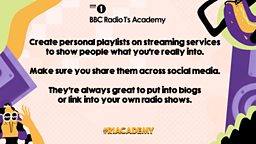 Don't take no for an answer
Three of Radio 1's four interns had actually applied before and been unsuccessful - one of them twice!
Lucy says "I took a lot of knock backs before getting this internship. Unfortunately, it is mega competitive and that's just the way it is. You have to be persistent".
"Always ask for feedback because it's a really useful way of working out how to improve next time - or even the time after."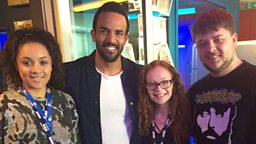 Oriana and Lucy meet their future husband (maybe) Craig David during their second week at Radio 1 & 1Xtra.
Don't worry about what other people are doing
For example - student radio is a great way of getting experience, but it's not the only route.
Oriana: "My university didn't have a student radio station, so I looked at other ways I could express my passion and started a music blog."
"I also got involved with community radio which is another great way to learn some radio skills. Hospital Radio is also a route you can take."
"I always used to worry about other people who seemed to be doing brilliant things", adds Lucy.
"But if you don't apply for a job because you think someone else is going to get it, you won't get anywhere"
Find the latest jobs, apprenticeship schemes and work experience placements at the BBC here.