Main content
Student Publication of the Year 2019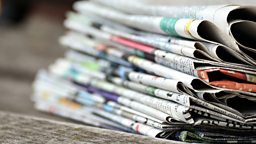 We're looking for the UK's best student newspaper, magazine, or website. We want to see publications that can find the perfect balance of news and features, that are editorially exciting and driven by smart ideas. The winning publication will be committed to telling the stories of campus life that matter.
We'll be looking for a publication that embodies the BBC's values of impartiality, trustworthiness and excellence, and that serves the needs and interests of a student audience.
If your publication wins this award, up to four members of the editorial team will be invited to watch an edition of the Today Programme broadcast from the BBC's studios in central London.
About the judges:
JUSTIN WEBB presents the Today Programme on BBC Radio 4. Previously he was the BBC's North America Editor, and before that led the BBC's coverage of European affairs from Brussels. While a student he wrote for the London Student and The Beaver.
JANICE TURNER is a columnist, interviewer and feature writer for The Times. She has also written for other publications including The New Statesman and The Guardian. She has been shortlisted for the British Press Awards six times, winning interviewer of the year in 2014.
How to enter:
This category seeks to recognise the best regular student publications – newspapers, magazines, or websites – produced by individuals in full- or part-time education, and aimed either solely or predominantly a student audience. Entrants will need to submit three examples of content from the publication published during the academic year 2018-19. Entries close at 23:59 on 31 August 2019.
Click HERE to enter