Main content
Get singing: The Pankhurst Anthem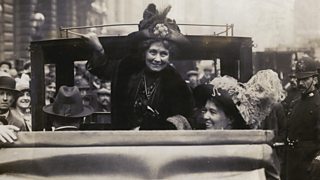 Emmeline Pankhurst pictured in 1910
On 6 February 1918, a ground-breaking Act of Parliament allowed some women in the United Kingdom to vote for the first time.
Although it would be another ten years before all UK women could vote on the same terms as men, it was a momentous step on the road to voting equality.
100 years later to the day, BBC Radio 3 is marking this important centenary of women's suffrage with a special commission.
We've joined forces with two descendants of suffragette Emmeline Pankhurst to produce a new choral work that singers from around the country are invited to perform.
The Pankhurst Anthem
Composer Lucy Pankhurst has written a beautiful choral setting for a text by the activist and writer Helen Pankhurst, based on a powerful address given by her famous great-grandmother, Emmeline.
The Pankhurst Anthem is comprised of two sections. The first, Echoes of Emmeline, adapts words by Emmeline Pankhurst to reflect on the suffragettes' struggle to be enfranchised. The second section, Anthem, is more upbeat in tone and explores the modern repercussions of the suffrage movement.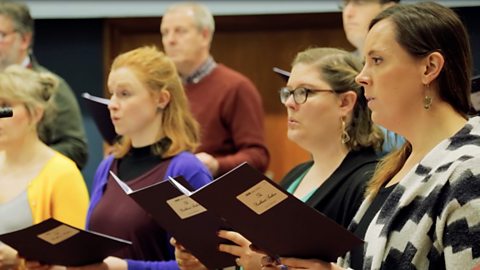 Choirs are invited to mark the centenary of UK women's suffrage with a new choral work.
Download sheet music for The Pankhurst Anthem
The score for The Pankhurst Anthem is free for anyone to view, download, print and perform. We want as many singers, choirs and ensembles as possible – women and men, young and old, amateur and professional – to make it a part of their repertoire in 2018.
There are three arrangements to choose from. View and download scores by clicking the links in the sidebar (on desktop/tablet) or below (mobile).
This is the version performed by the BBC Singers in the video above, and will suit groups of mixed higher and lower voices. On the back page of the score, you'll find an additional sheet containing just the melody and words – helpful for younger singers who want to join in with the Anthem section.
This version is arranged for women's or treble voices (SSAA) singing in harmony. This version also contains an additional back page with just the melody and words of the Anthem section.
This version contains just the melody and words of the commission's second section, Anthem, along with some simple chords that you can use to accompany yourself. Sing it solo or in a group with everybody on the tune – it's up to you!
There's also an piano reduction that you might find helpful for rehearsals.
NB: The SATB and SSAA arrangements contain both sections of The Pankhurst Anthem. The second section, Anthem (pages 6-12), can be performed as a standalone piece if desired.
Download free sheet music and find out more
Live broadcast premiere of The Pankhurst Anthem, March 2018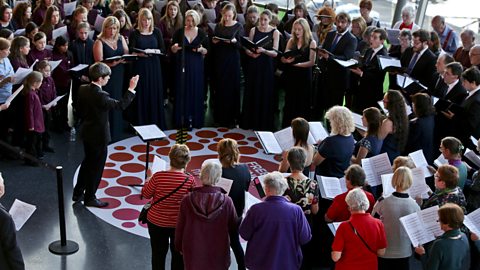 Voices of Hope perform The Pankhurst Anthem, joined by a flash mob of local singers.
If you sing The Pankhurst Anthem in 2018, we want to hear from you
Email 3breakfast@bbc.co.uk and tweet @BBCRadio3 with your comments, photos and links to recordings on social media.
We'll be following and featuring performances of The Pankhurst Anthem throughout the year on BBC Radio 3, so make sure you let us know how rehearsals are coming along!
On International Women's Day 2018, BBC Radio 3 listeners will be able to hear music by five "forgotten" women composers.

The Pankhurst Anthem is inspired by a long tradition of powerful anthems, from hymns to pop and protest songs.