Main content
Billy Connolly: I had the worst nickname in the world
Comedian Sir Billy Connolly is affectionately known as the Big Yin, but not all nicknames have been to his liking.

Schooldays are said to be the best days of our lives, but for some they can be agony. Just one small incident can change a pupil's status in the playground for better or, as Billy Connolly discovered, for worse.

In common with his friends, Billy attended St Peter's Girls' School in Glasgow until he was six, before moving on to the local Catholic primary. And in these formative years he was dealt a huge blow:

"I had the worst nickname in the world," he reveals on new series Billy and Us.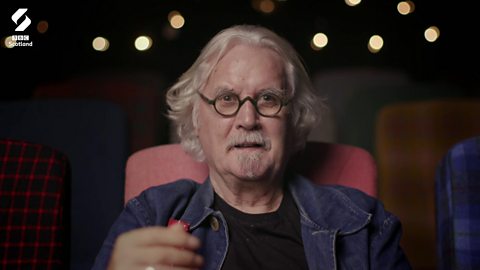 Billy Connolly reveals his hated school nickname and recalls his childhood in Glasgow.
The name stemmed from a certificate a classmate had brought into school which decreed the holder was entitled to a free cuddle.

"Somebody passed it to me," Billy recalls. "The teacher went 'What's that Connolly?', and I took it out and he read it and went 'Ok, Cuddles, sit down'. And that was me for a year."
A controversial routine
Over the years, Billy's stand-up routines about his post-war childhood struck a chord with audiences, but other material proved to be far more controversial.
In the 1970s, a story about the Crucifixion in which he set the Last Supper in a Glasgow pub brought Billy fame and new fans but outraged some religious leaders who believed it was blasphemous.
Among those were the board of his alma mater. In later years Billy returned to St Peter's and discovered that his jokes had so offended the school, his name had been removed from its records.
Sir Billy Connolly on BBC Scotland
Latest features from BBC Scotland