Main content
Your essential guide to the arts, in one handy place

Unlock a treasure trove of cultural treats from across the whole of the BBC with our personalised email newsletter service.
By signing up you'll be able to stay abreast of the nation's greatest arts festivals and cultural events, as well as making sure you never miss any of the BBC's unrivalled arts programmes ever again.
Broaden your horizons or find out more about the writers or performers you already love, from Old Masters to emerging artists, with film reviews, essential TV and radio documentaries, performance clips, in-depth interviews and more.
You'll also get:
Round-ups of must-see TV, essential radio shows and gripping online content from other areas of the BBC
Exclusive first looks at your favourite series and news of seasons of programmes we know you'll love
Online exclusives and special invites to view the best up-coming BBC shows and services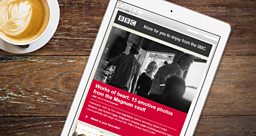 NOTE: We'll tailor the emails based on your online browsing activities and interactions with the BBC website, apps and the emails themselves. If you'd like to receive this personalised service, simply register for BBC newsletters, giving us permission to use your online browsing data for this purpose. Find out more about the BBC's Privacy Policy.
More from BBC Arts
How classic films influenced comic book writers and artists to create Batman and more

This exciting artists delivers an innovative performance of his epic poem