Main content
The Witterlist - 27th November 2020
Mark and Simon had plenty to get through this week, with releases running the gamut from Hollywood history to festive rom-com and visceral body horror. They also enjoyed a long chat with an actor making his directorial debut.
The Interview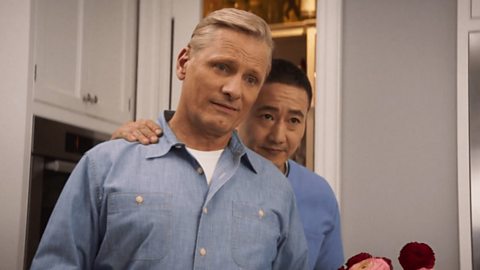 Mark Kermode and Simon Mayo talk to Viggo Mortensen about his directorial debut, Falling.
Viggo Mortensen has made his directorial debut with Falling, which he also wrote and co-stars in. He talked to Mark and Simon about how he found inspiration from his own life and parents, working with Lance Henriksen and why David Cronenberg was the perfect person to play a proctologist.
In Falling, Viggo Mortensen's character takes in his father (Henriksen), an unpleasant man who is starting to suffer from dementia. Mark found the film very hard to get through, as Henriksen's performance as a relentlessly unlikeable person is so no-holds-barred, it becomes difficult to keep spending time in his company.
Mank is David Fincher's latest film, from a screenplay by his father, Jack. Set in the 1930s and 40s, it follows screenwriter Herman J. Mankiewicz as he writes the script for Orson Welles' Citizen Kane. Mark thought the film was fine, but as with any film dealing with Welles' masterpiece, the subject forces a comparison from which the new movie will never come out on top.
Part of Steve McQueen's Small Axe series, Red, White and Blue stars John Boyega as Leroy Logan, the son of a Jamaican immigrant, who joined the Metropolitan Police in order to try and change things from within. Boyega shows what a versatile actor he is, in a brilliantly directed film that further blurs the lines between film and television entertainment.
Happiest Season, directed by Clea DuVall from a screenplay by her and Mary Holland, follows Kristen Stewart's Abby, who plans to propose to her girlfriend Harper at the latter's family Christmas celebrations - until she discovers Harper never came out to her family and has told her parents that Abby is her orphaned roommate. A sweet and funny film with comedy that is both broad and sharp, delivered by a solid and likeable cast, it's a thoroughly enjoyable Christmas movie that seems destined to be a future favourite.
Andrea Riseborough stars as an assassin who uses high-tech equipment to place her consciousness inside other peoples' minds, making them the perfect tools for a clean kill. As she spends more time outside of her own body, her grip on reality and herself begins to slip, jeopardising her latest mission. Directed by Brandon 'Son of David' Cronenberg, the film is not shy in presenting full on, gory violence, but there is depth and ambiguity to the plot that rewards multiple viewings.
In Mark's words, it's "fleshily rewarding".
"Watching this I could feel parts of my soul dying... Utter, utter, utter, utter, utter trash."
The Ringmaster is also out this week.
Mark Kermode joins Simon Mayo to give his verdict on the week's movies