Main content
Gemma Cairney's 20 reasons why Baduizm is one of the BEST albums on its 20th anniversary
OK, I'll admit I'm a bit obsessed, a self proclaimed 'Badu-GEEK' and in celebration of its 20th anniversary here are 20 reasons Baduizm is one of the BEST albums ever...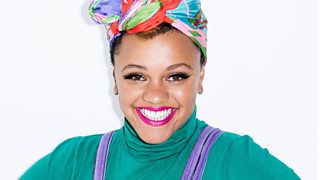 1 - IT TRANSCENDS TIME
On first listen, this album is impossible to place in terms of era-specific genre beyond the 90s. It sounds like it could have been made then, or yesterday.
2 - ITS NAME
The fact that Badu, on her debut album created an entirely new namesake genre, tells you from the title that it ain't messing about as a listen.
3 - BADU WENT ON TO BECOME REFERENCED, SAMPLED, COPIED OR INFLUENCE SOME OF THE MOST ACCLAIMED ARTISTS IN THE PAST 20 YEARS
"...and my new Badu" sang Amy Winehouse on her first album - Frank, referencing a boyfriend who stole one of her favourite records.
Drake sings a whole verse of hers on his 2016 album 'Views' and previously rapped the lyric "One night I went to Erykah Badu's house. She made tea for me" on his song 'Days In The East'.
'Miss Jackson' by OutKast was written about Badu and dedicated by Andre 3000 to her mum after they split.
4 - IT'S FUNNY & CLEVER
In 'Apple Tree', Badu uses an analogy she learnt from her Grandma about picking friends like she picks her fruit.
5 - THERE WAS MORE OF IT THAT FOLLOWED
On the live version (see number 7) Badu introduces the track 'Tyrone' (see number 6) to Baduizm legacy. The song was originally completed improvised whilst freestylin' on stage in London one night.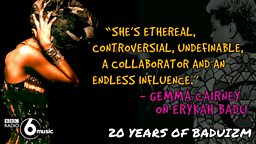 6 - IT BEGAN A LEGACY
On Badu's latest mixtape (released in 2015), she references iconic tracks from Baduizm such as the 'no-scrubs' style anthem 'Tyrone' in which she repeatedly tells her man, he better leave but he can't use any more of her credit! The tales from Baduizm are ongoing.
7 - SHE CAN DO AN AWESOME COVER TOO
On the 'Live' version of Baduizm, released eight months after the original, there is funky, psychedelic covers of Chaka Khan, Roy Ayers, Heatwave & more.
8 - it's for those that like Soul
9 - it's for those that like Hip Hop
10 - it's for those that like Jazz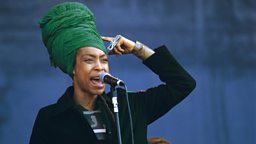 11 - IT'S HARD TO DEFINE
It's multi genre supreme. Fusing hip-hop style playful slang, jazz scats & deeply resonating soulful vocals.
12 - IT'S FILLED WITH IMPRESSIVE COLLABS...
The Roots co-produced 'Sometimes' and 'Outside of the game' on the album. Plus one of the many other producers on the album is called 'Tone The Backbone' - which is simply an epic name.
13 - IT CREATED A NEW GENRE OF MUSIC
It pretty much created the term 'neo soul' which was used by press to describe her and other contemporaries at the time including D'Angelo & Maxwell - both excellent artists, but arguably not as unique as Badu.
14- THE NUANCED REFERENCES TO LOVE, ECONOMICS, RACE & WOMANHOOD ARE STAND OUT
'Next Lifetime' is the best song ever for those who have fallen in love whilst being in love - which CAN HAPPEN.
15 - IT HAD STIFF COMPETITION
Baduizm was released on 11 February 1997 and hit No.1 in the Billboard chart in America on 8 June that same year. It knocked off 'Life After Death', the posthumous album by legendary rapper The Notorious B.I.G, only to be knocked off the top spot itself by En Vogue's 'RV3'.
16 - THIS WAS A FIRST ALBUM!
Though known on the more conscious and alternative hip-hop scene, Erykah was not known around America yet. She'd previously experimented with the arts, went to theatre school, dabbled with being a hip-hop MC (she went by the name of MC Apples). Then made Baduizm, which broke through, cementing her firmly as a credible and lasting loved musician.
17 - IT'S ABOUT AN EXPERIENCE
Erykah claims to 'not give a damn' if people understand the album or not 'as long as you feel' it.
18 - IT'S INSPIRED BY A RIGHT FUN HOTCH POTCH OF STUFF
Inspirations referenced by Badu have been from Fred Flinstone's 'yabba dabba DO' to George Jefferson, a loved fictional sitcom character in America in the 70s & 80s.
19 - ERYKAH REPRESENTED A NEW TYPE OF FEMALE POP STAR
On the cover of Baduizm she wore a giant headwrap on her head and didn't show her face. She has since claimed to own over 726 headwraps - that's dedication.
20 - SHE WENT ON TO DO MORE GREATS
Erykah defied the common 'one album-wonder' and has brought out many more successful albums since, each unique and critically acclaimed, Mama's Gun (2000), Worldwide Underground (2003) New Amerykah Part 1 (2008), New Amerykah Part 2 (2010) and her latest mixtapes released in 2015 - 'Feel Better World!.. Love Ms Badu' & 'But You Can't Use My Phone' (in which she responds to Drake's fascination with her... by sampling him).
Oh and she's a trained doula, delivering over forty babies to date...
PHEW!