Main content
Why The 1975 were moved to tears working with the BBC Philharmonic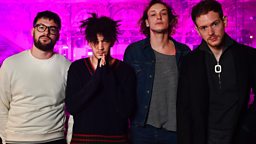 The 1975 are performing a very special gig with the BBC Philharmonic and it has been an emotional experience for everyone involved.
Fans will hear songs from The 1975's two albums like never before - packed full of strings and brass, pulling even more emotion out of Matt Healy's intimate lyrics.
The band have been performing newer songs like Change Of Heart and The Sound for a year or more, but hearing the orchestral arrangements moved Matt to tears when they first rehearsed with the Philharmonic.
"I was crying today, at times," Matt told Radio 1 online after the band first rehearsed with the BBC Philharmonic.
I was crying today, at times

Matt Healy
"The orchestra really makes the up moments more celebratory and the down moments more introspective and melancholy.
"It's the first time i've wanted to do another run through of a soundcheck. It was incredible."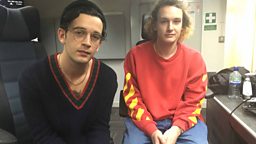 The band worked with composers on their second album, I like it when you sleep, for you are beautiful yet so unaware of it, but admit they had never heard their songs as they have while working with the Philharmonic.
"It's just so rich," drummer George Daniel says.
"For someone to dissect every part of the composition and extend it without adding anything new or characterising it is amazing."
Sam Swallow, the man who arranged the new versions of the songs explains how that was achieved.
"I stay as close to their vision as I can without distorting it with my own work," he says.
"They've written so many good parts and sections that inter-weave. If you add too much more on top of it, it just gets complicated so it's about trying to interpret what's already there."
Some of the band's biggest songs (and two big cover versions) have been completely transformed for this performance, but from the first rehearsal, two songs stand out as working especially well with the orchestral arrangement.
"Somebody Else works really well, partially to do with how tasteful the arrangement itself is," Matt says.
"The way that it doesn't colour, it just extends the vibe of the song.
"Love Me is ridiculous. That song is about arrogance and narcissism so when you add trumpets to that it really starts to reveal itself."
"We were slightly apprehensive about that one and what we were going to do about that one but it turned out pretty awesome," says George.
(Warning: Third party videos may contain adverts)
The collaboration between the band and the orchestra and the band wasn't only an important one for The 1975, it was pretty special for members of the BBC Philharmonic as well.
"It has been brilliant," says cellist Fiona Duncan. "It has been really different from the usual day at work.
"The 1975's music quite intense. It sounds great when you put a band with the orchestra."
"I'd never heard of The 1975 and I didn't know what to expect at all," adds violinist Anna Banaszkiewicz.
"Their arrangements are brilliant, which is always great for us."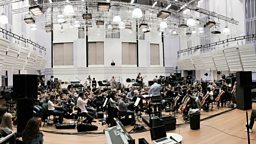 The 1975 released I like it when you sleep… in February 2016 and are already thinking about their third album. The say working with Sam, Anna, Fiona and everyone else at the BBC Philharmonic is their first step towards their next record and a new sound.
This is the start of a chapter of our career, it's part of our evolution as a band

Matt Healy
"It's an exciting time," says Matt.
"Our experience working on the last album with more classical arrangements was very inspirational and then this idea came around.
"This is the start of a chapter of our career, it's part of our evolution as a band anyway and the way we are moving onto the next record with classical music."