Main content
Lewis Capaldi gets drenched playing Radio 1's Innuendo Bingo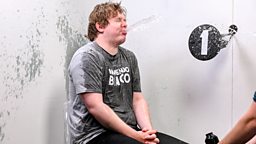 This year saw the formidable return of Innuendo Bingo - the wettest game on the radio, the Internet and indeed in the world.
For the uninitiated, Radio 1's Scott Mills plays some TV and radio clips (which, you know, could sound a bit rude to some people) to co-host Chris Stark and a celebrity guest to see if they can keep their cool, without spilling a mouthful of water...
The next guest: Lewis Capaldi, aka the world's sexiest popstar. The chart-topping sensation found himself getting fully soaked thanks to clips from Maya Jama, Jeremy Vine and Bargain Hunt.
Watch what went down below.
Warning: This video contains strong language.
And if you want to continue to stifle those sniggers, here are some of the best bingos so far this year.
Warning: Contains Strong Language
Saffron Barker from Strictly fame became the first person to cry during Innuendo Bingo in this hilariously x-rated version. And no those aren't panto pants Chris is wearing - he forgot spare trousers for the occasion so the team had to fashion something together, but they didn't anticipate just how see through they would become which explains why it all gets a bit pixelated towards the end...
Actress Emily Atack definitely takes home the title of the celebrity to get most soaked during Innuendo Bingo, even the cameramen weren't safe during the filming of this. Atack's make-up was quite something by the time they had finished - you'll have to watch it to see exactly what we mean.
Warning: Contains Strong Language
Back in March, Scott and Chris embarked on broadcasting nothing but LOLs for 27 hours for their second LOL-a-thon for Comic Relief. A number of celebrities dropped by to help Scott and Chris through the mammoth broadcast, including Love Island's Megan Barton Hanson who took part in an x-rated version of Innuendo Bingo. As you can imagine delirium had well and truly set in, and it all got a little out of hand.
4 | James Acaster & Josh Widdicombe
Chris was a bit worried when James Acaster and Josh Widdicombe dropped by, only because when actors and comedians take to the wet seat, it turns out they are pretty skilled in the art of keeping a straight face. Chris' paranoia stemmed from when he went face-to-face with Will Ferrell in 2013. If you haven't already, you need to watch it here to see just how quickly it got awkward. However, Chris needn't have worried as Josh was finding it difficult not to laugh even before the clip had been played.
Quick witted comedian Katherine Ryan was always going to be a tough cookie to crack. Chris ended up spitting more water on himself than anything, with Ryan saying "you should have a less appealing liquid, because I enjoy water and swallow it". But it turned out to be Bargain Hunt's Tim Wonnacott who would crack Ryan, after Scott played a one liner of him revealing the exploits of one particular antiques dealer.
Of course Queer Eye's fashion expert Tan France styled his outfit for the occasion. And by that we mean he was sat opposite Chris with his feet in plastic bags, he said: "I wanted to look super chic, so we went with something bold. I tied them in a way that they look super expensive". However, he managed to avoid a complete drenching and went down as Innuendo Bingo's most polite contestant.
Davina McCall was the first person to take to the wet seat when Innuendo Bingo returned in February. McCall is quite possibly the biggest Bingo fan, and the only person to say "I'm in heaven" while at the same time declaring "my actual pants are wet" because she was so soaked. And of course, Scott and Chris didn't hesitate in wheeling out Maya Jama's "Supermassive Back Hole!" clip for the occasion.
Warning: Contains Strong Language
The Top Gear star and former England cricketer was subjected to some of sport's finest innuendoes, and true to form he completely lost it. All thanks to a wrestler called Mainus.
"I think we've killed him!" joked Chris. "A little bit of bogey's coming out."
Warning: Contains Strong Language
Daniel Radcliffe returned for his second appearance in the Bingo hot seat - he first braved it back in 2014 which you can catch here. And of course, he didn't disappoint a second time round.
10 | Peter Crouch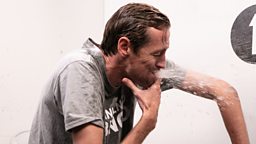 Warning: Contains Strong Language
Peter Crouch is someone who Chris has been desperate to get in the wet seat for a while now. And of course the boys didn't go easy on the football legend.
Poor Crouchy ended up wetter than a cold, rainy night in Stoke.