Main content
Faith in The World Week 2019 - Sukhmani Kaur's story
Carrying on the Sikh legacy, alone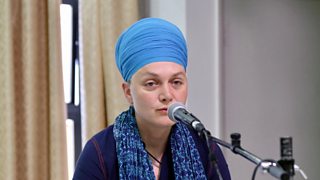 Sukhmani Kaur tells BBC Radio London how she carried on her husband's work in the community after he died at the age of 37.
"It's like he's set it out for us. The path is set for me and the kids."
"It's very difficult because at the age of 37 you find yourself with three kids, one of which is a newborn. And with this huge project which my husband was very involved in," she explains.
Jagraj Singh founded a charity called Basics of Sikhi, teaching people about the religion out in the streets, as well as in the more traditional setting of the temples.
But when his wife Sukhmani was pregnant with their third child, he was diagnosed with stage 4 cancer.
"My husband passed away two years ago" she explains.
She is continuing the work of the charity. "It's a commitment that I feel I have to keep, not only because of what he did. But because of whom it made me in the community.
"It's paying off in the way the community is supporting me and supporting the kids. If I didn't have faith, I don't think I would have been able to accept it as I have accepted it.
"It is my life, and I feel myself personally I will be last man standing. Frankly, I can't do anything else."
***You can listen to more stories of faith and singleness on BBC Local Radio.