Main content
The icing's on the cake for our everyday artist
Who doesn't love cake? Some people love eating it, some people love making it but how many people love decorating it? Great British Bake Off is just around the corner, ready to inspire a new group of wannabe bakers and cake-makers. But decorating your finished cake to a high spec can be a challenge.
This week's everyday artist, Anneka Gamble, embraces that challenge. Her skill is sugar-crafting and she shared with us some of her top tips for giving your cake the finishing touches.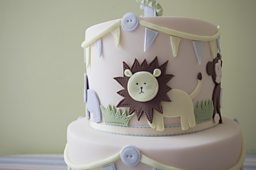 The 29-year-old digital merchandiser loves sugar-crafting and would actually prefer not to bake cakes, she would rather just have a plain sponge to work on. She describes the recent trend of making rainbow cakes as 'the devil' because of the amount preparation it takes to make each layer even.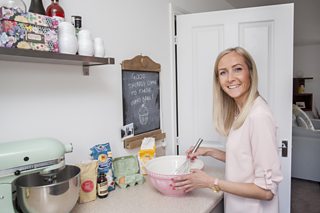 I piped it for four hours straight, my hand was like a claw afterwards
Anneka has always liked to cook and bake. She experimented at home growing up and in 2008 she made a batch of cupcakes for a best friend's birthday. The cupcakes were a success and she admits she found cake-making 'quite addictive' so started taking cakes in to work. Soon after colleagues started to ask her to make cakes for special occasions.
It was about four years ago she started sugar craft. She first started experimenting with flowers and went on from there.
Completely self-taught, she gathers hints, tips and ideas simply by searching the internet. She went on her first proper decorating courses only last year. She says, 'I'd always struggled with making sugar roses and searching for tips online I contacted a local cake-maker I admired to see if she offered courses.'
She has made birthday cakes, cakes for baby showers, engagements and last year made her first wedding cake as a gift to her friends, the bride and groom. She has suffered for her art, 'I piped it for four hours straight, my hand was like a claw afterwards', she says.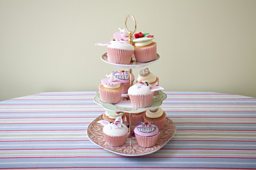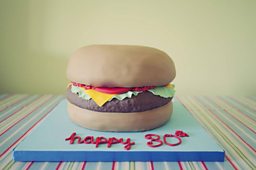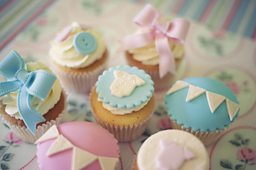 Anneka has written some tips to get you started.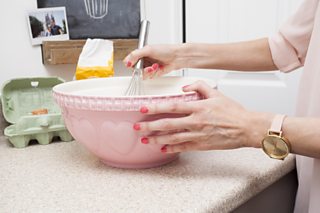 You don't need to spend a lot of money on expensive equipment
1 Getting the right equipment
You really don't need lots of gadgets. My must-haves are a palette knife, craft knifes, a miniature rolling pin to get a smooth even finish and a selection of cutters. You don't need to spend a lot of money on expensive equipment, don't get convinced into buying big brands, sometimes cheaper is better if you're just experimenting. You don't have to use conventional decorating tools, I use cocktail sticks for making marks and blusher brushes (unused of course) for brushing cornflour or icing sugar on if you make a mistake, or for brushing off stray crumbs that might mark your icing.
2 Practice makes perfect
If you just want to practice your decorating skills, you don't need to bake hundreds of cakes. You can buy 'dummy' cakes or if you want to test your piping skills, just buy an already iced cake from a supermarket. Or if it's cupcakes you want to perfect, simply buy fairy cakes to practice swirls on.
3 Choose your theme
I prefer it when I can choose a theme so I find out as much as I can about the person who I'm making the cake for to see if they have a favourite colour, animal, hobby or passion. I get inspiration from other bakers on Pinterest and Instagram. I have a sketch app on my tablet and a notepad at work so if I think of something I'll sketch it down. So before you start, have an idea of what you want to do, sketch it all out.
4 Know your limits
Decorating, like cake-making is all about trial and error, always practice beforehand. Knowing what your skill set is, if you're starting out you're not going to be able to make a perfect rose. Start small. Cupcakes are a good starting point and there are loads of things like edible glitters and embellishments you can buy to make them look pretty. You can buy also ready-made flowers, which is fine if they're not your skill. You can even buy ready-made icing that can help you practice.
5 Preparation is key
You need to be realistic with timings. Write out a plan. Bake your sponge first, ganache your cake and leave enough time for it to firm and make things in advance as much as you can. Sugar lasts, especially if you put it in air-tight containers, so make any fiddly decorations in advance. Never put a cake in air tight containers because it sweats. Write down what ingredients you need beforehand so you're not left missing things when it comes to making your cake. Have pictures in front of you so you know what you're wanting to achieve. And remember it takes a lot of time to finish a cake. It took me about fifteen hours from beginning to end to make my friend's wedding cake.
6 Learn from your mistakes
I was asked if I would make a bigger cake for a birthday, the first I'd ever really done. After the birthday party I was given some feedback and they reluctantly told me that it was dry. I was mortified but I learnt from that and went online to find out how to bake a bigger cake, because I'd only ever really worked with cupcakes. Don't get upset, learn from it. Last year I learnt another lesson, don't bake in a heatwave. Your icing dries out and cracks.
Photos by Micheala Gamble of Boutonniere Photography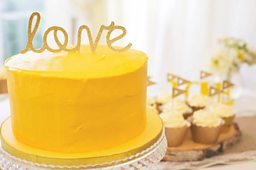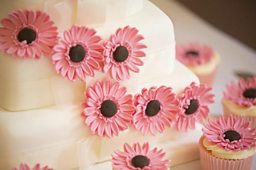 The Great British Bake Off
Find out more about this year's exciting line-up and their specialties
Meet the world-record holding crafters making a crochet Christmas project

One of a handful of aspiring artists whose painting was chosen for the Royal Academy's Summer Exhibition

A retired designer who painted a Canaletto-style painting, replacing the buildings with those of his home town

A jewellery designer who discovered a love for digital printing and uses it as a way to relax and to cure jet-lag

A dedicated mum and knitter who makes retro tank tops for her rugby- mad son and his friends to add a splash of style to the stands

A stitcher who joined a sewing group to meet like-minded people. She's made tea cosies and draught excluders as gifts and hopes to move to dressmaking

A stroke survivor who has used painting, music and writing to rehabilitate. He shared his first self-portrait using his affected hand with Get Creative

A keen cross stitcher and crafter who uses it as a way to relax and wind down after a day content producing for Get Creative