Get Singing for BBC Music Day!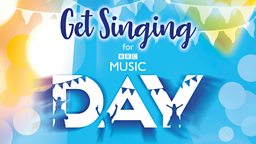 Get Singing is an exciting initiative to encourage children in primary schools to sing in classrooms, playgrounds and assemblies, whilst highlighting its benefits to health and wellbeing.
BBC Music Day is working with partners Young Voices, Sing Up, Ex Cathedra's Singing Playgrounds and BBC Ten Pieces to unite schools across the nations to sing throughout BBC Music Day, led by a fun vocal warm-up delivered by a celebrity vocal coach. Sign up now to be a part of the action and receive your free BBC Music Day certificate!