Main content
BBC SSO Spring 2022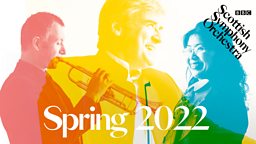 A complete Nielsen Symphony Cycle with Chief Conductor Thomas Dausgaard
World Premieres from Jörg Widmann, Erika Fox, Joanna Ward and Wim Henderickx
Guest conductors include Marin Alsop, Sir Mark Elder, Joana Carneiro and Martyn Brabbins
Soloists include Abel Selaocoe, Alexander Melnikov, Annelien Van Wauwe and Dame Sarah Connolly
Artist in Residence Jörg Widmann returns to play and conduct
A joint concert with the RSNO to mark the ABO Conference in Glasgow
The return of Afternoon Performance to City Halls
Tectonics Glasgow, the orchestra's annual festival of new and experimental music
All concerts live or recorded for broadcast on BBC Radio 3 with many streamed on BBC iPlayer
Thomas Dausgaard will mark his last months as Chief Conductor of the BBC Scottish Symphony Orchestra with a complete cycle of symphonies by his fellow Dane, Carl Nielsen. Starting on 13 January, the cycle will be performed over five concerts, culminating on 19 May with the Fourth Symphony, 'The Inextinguishable'.
Dausgaard has been Chief Conductor since September 2016. With the orchestra he has explored the influence of folk music on composers; commissioned Scottish Inspirations, a series of new works inspired by Scotland and its culture; toured to Japan, the Salzburg Festival, and Vienna's Musikverein; and will continue to record a survey of Bartók's orchestral music. He will step down as Chief Conductor next summer.
The orchestra's Spring Season opens on 13 January with the World Premiere of a BBC commission from the Viennese-born composer Erika Fox. David spielt vor Saul will be premiered by Julian Jacobson under Dausgaard, while Wim Henderickx's new Clarinet Concerto, Sutra, will be given its first live performance by its dedicatee Annelien Van Wauwe on 31 March. The Season also sees World Premieres of as-yet-untitled BBC commissions from Joanna Ward (3 March) and Jörg Widmann (5 May, see below).
The BBC SSO's Principal Guest Conductor Ilan Volkov conducts a typically broad range of works by Maderna, Haydn, Poulenc, Germaine Tailleferre, Rameau and Saint-Saëns, while Associate Conductor Alpesh Chauhan continues to explore Romantic repertoire with Bruckner's Fourth Symphony in Glasgow and Inverness.
Following her appearances with the BBC SSO at this year's Edinburgh International Festival, Marin Alsop returns to conduct music by Sir James MacMillan and Dvořák in Aberdeen and Glasgow, and Sir Mark Elder directs Strauss's Ein Heldenleben along with music from Wagner's Parsifal in time for Good Friday. There's more Wagner in the shape of Henk de Vlieger's arrangement of music from Die Meistersinger with Antony Hermus, paired with Benjamin Beilman playing the Korngold Violin Concerto in Aberdeen and Glasgow. The orchestra also welcomes back Michael Sanderling, Mark Wigglesworth and Martyn Brabbins.
Abel Selaocoe brings his unique style of performance to Glasgow City Halls on 15 May and other soloists across the Season include cellist Alexey Stadler, pianists Alexander Melnikov and Duo Jatekok, violinist Rosanne Philippens and flautist Adam Walker. Mezzos Dame Sarah Connolly and Karen Cargill sing Chausson and Schoenberg, respectively, while soprano Sophie Bevan sings Mozart and Miah Persson is the soloist in Mahler's Fourth Symphony.
The orchestra's series of daytime concerts, Afternoon Performance, resumes on 27 January when BBC SSO Artist in Residence Jörg Widmann conducts and plays works by Weber and himself, including his Fantasie for solo clarinet, written when he was just 20. His new BBC Commission will receive its World Premiere on 5 May under Ryan Wigglesworth who also conducts Sibelius and performs and directs Mozart's Piano Concerto No.12. Joana Carneiro returns to conduct Stravinsky's Petrushka and Esa-Pekka Salonen's Piano Concerto with Yeol Eum Son.
The BBC SSO will also join forces with the Royal Scottish National Orchestra on 9 February at the Glasgow Royal Concert Hall to mark the Association of British Orchestras conference in Glasgow. Kevin John Edusei conducts the UK Premiere of Samy Moussa's BBC co-commission, Elysium, while BBC Radio 3 New Generation artist Maria Dueñas tackles Shostakovich's First Violin Concerto.
That concert and many across the season will be broadcast live on BBC Radio 3 and BBC Sounds. Many of the orchestra's concerts will also be available to stream live on its website and then subsequently on BBC iPlayer.
And finally, after two online and on-air incarnations, the BBC SSO's festival of new and experimental music, Tectonics Glasgow,will welcome back audiences to City Halls and the Old Fruitmarket on Saturday 30 April and Sunday 1 May 2022. Full details will be announced next year.
Booking for Glasgow subscription packages opens on Thursday 25 November at 10am as does booking for concerts in Edinburgh, Aberdeen and Inverness. General booking for Glasgow opens on Thursday 2 December.