Main content
Why Two Doors Down is Britain's best-kept sitcom secret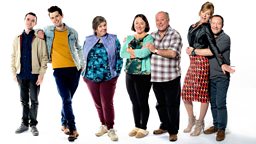 The best – and worst! – of family life in a Glasgow suburb
Two Doors Down is about crazy neighbours. We've all got them. They seem ok, but when you scratch the surface they're a bit nuts.

Simon Carlyle, co-writer
Created and written by Simon Carlyle and Gregor Sharp, Two Doors Down follows a group of neighbours living not-so-happily together on fictional Scottish suburban street.

Finding their neighbours insufferable, Eric and Beth Baird try to minimise contact as much as possible — but that's easier said than done, given the Whytes live just two doors away.

Having started with a Hogmanay 2013 pilot, the show has gone on to win Best Comedy at the 2017 Royal Television Society Scotland Awards.

• Watch Burns Supper on BBC iPlayer (29 January 2018)
Cathy, played by Doon Mackichan
Likes: White wine; e-cigarettes
Dislikes: Documentaries; low-cost airlines
Cathy is a big-time party girl trapped in a small-time setting.
In some ways, she's the nightmare neighbour: always up for a wine and a lengthy chat about what she's been up to; not so interested in your life.
Cathy is someone who has a lot of energy and enthusiasm, but doesn't know to direct it with any purpose.
"Am I being unreasonable Beth?"
Beth, played by Arabella Weir
Likes: Watching TV in her comfy clothes
Dislikes: Self-service checkouts
Beth is a hard-working, kind-hearted but (occasionally) nippy wife to Eric and mother to Ian.
She is slightly put-upon by her neighbours because she is always there to help and would never turn her back on anyone in need.
She wants to do the right thing and always tries to help, but, more often than not, ends up having her patience tried to breaking point.
"Eric left the freezer door open"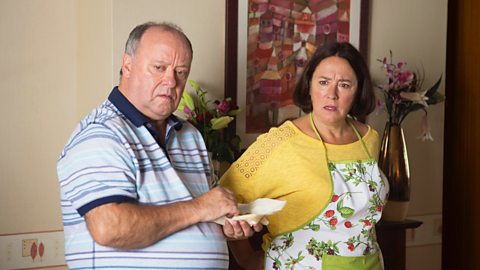 Cathy and Colin have come round to help Beth sort through the contents of her freezer.
Christine, played by Elaine C Smith
Likes: pound shops, Crimewatch; personal tragedy
Dislikes: good health
Christine lives next door to Beth and Eric Baird.
A life-long hypochondriac, Christine is always on hand to fill Beth in on the list of ailments that she''s currently wrestling with.
Christine likes nothing more than having an ailment to moan about and can exhaustively recount her medical history.
She would say she is a good judge of character, but will take against people instantly if she doesn't like the look of them.
She's got a real potty mouth too.
"Not too thin, quite chunky"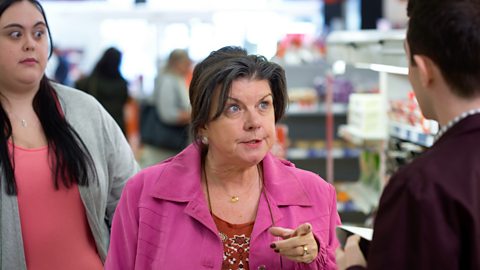 Christine invites herself to Beth's Sunday lunch
Colin, played by Jonathan Watson
Likes: single malts; a round of golf
Dislikes: public transport
Colin is five foot five of trouble, but what he lacks in physical stature he makes up for in his endless capacity for bragging.
Devoted husband to Cathy, Colin's got a good career, so Cathy's never worked or wanted for anything.
He is a bit smug, and his favourite pastime is telling other people about where he and Cathy have been and what they've bought, but underneath that is quite a quick-witted and sociable guy.
Eric, played by Alex Norton
Likes: Full breakfasts; Andy Murray
Dislikes: Novak Djokovic
Eric's like everyone's dad! He just wants a bit of peace and quiet, but he never gets it.
A bloke who loves his family to bits, Eric finds it hard to get much pleasure out of life — everything is a bit of a hassle.
He'd be happy if he could sit down and read his paper with a film on in the background, but there always seems to be some sort of crisis or problem that he gets dragged into.
"You know what I've done"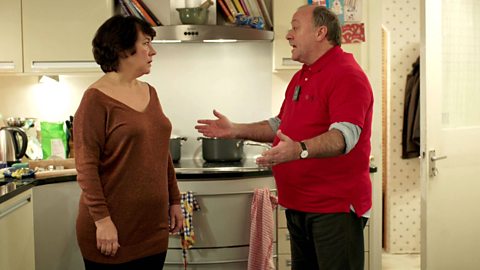 Beth and Eric Baird's Hogmanay goes horribly wrong.
More from Two Doors Down
Two Doors Down's cast & crew, somewhere between hard at work and falling about laughing.

Compare what was rehearsed to what was shot in this a garage fight scene.
Latest features from BBC Scotland