Main content
Student spending: expert advice on managing your money
Seven financial tips for students starting university.
When you leave home to start university it's often the first time you've had to look after your own finances. You need cash for bills, food, entertainment... and much more. So what is the best way to manage your money? New podcast Clever about Cash offers some expert financial advice for teens taking their first steps away from home.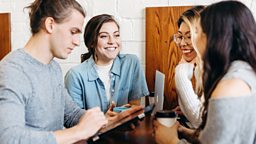 (Image: Brooke Cagle Unsplash)
1. Two bank accounts are better than one
Money coach Eileen Adamson recommends organising two bank accounts: a bills account and a spending account.
"Add up all your direct debits, your rent, your TV, your phone, any memberships, Netflix, Spotify, etc.," she advises. "Add all those things in to a bills account and leave the required amount of money there each month. Your student loan, any income from part time jobs, from parents, get all of that paid in to that account.

"Once you've worked out how much you need a month, then work out how much you will have left each week and transfer a weekly amount over into a spending account that's for food, travel, clothes, toiletries, social life, etc. That way you're managing one week's worth of money rather than a whole month or a whole term's worth of money."
2. Choose your bank carefully
When it comes to choosing your bank, it's worth looking around to compare what's on offer, according to Nick Edwards, Head of Student Support at the University of Aberdeen. Challenger banks – the newer, online banks – offer money management services that can be useful to students, such as real-time alerts on your spending and reminders of when bills are due. They can also make it easy to transfer and receive money from other accounts.

"Lots of banks are going to be trying to entice you in," says Nick. "My word of caution is look out for the deals that they're offering you. Look out for how they're going to attract you with shiny rail cards and discounts and think, 'Is this bank the right one?' Look at the technology – is it going to be convenient to use? Are you going to be able to separate your money into different pots?"
3. Overdrafts do not equal free money
Nick also sounds a word of caution about accounts offering 0% interest overdrafts for students.
"These are great when you are a student," he says. "But consider what happens when that's no longer interest free. Make sure you've got a plan to keep that balance paid off at the end so you're not getting yourself into trouble in the future."
Eileen agrees: "If you've got £3000 in an overdraft, the interest rate is absolutely humongous. Only use it if you absolutely have to. Don't see it as being free money, because it's not".
4. Find out if you're entitled to cash
Eileen advises students check to see if they are eligible for a bursary or grant.

"They don't need to be paid back and there are all sorts of bursaries and grants out there for students," she says. "There are some that are based even on your surname, there are some that are based on what course you're doing, for particular unis, or where you live. Turn2Us is a brilliant place to start looking for what's available."
5. Look for discounts – but think twice before spending
Matt Crilly, President of NUS Scotland, reckons that a perk of student life is being offered generous discounts.

"Shops and websites you went to previously ... all of a sudden you've got 20% off by virtue of being a student. You might find if you're about to do your weekly shop that one of your supermarkets gives a 20% discount. I'd really encourage students to become aware of who gives student discounts."

Nick also believes in looking out for offers but advises caution: "A discount is only a really good discount if you were going to spend the money in the first place."
6. Remember that convenience costs money
Helping students with their finances has given Nick an insight into spending trends and he's seen that, increasingly, money is going towards online shopping.
"Takeaways and food delivery can be a massive [outgoing], that convenience of having food delivered to your door within an hour. It's so easy to spend, especially as you don't even have to get a card out of your wallet, you're just hitting a button on your phone.

"There's a creeping move away from blowing money in the pub every Friday night to spending money on just living, but in a slightly more convenient and more expensive way."
7. Never open an account with flatmates
The people you live with now can have a long-term impact on your finances, according to Eileen. When it comes to paying for shared bills she strongly advises against opening a joint back account.

"If you open a joint bank account for your bills then it links your credit history to everyone else. So if someone else is absolutely awful with their money then your credit history can be affected by the fact that you've had a joint bank account with them," she warns.
On BBC Sounds
Kim McAllister and Eileen Adamson with expert advice for students starting university.
More podcasts from BBC Scotland
Latest features from BBC Scotland