Main content
7 things we learned at WOW - Women of the World
1 Annie Lennox shares advice for her younger self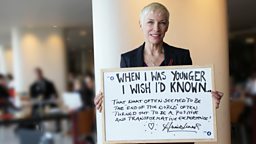 2. Some things we'd teach our daughters

3. But the debate still rages about whether or not to handwash bras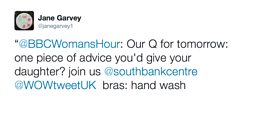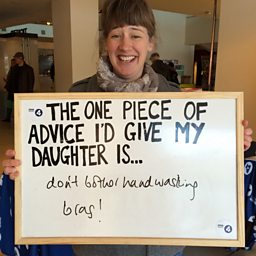 4. Teenage girls face issues which weren't around a generation ago
Gemma Cairney talked about women of the future after having spoken to girls up and down the country about how they see themselves, including one girl who spent 6 hours online looking at images tagged 'skinny'. Hear the interview with Gemma Cairney.
5. If you want a payrise, don't be a Cinderella
A lot of women suffer from "Cinderella complex", waiting to be recognised for hard work rather than asking for more money. Stevie Spring, Chair of the ITG Group and Children in Need and one of the very few women to have run a FTSE 100 company gave Jane Garvey her top tips on how to get a payrise.
6. Boys are "grateful" to talk about gender equality
David Brockway who works for the charity The Great Initiative and runs the Great Men Project. He talked about how the charity holds workshops in schools exclusively for boys, helping them to open up and talk about issues such as violence as part of the male identity, consent, homophobia and bullying, porn and representation of women in the media. Hear about the issues discussed and the response from the boys.