Main content
Everyday artist has a monster talent
With its menacing stare, sharp fangs and imposing frame, this model looks like it's straight out of the props-store for the Arnold Schwarzenegger blockbuster Predator. But look closer and you'll see the eyes are made of ping-pong balls, the loin cloth is an old cut up leather jacket and the frame is built on a discarded fishing rod.
Replicating the terrifying creation of Hollywood special effects mogul Stan Winston, the model was designed and built by Kidderminster landscape gardener Joe Whiteman after what he called 'an early mid-life crisis' made him look for an after-work hobby. "Some people buy a Ferrari. I decided to make a life-size model of the Predator," he says.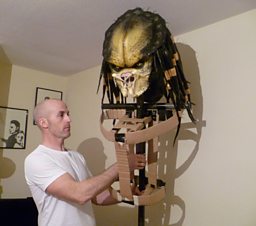 Joe has worked as a landscape gardener since he was 16 but says he always felt like he was in the wrong job. He has had a passion for drawing and model making from a young age but was steered away from this as a possible career by school advisors. He says, "When I get a paper and pencil out, I lose myself, hours can feel like minutes."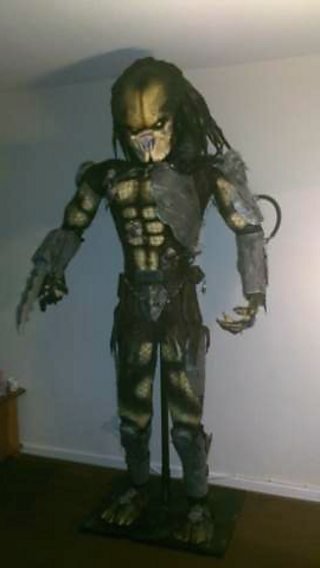 I spoke to friends about my idea of making the model and they said 'you won't be able to do it' which I saw as a challenge
The 35-year-old father of two loves making costumes and props for other people for Hallowe'en and fancy dress parties but wanted to 'do something for myself'.
"Two years ago I decided I needed to do something creative as a way to relieve stress. I have always been a fan of the film Predator and after initially sketching the model out and working out rough size and scale I decided to start work on making it. It's taken about two years. I'd come home from work feeling pretty tired and maybe do an hour or two a night," he said.
"I spoke to friends about my idea of making the model and they said 'you won't be able to do it' which I saw as a challenge."
He designed the whole thing himself. "I sat with a pen a paper and sketched out the dimensions. I took my own measurements and adjusted them so it would be in proportion and the right height, but I still had to make adjustments along the way, for example if I felt that an arm was too long."
He made it in sections, so the arms, legs and head all clip off the torso. It's seven and a half foot tall when it's all put together - high enough to touch the ceiling.
But he didn't have the luxury of a £15m budget like the film. His model uses ping-pong balls for eyes and the loin cloth is made from a charity shop leather jacket bought for a few pounds.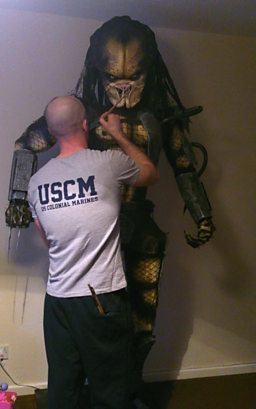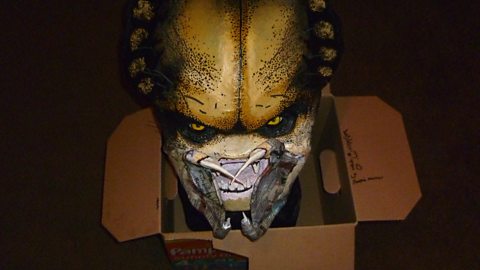 Landscape gardener Joe Whiteman chats to BBC Radio Hereford and Worcester's Pam Caulfield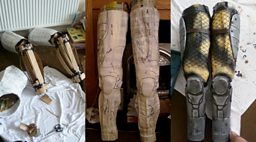 Made entirely on his living room floor, his wife Natalie has been hugely supportive of the idea and really encouraged Joe's challenge, until he says, "it grew in size and started to take over the house, she was less enthusiastic then."
Making a frame for the face
I'd love to make the Alien but I don't think we've got the space at home to fit it in
But it has been a family affair with his children James and Gabby helping out painting the undercoats. Even Natalie has picked up a brush to contribute and has affectionately nick-named the finished product 'Kev'.
The materials he has used are the cheapest he could find, he bought budget shop glues, wallpaper paste and paints.
It has a carbon frame made from an old fishing pole and probably 80% of it is cardboard and papier mache, he said. He used foam and papier mache to sculpt muscles and features, hand stitching its clothing, hair and accessories.
"The only regular expense was wood glue which is about £4 a tube so all in all I reckon it cost about £80 in total", he says.
But now it's finished he's not entirely sure what to do with it. "I've shown it to my friends and they suggested I try and sell it. My local pub has an art gallery above it and they've asked if they can display it there but I hadn't really thought about showing it, I just enjoyed doing it", he says.
Joe is now considering his next project: "I'd like to carry on making models of film characters. I'd love to make the Alien but I don't think we've got the space at home to fit it in", he says.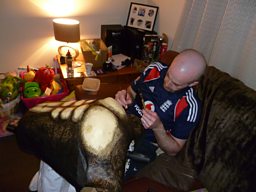 Meet the world-record holding crafters making a crochet Christmas project

One of a handful of aspiring artists whose painting was chosen for the Royal Academy's Summer Exhibition

A retired designer who painted a Canaletto-style painting, replacing the buildings with those of his home town

A jewellery designer who discovered a love for digital printing and uses it as a way to relax and to cure jet-lag

A dedicated mum and knitter who makes retro tank tops for her rugby- mad son and his friends to add a splash of style to the stands

A stitcher who joined a sewing group to meet like-minded people. She's made tea cosies and draught excluders as gifts and hopes to move to dressmaking

A stroke survivor who has used painting, music and writing to rehabilitate. He shared his first self-portrait using his affected hand with Get Creative

A keen cross stitcher and crafter who uses it as a way to relax and wind down after a day content producing for Get Creative