Main content
Double murder? The case that divided South Africa
On a blisteringly hot afternoon in January 2016, in a well-guarded farmhouse an hour's drive south of Johannesburg, a bruised and elderly white man lifted a bloodied hand, pressed a panic button on the wall of his dining room and set in motion a shattering sequence of events.
Within hours, two men would be dead. Their bodies bruised and broken. Within days the local community would be in uproar – split along racial lines, protesting on the streets. Within months the white farmers outside the town of Parys would be turning against each other – prompting unforgiveable family betrayals, broken marriages and an attempted suicide.
A police investigation would lead to a sensational double-murder trial, which finally concluded earlier this year with a series of twists and courtroom scandals that, in the eyes of many, exposed post-apartheid South Africa's rawest wounds.
The BBC's Africa correspondent, Andrew Harding, has been following this case from its earliest days. Blood Lands – his compelling five-part series on Radio 4 and BBC Sounds – is a chilling glimpse into modern South Africa's unresolved traumas.
A broken dream?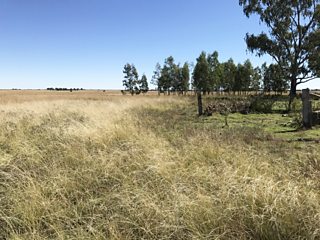 Loudie Van der Westhuizen's farmland
They were racing across the drought-parched fields in their pickup trucks, guns loaded, angry, expecting the worst.
The man who pressed the panic button back in 2016 was 73-year-old Loudie Van der Westhuizen. He and his relatives owned, and still own, many of the other properties in the neighbourhood – giant maize and cattle farms in a region known as the "Flatlands," on the high plains of the Free State.
The white farmers live in uneasy isolation, in an archipelago of relative wealth, surrounded by a sea of poverty and simmering resentment. Some talk of emigrating. Others complain about a stagnant economy, official corruption, the failure of government land reform initiatives and a pattern of violence and criminality that the police seem unable to contain.
Black farm workers – brought in from the nearby township of Tumahole – say they're exploited, and complain of low wages, brutal treatment and entrenched racism in a country where Nelson Mandela's talk of a "rainbow nation" feels like a broken dream.
Expecting the worst
Minutes after the alarm was activated, about 40 white farmers were racing across the drought-parched fields in their pickup trucks, guns loaded, angry, expecting the worst, fearing for the old man's life.
As they drove, many of Loudie's neighbours were recalling an attack on another Van der Westhuizen farm some three years earlier, where an elderly white man had been stabbed in the heart, and his wife tortured and buried – still alive, at that point – in a chest freezer.
"Torture. Always torture," said Captain Francois Laux, the police officer who was sent to Parys to investigate this latest incident and its bloody aftermath.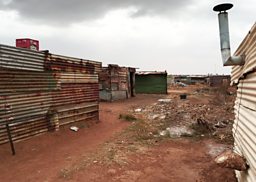 Informal settlement near the township of Tumahole.
Farm attacks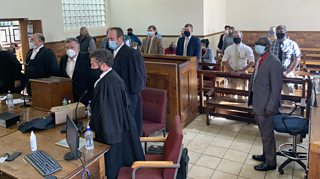 Parys court awaits the verdict
Our farmers are three times more likely to be murdered than a police officer.

Dianne Kohler Barnard
Farm attacks are a violent, and heavily politicised phenomenon in South Africa. Right-wing groups have portrayed the killings as part of a "white genocide," organised by shadowy political forces determined to redistribute the country's agricultural land – much of which remains in white hands – by force. There is simply no evidence for this. But those fears are fuelled by populist black politicians who have used violent and racialised rhetoric when discussing calls for land expropriation. President Trump has weighed in too, warning, incorrectly, of "farm seizures and expropriations and the large scale killing of farmers."
The simpler truth is that farms and farmers – often assumed to have guns and cash – are seen as tempting targets for thieves in rural areas where precious little seems to have changed since Mandela guided South Africa away from white-minority rule and towards democracy a generation ago. The death toll in farm attacks appears to be split more or less proportionately, between whites and blacks, according to patterns of farm ownership.
"Our farmers are three times more likely to be murdered than a police officer. The men and women who feed South Africa don't sleep. This hatred, these murders, must stop," said Dianne Kohler Barnard, an MP from South Africa's main opposition Democratic Alliance in a recent debate on the issue in parliament.
A community transformed

But the incident at old Loudie's farmhouse in 2016 did not follow the usual pattern of farm attacks.
Instead, as dusk fell, the white farmers began to fan out across the fields, searching for two suspected thieves – for two black men. None of those involved could have anticipated that the next few hours would transform their community forever.
All five episodes of Blood Lands are available now on BBC Sounds