Main content
Seven things we learned from Loyle Carner's Sound Odyssey
Loyle Carner is a 25-year-old British rapper with a passion for food whose first album, Yesterday's Gone, was nominated for the Mercury Prize in 2017, and two Brit Awards. He was brought up as Ben Coyle-Larner by his Scottish mother after she separated from his Guyanese father; the spoonerism is a nod to the London-based musician's own dyslexia.
In Radio 4's The Sound Odyssey, presenter Gemma Cairney invites British musicians to visit another country where they work with local musicians to create a new piece of music. Before making The Sound Odyssey with flautist and composer Keith Waithe, Carner didn't know much about his Guyanese heritage and had never visited the former British colony. He set off for Georgetown in search of new material and his own black identity. Here's what we learned…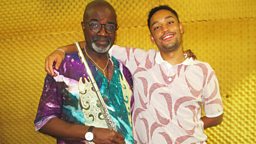 Loyle Carner with Guyanese flautist and composer Keith Waithe.
1. He grew up feeling racially alienated
Going to Guyana was an important step in Loyle Carner's journey to understand himself after growing up as a mixed-race child in a white family. "Most people if they're mixed-race – if their parents separate or their dad leaves, in my case – then you lose one side of your background, your life. And so I spent a lot of time with my mum's family. They're all white," he says. "I wasn't raised by anybody black so I didn't understand what it was to be black and so I didn't feel like I had a black voice or a black identity or a black opinion."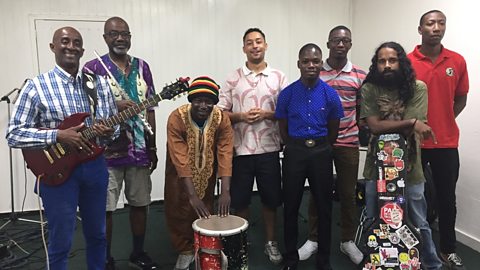 Loyle Carner explores his Guyanese roots collaborating with flautist Keith Waithe
2. Guyana felt like home
He settled in instantly, enjoying the feeling of solidarity from everyone he met. "I feel at home," he says. "For the first time in a long time, black people are looking at me like I'm black… Like I'm meant to be here… It makes me feel as though I'm part of something finally."
3. He has a sideline in teaching kids with ADHD to cook

Learning to cook at a young age helped Loyle with his own ADHD, so he started a cookery school to help children who are similarly afflicted. In Georgetown, he got some tips on how to cook battered fish, Guyanese style.
4. He struck up a partnership with fellow musician Keith Waithe

Meeting renowned Guyanese flautist Keith Waithe changed how he worked. Keith taught Loyle not to overthink what he was doing when they collaborated on a new track. "Sometimes the more you think about something, the worse it gets… improvise," he says, recounting advice from the jazz musician.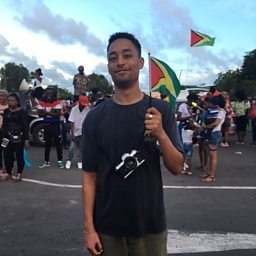 Guyana felt like home to London-based rapper: ''It makes me feel as if I'm part of something finally."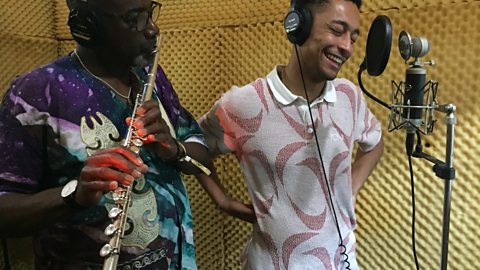 Loyle Carner travels to Guyana for a musical collaboration with flautist Keith Waithe.
5. Writing new lyrics came easily to him in Guyana
He hoped visiting Guyana would help him with his third album after mining his experience of falling in love for his second album, Not Waving, But Drowning. "I realised that the music of ancestors on my dad's side was what I wanted to start tapping into." A book of poems given to him by his girlfriend called Unwritten: Caribbean Poems After the First World War provided extra inspiration. "I'm in my motherland… It's easy to write right now," he says.
"I realised that the music of ancestors on my dad's side was what I wanted to start tapping into."
6. His new work is a collaboration of cultures
Loyle Carner's Sound Odyssey track combines Waithe's flute-playing, poetry and an African drum rhythm that reminded him of the first time he made music. "Some bits are really strong from me and I think other bits could be better and I think that's the best part because that means I've really pushed myself... I've really tried to expand the way I make music and the way I express myself."
7. The trip changed his life and he plans to keep going back
"Simply put, it's given me a black identity and I never had that before. For me, that is everything," he says.
More from The Sound Odyssey