Main content
Joining together for The Last Supper
Shedding their multi-coloured light into churches for centuries, stained glass windows are often over-looked for their artistic qualities. But one church-goer from the North West was so intrigued by the chancel windows at his local place of worship that he decided to recreate it in a painting - but first he had to do a spot of virtual window rearranging.
The five windows at St Mary's Church in Upton, Wirral feature a portrayal of The Last Supper but before Ron Hinkson could start to paint it he first had to digitally knit the scene together.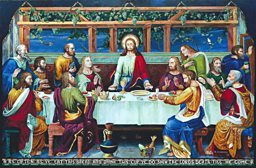 The Last Supper painted by Ron Hinkson
The 86-year-old said of the windows "I often wonder whether the artist saw them as a complete picture because not one window matched the next and the only thing that was constant was the table."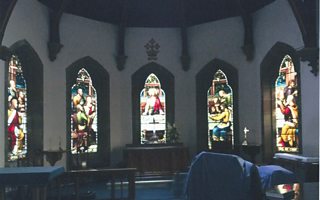 The chancery windows of St Mary's Church
He took individual photographs of each section in September 2014, cropped each picture and colour correct them on a computer so they would match. He then stitched all of the windows together into one scene.
He printed the picture onto eight sheets of paper and glued them together to use as a template. Rather than using a canvas he transferred the image onto a board to paint in acrylics.
For accuracy he traced the image using carbon paper, something he says his late wife Edna would've said was cheating, but he says: "Both Canaletto and Vermeer used aids to help them paint, such as the camera obscura, so if it's good enough for them, it's good enough for me."
The painting took every moment of his time over a period of six months because it was small brush work, and was his first painting in seven years as he was caring for his wife.
He had no formal training but passed a scholarship to the Laird School of Art in 1942 when he was thirteen. But his mother had other ideas and got him a 'proper job' at the Unilever Stork Margarine Works. His love for painting stayed with him and in 1970 he joined a local art group and has painted ever since.
His previous two paintings, both called Sally's Cottage, were donated to Broadgreen Hospital where he had a serious heart operation and to Upton Group Practice, Wirral, where it now hangs in reception.
His painted version of The Last Supper has also been donated, this time to St Mary's: "I have dedicated it to my dear wife who passed away twenty two months ago."
He says of the finished painting: "It has had a terrific reception, not only in the church but from everyone who has seen it. I have had hugs and handshakes and I might say tears from two ladies who have seen it."
His curiostity for the windows doesn't end there, he says: "I have tried without any result to find who the superb stained glass artist was. I have learned that the windows were put in place in 1887 so will do more research."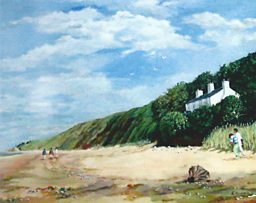 Sally's Cottage by Ron Hinkson. Donated to Upton Group Practice, Wirral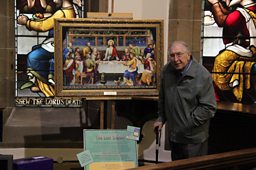 Ron Hinkson with The Last Supper in St Mary's Church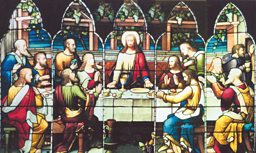 Ron merged the five windows of St Mary's Church into one