Main content
My teenage music obsession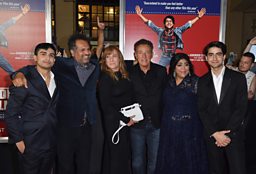 (The writer and cast of Blinded by the Light with Bruce Springsteen. Photo: AFP/Getty Images)
A new film out this month follows one teenager's obsession with Bruce Springsteen.
'Blinded By The Light' is based on a memoir by Sarfraz Manzoor – who first heard The Boss when he was 16.
As Sarfraz struggled to cope with adolescence, racism and disapproving parents, discovering Bruce Springsteen's music changed everything for him.
Which got us thinking, why – as teenagers - do we become obsessed with certain bands and artists?
Nihal Arthanayake put that question to two huge music fans during his Monthly Music Review on 5 Live – Radio X's Lliana Bird and Radio 1's Jack Saunders.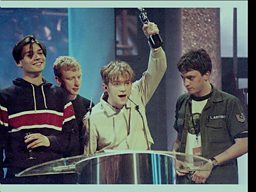 (Blur. Photo: PA Wirefoto)
Lliana says: "A mix tape changed my life"
"I was about 11 and one of my older sister's friends made a mix tape for me.
"You are very much exposed at that age to the kind of music that your parents or friends listen to. My friends were very much listening to stuff like East 17 and New Kids On The Block. It was those days! So, I hadn't really discovered any of the alternative world of music.
"The mix tape was called Popscene and it had the little Blur front cover on it. It was a mix of all these artists from Radiohead to The Offspring to Hole, and it was incredible. It changed my life.
"I used to sit there and just listen to this tape. It was not only just because the music was something I really hadn't listened to before, and sort of tapped into this primal thing that I was feeling as a pre-pubescent teen and coming of age, but it was the lyrics as well.
"And I think that's always been the thing for me with music, I become obsessed with lyrics."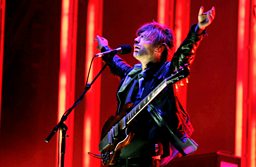 (Radiohead at Reading and Leeds 2009)
"And I will confess that one of the songs that I wrote the lyrics on my bedroom wall in marker pen - which my parents weren't that happy about - was Self Esteem by The Offspring.
"It probably wouldn't be my go-to now, but at the time, at that age, it was singing about self esteem and, 'Screw you, world, I'm OK on my own!'
"And also Creep by Radiohead. I was obsessed. Whenever I felt down, or something was not going right, I just looked at my walls and that is what has inspired me, and that is what began my lifelong obsession with music."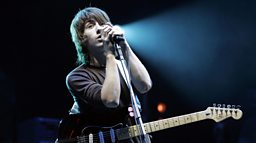 (Alex Turner from Arctic Monkeys. Photo: Getty Images)
Jack says: "When I discovered Zane Lowe, I was just obsessed"
"It wasn't just posters on the wall, but someone you were besotted by. Like every Prince fan I've ever met! There are plenty that I could have loved, like Arctic Monkeys, for example.
"But I think, for me, it was Zane Lowe on Radio 1, so not a band or an artist, but a presenter.
"When I discovered Zane for the first time, I just was obsessed with the way that he could link a metal track into a drum and bass track and make it seem utterly seamless and like they were exactly the same thing."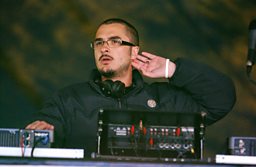 (Zane Lowe at Radio 1's big Weekend Sunderland, 2005)
"He's class. I was very, very lucky to be able to sit in on a couple of his shows, before I was even at Radio 1.
"Just watching him in the studio as well, and the way he processed the music and the way he structured it throughout.
"It was all about how the audience was consuming this as a whole entire thing, not just track by track by track. And it was all on the decks as well.
"I found myself utterly obsessed with that show. Religiously every single night I would listen to that thing, and that's how I discovered my music."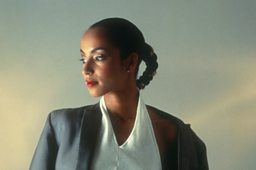 (Sade)
Nihal asked 5 Live listeners about artists that changed their lives...
Dear Nihal, the artist I was really taken in by and hypnotized by was Sade. Her music, absolutely amazing!!! Her as a person an absolute Goddess!!! Still a fan after all these years. Face, Sydenham
Mine and that of plenty of my friends is the work of Paul Weller (especially 'live'). Not sure if it qualifies as an obsession but later this year I will celebrate 40 years since my first Jam gig. Following him through The Style Council and his solo career I've lost count of the precise number of gigs I've been to but it's easily more than 150. I just couldn't imagine my life without his amazing body of work. Steve, Leigh-on-Sea
The US punk band Fugazi were the band the changed my life through their music, their positive political message, and also the way they conducted their business, turning down millions from majors to remain independent and release their music themselves. Niall, Leeds
The guys who changed my life were The Clash and in particular Joe Strummer. When his music came out it just made me feel so involved in the whole process and the words and the feeling behind the songs. I still have to this day the cutting from The Times when Joe Strummer unfortunately died a few years ago, which had the statement 'who were more important in music The Clash or The Beatles?'- that's how big a deal The Clash were at the time. Martin, Devon
Hi Nihal, I listened to the Body Count album back in the day and since then I've been in love with heavy rock mixed with gangsta rap! The energy blew me away! Stu, Birmingham
5 Live's monthly music review discusses music festivals, featuring Kimberly Wyatt and Yinka Bokinni.

5 Live's music reviewers explore whether some lyrics are too grown-up for children.

Are you still listening to the same selection of artists?