Main content
The Swinging Blue Jeans
by Bob Stanley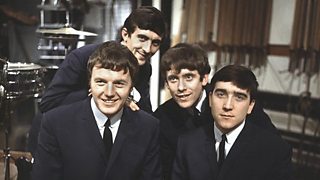 A few years ago, I went into a photocopying shop in Muswell Hill with a copy of a Ready Steady Go annual, a spin-off from the TV series. The chap in the shop caught me by surprise by saying he used to work on the show, and on other TV programmes in the sixties, something he told me with all the enthusiasm of a retired insurance clerk. It transpired that he had seen the Beatles at the Cavern. "They were OK" he said, as if he was talking about a claim for water seepage, "I don't remember much about them. But the same night there was a group playing up the street who blew them away - better musicians, more energy, they were miles better than the Beatles." He was talking about the Swinging Blue Jeans.
Considering they only had three sizeable hits, the Blue Jeans' name seems to epitomise the sixties. Why didn't they sustain after two massive hits with Hippy Hippy Shake (no.2 '63) and You're No Good (no.3 '64)? Possibly because they had no standout performer, or possibly because they were seen as the archetypal Merseybeat group.
This was harsh. Initially they were a skiffle group called the Bluegenes, and by the start of the sixties they were a unique mutation of skiffle, jazz and rock'n'roll. Talking to BBC Merseyside's Spencer Leigh, guitarist Ralph Ellis said "We had the rhythm section of a trad jazz band with double bass, the drums and driving banjo... but we had three guitars and (singer) Ray Ennis and I used to play harmony." Their "trad jazz rhythm section with a rock'n'roll frontline" lasted until 1963, though the splendidly named broomstick bassist Spud Ward had left back in 1959. They drove from gig to gig in a van decorated by cartoonist Bill Tidy, the cousin of the Bluegenes' banjo player Tommy Hughes.
An audition for Joe Meek and another for Oriole Records came to nothing. As with so many other groups, a stint in Hamburg, in September '62, was the making of them. They were initially booed off stage by the beat-loving sailors, and had to switch to rock'n'roll overnight, changing their name at the same time to the Swinging Blue Jeans. They still had a banjo on their EMI audition in early '63 (check Ol' Man Mose for the only recorded proof of their odd, hybrid sound), but dropped it on John Lennon's advice; by the end of the year, Hippy Hippy Shake was being reviewed by the Beatles on Juke Box Jury, and it was only kept off number one by the Dave Clark Five's Glad All Over.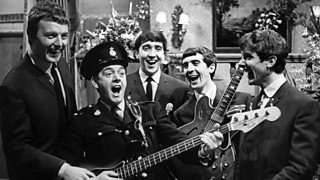 Joseph Brady in Z-Cars as PC Jack Weir strikes up a chord much to the amusement of the Swinging Blue Jeans
Of all the Merseybeat groups, their rapid fall from favour was unjust when you check the singles released in the wake of You're No Good. The fine, melancholy It Isn't There was written by Clint Ballad Jr (who was also responsible for You're No Good, Wayne Fontana & the Mindbenders' Game Of Love and the Hollies' I'm Alive); What Can I Do Today was twelve-string driven powerpop; Sandy and Now The Summer's Gone added a soft Beach Boys influence; and Tremblin' featured backing vocals from Madeleine Bell and Kiki Dee to the mix. Yet only their excellent version of Bacharach & David's Don't Make Me Over (no.31 '66) bothered the chart.
They changed their name to Ray Ennis and the Blue Jeans for What Have They Done To Hazel (1968), and shortened it to the Blue Jeans on their last sixties single, the Tony Hazzard song Hey Mrs Housewife. Almost uniquely for a Merseybeat group, they never split - Ray Ennis fronts a version of the group to this day. Varied and never less than enjoyable, the Swinging Blue Jeans singles traversed the sixties stylistically and deserve a little reassessment. As for my friend in the photocopying shop, though, I'll have to add one negative note - the Blue Jeans' attempt at Dizzy Miss Lizzy is absolutely destroyed by the Beatles version!