Main content
The look of Britain's Tudor Treasure: The costumes
Ninya Mikhaila, costume supervisor
I was delighted to be asked to be costume supervisor for this documentary. The team were very keen that the costumes should look as accurate as possible for the year 1537. There were nearly 100 people in the christening procession and I was told that ideally all of them should be represented, but realistically it might not be possible.
it didn't feel like looking at actors in costume, rather that we were seeing Tudor people wearing their clothes

Ninya Mikhaila
25 of the procession members were provided by "Past Pleasures" who work regularly with Hampton Court – but that left me with at least 70 costumes to source. I'm very proud of the fact that we managed to find enough costumes, and enthusiastic volunteers to wear them, not to mention get them all dressed and ready for filming in three hours! Everyone was dressed in authentic Tudor costumes consisting of several layers – starting with a linen shirt or smock, and covered by at least two more layers on top of that. Many were laced or pinned together, as they would originally have been. No velcro or zips here!
Some of the costumes were specially made, such as Edward's christening clothes and ermine lined silk damask mantle (including 'powdering' the faux ermine with hundreds of little black 'tails'), and the clothes for the four year old Lady Elizabeth. Others were provided by Historic Royal Palaces or hired from The Royal Shakespeare Company in Stratford and Angels Costumiers in London. I also managed to hire back a good number of costumes I had made for other clients in the past, and in some cases the costumes came with the people they were originally made for, who volunteered to wear them in the procession!
One thing that really did have to be specially made was the headwear. During the1530s ladies at court wore headdresses known as 'bonnets and frontlets', now usually known as 'gable hoods'. The distinctive angled shape is familiar to us today as it is worn by the Queen in a deck of playing cards.
By the time Jane Seymour married Henry VIII the gable hood was going out of fashion, in favour of the more flattering French hood (worn by Anne Boleyn in her portrait). However Jane was conservative and preferred the English style (probably partly to emphasise her difference from Anne), and she insisted that her ladies in waiting wore them, too. It is rare to see these headdresses, properly made, in costumed productions and the programme team and I were determined to get them right! We even dressed the women's hair under their hoods in the correct period fashion, binding their plaits together with long linen strips.
Whilst watching the filming someone whispered to me that it didn't feel like looking at actors in costume, rather that we were seeing Tudor people wearing their clothes. That was just about the best compliment I could receive.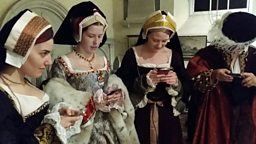 Texting Tudors backstage on Britain's Tudor Treasure - wearing their Gable Hoods. Photograph taken by Ben Knight.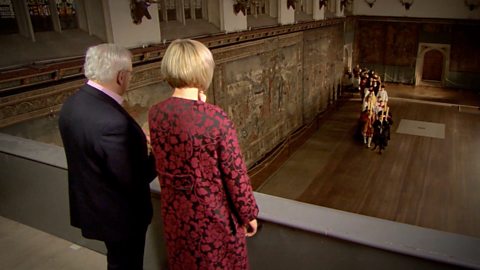 See Edward's christening procession re-staged in Hampton Court's Great Hall.