Main content
Is Protest Music Dead?
For as long as people have been writing songs, music has been used to send political messages. From 19th century anti-slavery chants in the US to Billy Bragg's 1980s anti-Thatcher anthems there's a rich history of artists sending a message through song.
But where are today's protest songs?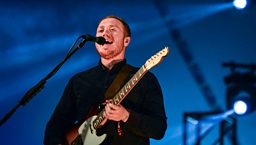 Jamie MacColl is the guitarist in Bombay Bicycle Club. Their music might not scream 'fervent political activism' but Jamie comes from a family deeply ingrained in protest songs, and who regard politics and music as deeply connected; his grandmother is American feminist and folk singer Peggy Seeger and his grandfather the British left-wing activist and protest singer Ewan MacColl. His great uncle, Pete Seeger, was one of the people responsible for popularising the US civil rights anthem We Shall Overcome.
Jamie's music may not be political but he's been exploring the state of the protest song and how artists speak about social, political and cultural issues today in a documentary - Is Protest Music Dead, for Radio 1.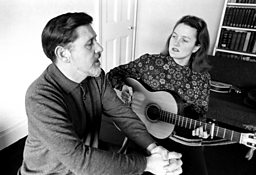 Peggy Seeger and Ewan MacColl in 1965.
Enter Shikari
One act that immediately stands out is Enter Shikari. They have an army of dedicated fans and their openly political songs get mainstream radioplay - Anaesthetist, a furious protest against privatisation in the NHS, was on the Radio 1 playlist last year.
They tick all the boxes for a political act, but in rock music they are the exception rather than the rule.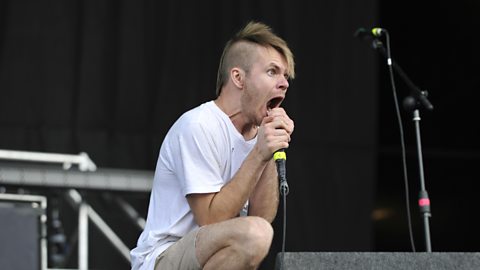 Lead singer in Enter Shikari Rou Reynolds on why protest songs are less obvious today.
Grime as the new Punk?
There was a time when young people living in the city channelled their aggression into guitars and drumkits to create punk. Turn on the radio now and you're more likely to hear that anger pouring out in the form of grime.
Ghetts wrote Rebel during the 2011 riots. It's a classic protest song - even namechecking Prime Minister David Cameron.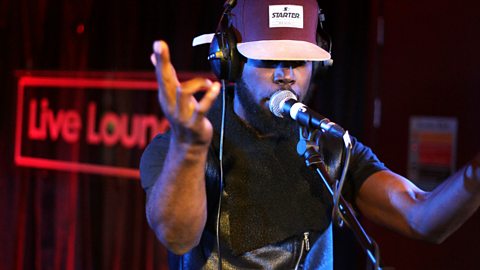 Rapper Ghetts explains the aggressive energy in grime music.
Ghetts is hesitant to be called a political artist: "I wouldn't consider myself a political rapper. I like to touch base on anything that's clouding my mind."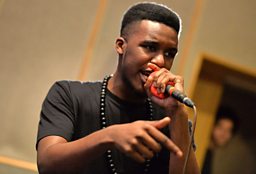 Ghetts is far from the only rapper to create political grime. Novelist is one of the more outspoken artists. He often tweets about politics and he's recently released Street Politican - a track which samples speeches by David Cameron before challenging them with bars about government oppression and abandonment.
Protest by stealth
One of the biggest songs of the last couple of years is Hozier's Take Me To Church, a veiled critique of the Catholic Church.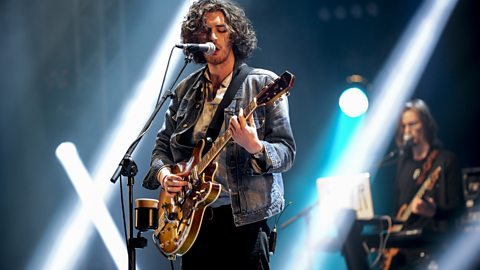 Jamie MacColl talks to Hozier about one of the biggest songs of the last 2 years
Hozier says it took time for the meaning of the song to come across to the public: "As it became ubiquitous... on radio and stuff, the more people became aware of it".
I think that all music has political gravity

Hozier
The song was signed to an independent label in Ireland before Hozier signed to Island, a major label: "The song was already growing legs by the time Island got to us. I'm not sure if we had pitched the idea... if they would have leaped at that".
Hozier believes that all music is political - a stance echoed by Olly Alexander from Years & Years.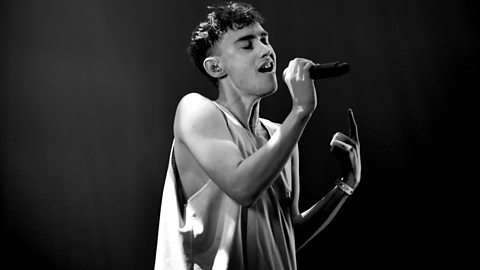 Olly Alexander from Years & Years on how he thinks all music is political in some way.
Olly has spoken openly about the importance of gay singers using the male pronoun: "Whatever you do or say is political in some ways because you're either saying something or saying nothing.
"I've really come to understand my songs and my sexuality through the way I've written about it in songs as political in a completely new way, and I never really considered it like that.
"It was really important for me that Radio 1 can play a song that for me is quite explicitly about having sex with a man, and using a male pronoun, which doesn't usually happen."
The protest song - dead or just different?
Perhaps, as Olly Alexander suggests, today's protest songs aren't immediately obvious because they didn't set out to be protest songs.
After all, no matter how noble your message, nobody is going to listen to a song they don't like.