Main content
Creative conversion: Bizarre buildings turned into great galleries
13 November 2018
The decline of old industries has left numerous buildings without a purpose. Now derelict mines, mills and even swimming pools are being re-purposed to house works of art. WILLIAM COOK explores five iconic examples of beautiful abandoned buildings converted into cultural hubs.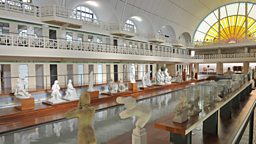 La Piscine is a gallery in Roubaix that was originally a municipal swimming pool
A brand new gallery was the ultimate project for any architect. From the Pompidou Centre in Paris to the Guggenheim in Bilbao, a glitzy modern building was the way to put an art collection – and a city – on the map.
It's like an architectural form of recycling.
However times have changed. Now the galleries making waves aren't new-builds, but creative conversions of old industrial buildings. It's like an architectural form of recycling: take a derelict structure which is no longer fit for purpose, and turn it into something new.
Clearly, this is something more substantial than a passing fashion. The list of galleries in unusual buildings is growing all the time. The Musée d'Orsay in Paris and the Hamburger Bahnhof in Berlin are both situated in old train stations. Famously, London's Tate Modern is housed in a former power station. Essen's Zollverein is located in a disused coal mine.
As our old industries decline, our cities are left with countless beautiful, abandoned buildings. What could be a better use for them than filling them with art?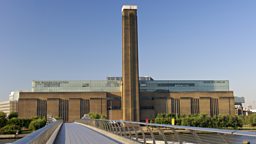 In London the Tate Modern is housed in a former power station | Photo: Eric Nathan/Getty Images
French swimming pool: La Piscine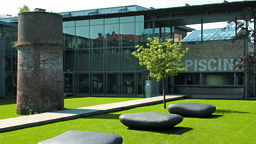 Entrance garden | Photo: © La Piscine M.A.I.A.D, Roubaix
Roubaix's municipal swimming pool, which opened in 1932, was built to provide recreation and sanitation for the mill workers of this industrial town, back in the days when hardly any working class homes had bathrooms. Reportedly, architect Albert Beart was asked by the mayor of Roubaix to build the most beautiful swimming pool in France.
The permanent collection includes treasures by Rodin and Picasso but the building itself is the greatest exhibit.
For half a century, this palatial art deco building was a busy rendezvous, but then the mills shut down and Roubaix fell into decline.
The swimming pool closed in 1985, and for several years it stood empty, but in 1994 French architect Jean-Paul Philippon won the competition to convert it into an art gallery.
La Piscine reopened as a gallery in 2001, and Philippon has now added a new extension, tripling the size of the museum. Philippon's new extension is impressive, but it's the original building which excites the eye. The changing rooms have been retained, and there's even a shallow pool in the middle of the gallery.
The gallery houses over 70,000 artworks and the permanent collection includes treasures by Rodin and Picasso, but the building itself is the greatest exhibit. A lifetime since it first opened, La Piscine is a rendezvous again.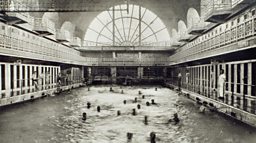 Swimmers using the pool in the 1930s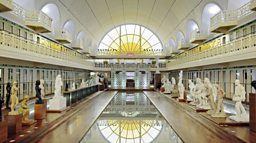 La Piscine has a shallow pool in the middle of the gallery
Scottish Tram Depot: Tramway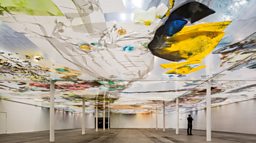 The exhibition Belt and Road by Samara Scott at Tramway. The original tram lines can be seen on the floor | Photo: Keith Hunter
Built in 1893, Coplawhill Tram Shed was Glasgow's main tram terminus for half a century. In the 1960s, when Glasgow's tram network was dismantled, it became the city's transport museum. When the transport museum moved to Kelvinhall in 1986, the building was earmarked for demolition. Only when Glasgow won the bid to become European City of Culture for 1990 was this historic landmark saved.
The Tramway got off to a flying start in 1988 when it became the only UK venue for Peter Brook's epic, nine-hour performance of Mahabharata. In 1989 it staged Andy Goldsworthy's Snowballs in Summer. Artist David Mach and theatre director Robert Lepage both worked here in the 1990s and the venue was chosen to host the Turner Prize in 2015.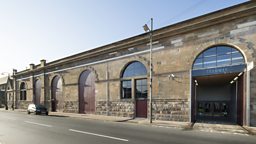 Tramway exterior | Photo: Alan McAteer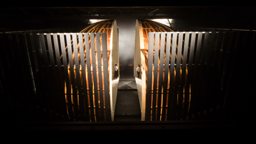 The space is suited to large scale installations, like 2017's No Mans Landing | Photo: Alan McAteer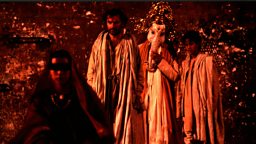 Peter Brook's Mahabharata
German cotton mill: Spinnerei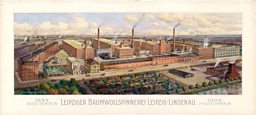 A print of the cotton mill,1909 | Image: Spinnerei archive
Opened in 1884 and still going strong a century later, Leipzig's Spinnerei was one of Germany's largest cotton mills. Comprising 20 brick buildings spread over a ten hectare site, it had its own kindergarten and gymnasium, even its own fire brigade.
Since it closed in 1993 the Spinnerei has been colonised by artists.
During the First World War it doubled as a munitions factory. During the Second World War it made uniforms for Hitler's Wehrmacht but refused to use labourers from concentration camps. One of its executives was executed after the failed attempt to assassinate Hitler in 1944.
In 1945, the Spinnerei ended up behind the Iron Curtain. The Soviets took much of its machinery back to Russia, but the Spinnerei survived and prospered. When the Berlin Wall came down in 1989, 1650 people were working here. The Spinnerei struggled on for a few years, but found it impossible to compete in the free market.
However, since it closed in 1993 the site has been colonised by artists. When celebrated German artist Neo Rauch established a studio here it cemented the Spinnerei's reputation as an exciting creative space. Today the complex houses numerous galleries and workshops, which attract countless visitors. You can even stay the night.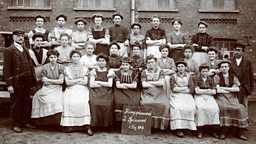 Female cotton mill workers, 1909 | Photo: Spinnerei archive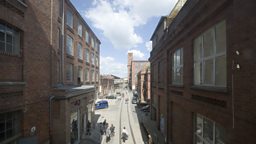 The complex houses numerous creative spaces | Photo: Thomas Riese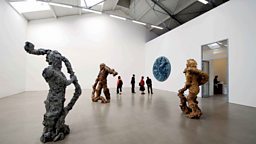 An exhibition by Stella Hamberg | Photo: Thomas Riese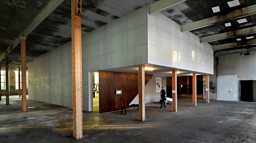 Hall14 Exhibition Cube | Photo: Claus Bach
Belgian Brewery: Wiels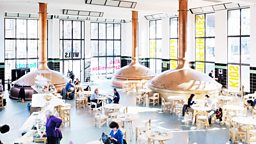 The brewing hall of the former Wielemans-Ceuppens brewery is now the WIELS cafe | Photo: © WIELS
Belgium is famous for its beer, so it seems fitting that its leading gallery of contemporary art is in a former brewery. The Wielemans-Ceuppens brewery opened in Brussels in 1931. It was a futuristic high-rise pile, built of battleship grey concrete and designed by Belgian modernist architect Adrien Blomme, who also built Brussels Midi train station.
Wielemans-Ceuppens brewery was a futuristic high-rise pile, built of battleship grey concrete.
Brewing continued here until the 1980s, but then Wielemans was sold to Artois, and the brewery closed in 1988.
When Wiels reopened as an art gallery in 2007, it retained much of its original interior, including four of its enormous tuns. These gleaming copper tuns dominate the ground floor café and bookshop, and the airy rooms above are flooded with natural light.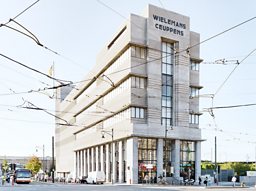 WIELS building | Photo: © WIELS
Spanish Open-Cast Mine: Planta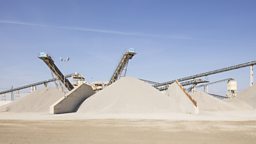 Established by Sorigué. Planta is an art gallery in an open cast mine
In the hills outside Lleida, in the remote northern corner of Catalonia, one of Spain's most successful companies, Sorigué, have established an art gallery in an open-cast mine. Sorigué's extensive art collection ranges from 19th Century Catalan painting to leading contemporary artists such as Germany's Anselm Kiefer and British sculptor Tony Cragg.
Their downtown gallery in Lleida is fine for showing painting, but this industrial exhibition space, Planta, is the ideal place for exhibiting their monumental modern artworks. Exhibition spaces are scattered around several sites amid this lunar landscape, from the huge hangar which houses Double Bind by Spanish sculptor Juan Muñoz (first shown in Tate Modern's Turbine Hall in 2001) to an air raid shelter (built by the Republicans during the Spanish Civil War) which houses a video installation by Bill Viola.
George Orwell was shot through the throat a few miles from here, while fighting for the Republicans against Franco, and was nursed back to health in Lleida. As you climb down into this air raid shelter, you can't help wonder, did he ever shelter here?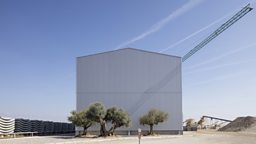 Planta exterior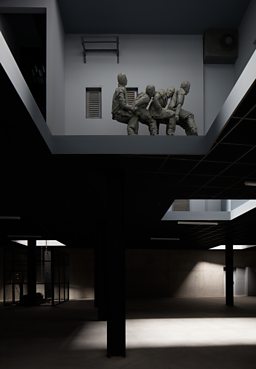 Juan Muñoz's Double Bind exhibited inside Planta
Arts highlights on BBC iPlayer
Watch 12 mesmerising performances from Dancing Nation, a sampler of UK dance in all its forms.

Chizzy Akudolu presents a new collection of dramatic short films.

The Oscar-nominated actress gives a singing masterclass.