Main content
9 Questions with Graham and Mel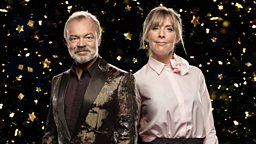 1. Why did you want to host Let It Shine?
Mel: The words 'Take and 'That' were a pretty strong pull!
Graham: Yes, their tracks are very clever and well-written – Back For Good's my favourite! And Gary really is a national treasure. Everyone loves Gary. I never stay in touch with guests who come on my chat show, but Gary has always stayed in touch and I do really admire him.
2. What do you like about the show?
Graham: What I really like is that we're not looking for one person. We're looking for five boys coming together as a band. You need cheeky energy, a killer voice, and great dance moves. And what's interesting is watching the boy bands morph into man bands. Look at Gary Barlow. Who knew that he would be the hot one?!
Mel: It is not like the other shows we have had in the past, like the search for Maria and Jesus Christ Superstar. It is more conceptual. It's a search for five people who embody the spirit of Take That.
3. Is Gary going to be a mean judge?
Graham: He's got a very good poker face! I look at him and it's very hard to see what he's thinking. The talent is very good and even if they don't go through, the judges are keen that the boys go away with some good advice. They want them to learn.
4. What are Dannii and Martin like as judges?
Mel: They seem to be settling in well. There is so much respect for Martin, they really do love him. And as for Dannii, she's been a judge on loads of shows. That girl knows her onions and what's great is she has performed on lots of shows too.
5. Is there great chemistry between the judges?
Mel: Yes. When you look at them, it's a good, comforting, rousing feeling. They have a lot of experience and you know we are in safe hands.
6. Well, we are also in safe hands with you both. Have you worked with each other before?
Mel: Our paths have always crossed. We've both worked on Eurovision (but not on the same programme). It feels really comfortable.
Graham: My favourite bits are when I'm on stage with Mel as she really makes me laugh.
Mel: Vice versa.
Graham: But we aren't together too much as Mel is backstage.
Mel: Yes at the beginning of the series there is a distinct world of the on-stage thing and backstage. I'm the matron of the common room, which has got an amazing darts area, a little band area, chill out and gaming areas.
7. Is there any similarity between Let It Shine and the Andrew Lloyd Webber shows you hosted Graham?
Graham: The big difference with this show is that we are not casting a role, and that really changes the audition process. We are not looking for one thing - it is about the energy and vibe they are giving off. You are looking for five who will mesh and work together.
8. Is personality important?
Graham: Yes, it is not just about vocal excellence.
Mel: They have to be on the road for twelve months, living, breathing and working together. And so they have to be quite special. It is about stamina as well.
9. How much fun are you having?
Mel: It's brilliant. But it's all going by in a whirlwind!
Graham: There is something great about these sorts of shows when you meet the contestants and you get a real feel for their personalities as soon as they start to sing. I am really enjoying it so much!
Read our interviews with the Let It Shine Judges: