Main content
Blackberries, Apples and Cream
Hugh Fearnley-Whittingstall shares his recipe for a dessert combining blackberries, apples and cream from his new book 'Three Good Things', published by Bloomsbury.
Blackberries, apple, cream
The divine pairing of blackberries and apples is usually served hot, but you can also turn these fruits into a gorgeous granita – the simplest of all frozen puds.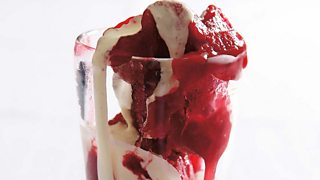 Hugh likes to enrich it with a slosh of cream, which takes on a wonderful, slightly chewy texture as it freezes on the ice crystals.
Sign up to the Cook the Perfect newsletter, or subscribe to our free download, to be kept up to date with all cookery items.
Tips and Techniques
You can make a pure blackberry granita, if you prefer, with no apple at all. You'll need about 1kg blackberries.
You can replace the blackberries with an equal quantity of late summer/early autumn raspberries. Or use blackcurrants (fresh or frozen); these have a more intense flavour, so you won't needs as many – use about 350g blackcurrants and 1kg Bramleys.
Ingredients
2 large Bramley or other cooking apples (450-500g)
700g blackberries
50-75g icing sugar, sieved
Double cream, to serve
Preparation method
Peel, quarter and core the apples, then cut into thin slices. Put into a saucepan with 4 tablespoons water and bring to a simmer. Cook for about 5 minutes, stirring often, until the apple starts to break down. Add a splash more water if necessary, but keep it to a minimum. Add the blackberries and continue to cook, stirring often, for about 20 minutes, until the fruit breaks down and you have a soft, juicy, coarse purée.
Give the fruit a quick blitz in the saucepan with a handheld stick blender (or in a freestanding blender). Tip the purée into a sieve over a bowl and rub through using the back of a wooden spoon, to remove the seeds. Leave the purée to cool completely, then whisk in enough icing sugar to make it taste just a little too sweet – it will taste less so once frozen.
Transfer the purée to a shallow, freezerproof container (an empty ice cream carton will do) and freeze for several hours at least, until solid. Take it out of the freezer about 30 minutes before serving to soften slightly.
To serve, use a fork to scratch the frozen purée into crystals; the finished granita should have a texture rather like a coarse sorbet. Pile the granita into serving glasses, top with a generous, snowy cap of cream and serve straight away.
Browse previous recipes
Seeking to create perfect pumpkin soup, cracking curry or unbeatable bread and butter pudding?
More Food on the BBC
Browse our selection of recipes from top chefs, cooks and food writers who have joined us on Woman's Hour.

Download this interview, of subscribe to the Cook the Perfect...downloads.